Road rage incident ends in shots fired and a crash in Garden City
GARDEN CITY, Mich. (FOX 2) - A suspected road rage incident in Garden City led to shots being fired and at least two vehicles crashing Thursday night. One driver not involved in the mayhem, but was crashed into was hospitalized, while police are interviewing the second driver as a possible suspect.
A third car was involved, police say, but the make and model have not been released yet as the investigation continues. 
Garden City police received calls that two cars were driving recklessly on northbound Middle Belt near Cherry Hill. As officers responded, they got a call that shots were fired and there had been a crash at Middle Belt and Maplewood.
A black Dodge pickup truck with bullet holes visible struck a blue subcompact sedan that was an innocent bystander. 
"They delivered emergency medical attention to one of the drivers," said Sgt. Bruce Shippe, Garden City police. "She was parked in a vehicle - not part of this situation."
The driver of the sedan which suffered extensive read end damage - was rushed to the hospital. Her condition is not known.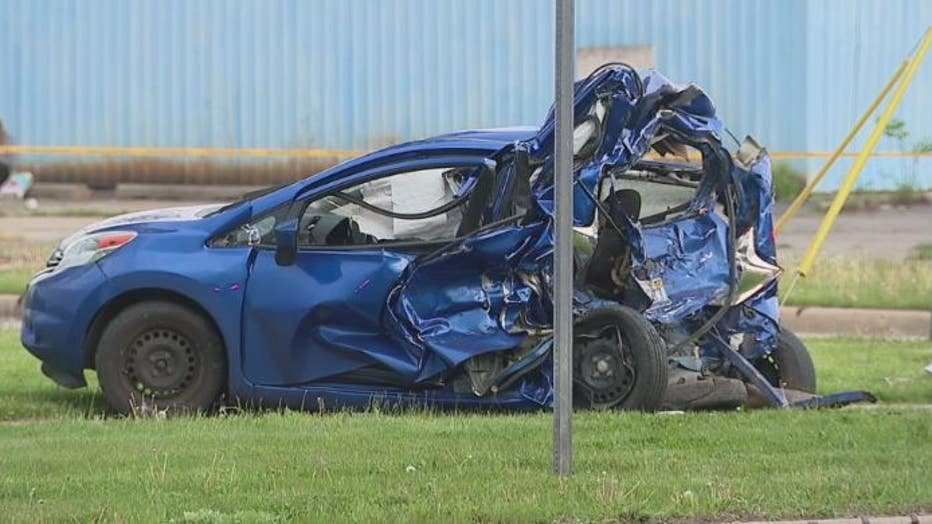 Witnesses Jill Murray and Debbie Green say they heard 10 gunshots before seeing the crash.
"We ran outside and literally saw this car crash," Murray said.
The driver of the truck initially fled the scene on foot, but is now being questioned by police. 
"He ran fast, fell in the street, got up and continued to run, behind the blue building (nearby)," said Murray. "And then (he) returned."
Witness Randy Taylor spoke to the driver of the black Dodge Ram who claimed he was being pursued by the shooter.
"(I said) 'Are you okay?' (he had) blood and other stuff like that, he said 'I need my phone,'" Taylor said. "I said 'What was going on here? I heard gunshots.' He said 'They were chasing me. That's why I was on the phone, 911.'"
Shippe says a third car was involved which remains at large but was unable to provide a description as of yet.
If you have any information on the incident, call Garden City police at (734) 793-1700.