Roseville police handing out steering wheel locks for easily stolen Kia, Hyundai vehicles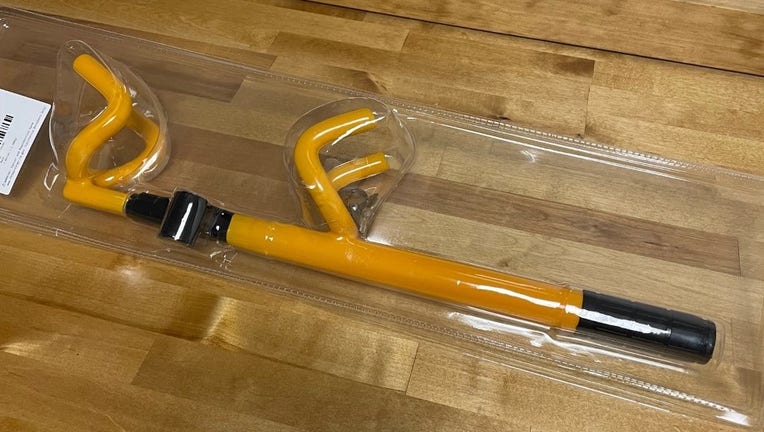 article
ROSEVILLE, Mich. (FOX 2) - Roseville police are the latest Metro Detroit department to announce that they are handing out steering wheel locks for Kia and Hyundai vehicles that can be stolen easily.
Read: 3 stolen Kia vehicles recovered in Macomb County
Kia and Hyundai vehicles with keyed ignitions lack an immobilizer. This makes them easy to steal with a USB cable, leading to a spike in thefts. Owners of these vehicles can visit the front desk of the Roseville Police Department to get a The Club lock on a first come, first served basis.
The vehicle theft problem has gotten so bad that some cities have sued the automakers. Last month, attorney generals from multiple states, including Michigan, sent a letter to the National Highway Traffic Safety Administration demanding a recall.
MORE: Kia, Hyundai thefts prompt Michigan AG, 16 other states to demand recall
As videos showing how to steal the vehicles in seconds were posted online, thefts spiked around the country. Many of these crimes have been committed by young people who often refer to themselves as the Kia Boys.
Some thieves are joyriding in the stolen vehicles, while others are using them to commit other crimes. In the AG's letter, they cited at least eight cases where people have been killed in incidents involving the stolen vehicles.
The automakers have implemented what they say is a fix to this issue – a voluntary software update – but the AGs argue this is not enough. 
These software updates extend the vehicles' theft alarm time and require the key to be in the ignition to start the vehicle. The AGs say 15% of the affected vehicles cannot accommodate the software updates, citing a letter sent to them from Hyundai, adding that Kia has said an unspecified number of affected vehicles cannot receive the updates.