Strike pay and benefits for UAW members if no deal is reached
DETROIT (FOX 2) - The reality of a strike by the United Auto Workers against Detroit's Big Three automakers is looking more and more likely as we inch closer to Thursday night. With 97% of the union voting in favor of a strike against the automakers, a strike starting at midnight on Friday could happen, and it could drag on for weeks.
The current agreement between the union and Ford, Stellantis, and General Motors is 11:59 p.m. on Thursday, Sept. 14 and UAW President Shawn Fain has been adamant that, without a deal in place, the union will strike.
"If we don't get our justice, I can guarantee you one thing - come this Thursday at midnight, there will be action," Fain said.
If the union goes on strike, the UAW has several weeks of union pay saved. However, this is not at the same rate that employees would make for Ford, Stellantis, or GM.
What is the UAW asking for?
The UAW is seeking a new deal for the first time since 2019 and is asking for a 46% wage increase, a 32-hour workweek, and more for members.
In response to the list of demands from the union, Detroit's Big Three have offered their own proposals: 
So far, GM has offered 10%, Stellantis, offered 14.5%, while Ford proposed a 9% wage increase and a 6% lump sum added after.
Fair has called the offers "shameful and insulting" and "deeply inadequate."
Here are the Big Three's counterproposals:
The UAW has put together a list of questions and answers for union members to answer these questions:
How much do UAW union members get paid during a strike?
The UAW has a strike assistance fund set at $500 per week – or $100 per day, Monday through Friday. Eligible members will be paid for each day's pay that they are eligible for.
These payments are available after the 8th day of the strike and a bonus check is paid the week before Thanksgiving and Christmas.
Does the UAW cover medical benefits?
Yes, the UAW Strike and Defense fund covers medical and prescription drugs. Benefits not included are dental, vision, hearing, illness, sick, and accident.
The benefits are paid directly by the fund – according to the company's current plan or by having the Strike and Defense Fund make COBRA payments to the company plan.
Who is eligible for strike benefits?
Members are eligible for strike pay and benefits as long as they meet four criteria:
In good standing (current on dues and initiation fees, if any) on the day before the strike starts
On active payroll at the start of strike. Members who have been laid off, are on workers compensation, or receiving sick and accident benefits are not eligible
Member must participate in the strike: picket assignments, strike committee, etc.
Eligible members include temporary employees as well as anyone who is current in their union security obligations such as fee payers or objectors.
Are new hires, probationary or temporary employees entitled to strike assistance?
All new hires, probationary employees, and temporary employees are eligible for strike pay and benefits as long as they are a dues-paying member of the UAW.
In the event a worker has completed an application for membership and paid dues, he/she would be considered a member in good standing and would be entitled to strike assistance.
How do I apply for strike benefits?
You must register and make application for strike benefits on the day and time assigned to you by your local union.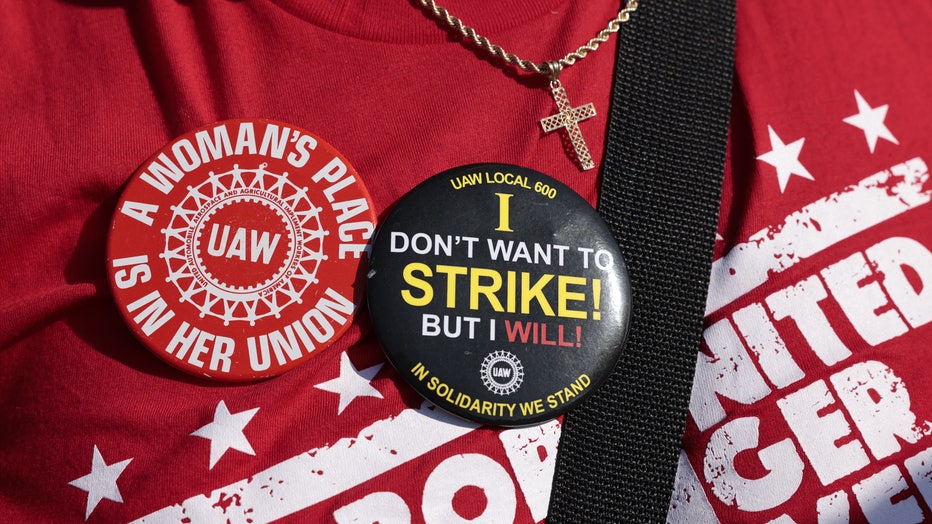 A United Auto Workers (UAW) supporter during a Labor Day parade in Detroit, Michigan, US, on Monday, Sept. 4, 2023. The UAWs 150,000 members are threatening a strike on General Motors, Ford Motor Co. and Stellantis NV, maker of the Jeep and Chrysler
If I get another job, can I still receive strike assistance?
Members must continue to participate in the strike to receive strike assistance.  If members receive gross pay from outside work that is equal to or greater than $500, then the member will not receive weekly benefits but will continue to receive medical and prescription drug assistance.
Can I collect unemployment insurance while on strike?
The law varies by state, but in many states participation in a strike will disqualify a worker from eligibility for unemployment insurance. 
My wages are garnished for child support.  Will that happen with strike pay?
If the UAW receives a court order, we will garnish the strike assistance.
Can the strike pay be mailed to me?
No, members must pick up their own benefit on the assigned date from their local union with ID.
Are strike benefits taxable?
Yes.  After $600 in a given year, the UAW will issue an IRS Form 1099-MISC.
What happens if I cross a picket line?
All strike benefits cease immediately and appropriate action may be taken under the UAW Constitution.
Do I owe union dues on strike benefits?
No dues are owed while on strike.
Watch FOX 2 News Live