Suspect arraigned after being wounded in officer-involved-shooting, ramming police cars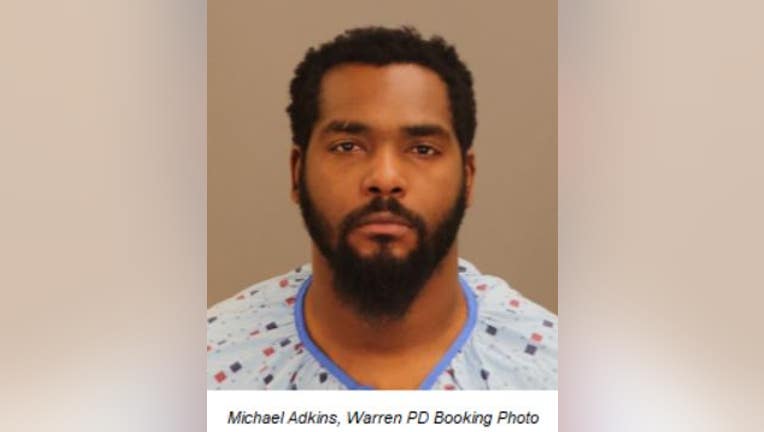 article
FOX 2 (WJBK) - The suspect in a police pursuit that ended with an officer-involved shooting on I-94 in Detroit, has been arraigned on charges.
Michael Antonio Adkins was arraigned on 18 charges with a $500,000 bond issued for the incident, which culminated in him allegedly using his vehicle as a weapon, before an officer wounded him in the arm.
At the time of his arrest, police say he had no driver's license and 19 traffic warrants for his arrest, and was wanted for violation of probation out of Wayne County.
During a police pursuit, the suspect allegedly rammed three different officer vehicles with his car leading up to the moments before, said a Warren police captain.
Adkins, 26, was arraigned Monday with:
· Police officer – fleeing – 3rd degree (5-year felony)
· Police officer – assaulting or resisting causing injury (4-year felony)
· Police officer – assaulting or resisting (2-year felony)
· 13 counts of assault with a dangerous weapon/felonious assault (4-year felony)
· Operating with a suspended/revoked/denied license (93-day misdemeanor)
· Reckless driving (93-day-misdemeanor)
Investigators say police first attempted to pull over the suspect, driving a silver Chevy Cruze, for traffic violations in the area of westbound Eight Mile near Montrose.  The driver refused to pull over and one mile into the pursuit, struck two fully-marked Warren PD patrol cars.
Officers pursued the suspect's car through several streets as the Chevy entered I-94. The suspect vehicle encountered traffic on westbound I-94 near Woodward at which time the suspect vehicle struck the center median.
According to police,  the suspect's car then intentionally struck uninvolved motorists' vehicles. Officers went to take the suspect into custody, at which time the officer-involved shooting occurred.
Adkins has previous felony convictions for delivery of cocaine/heroin or other narcotics over 50 grams, possession of controlled substances, and evading arrest. Adkins is currently on bond and awaiting trial on charges of carrying a concealed weapon and controlled substance possession.