Suspects flee after causing crash that killed child during police chase in Walled Lake
WALLED LAKE, Mich. (FOX 2) - A child was killed and the suspects responsible are still on the loose after a crash Wednesday in Walled Lake.
Police said that an officer tried to stop a 2023 Jeep Gladiator for a traffic violation when the driver fled. The Jeep ran a light on Maple near Decker around 7:45 p.m. and hit a southbound 2020 Chevy Equinox driven by 43-year-old Constance Lancenese, who was with her 10-year-old son.
"It should have never happened. We don't know who these boys are. I know people keep describing them as kids, but I hope they come forward because they changed lives last night," Lancense said.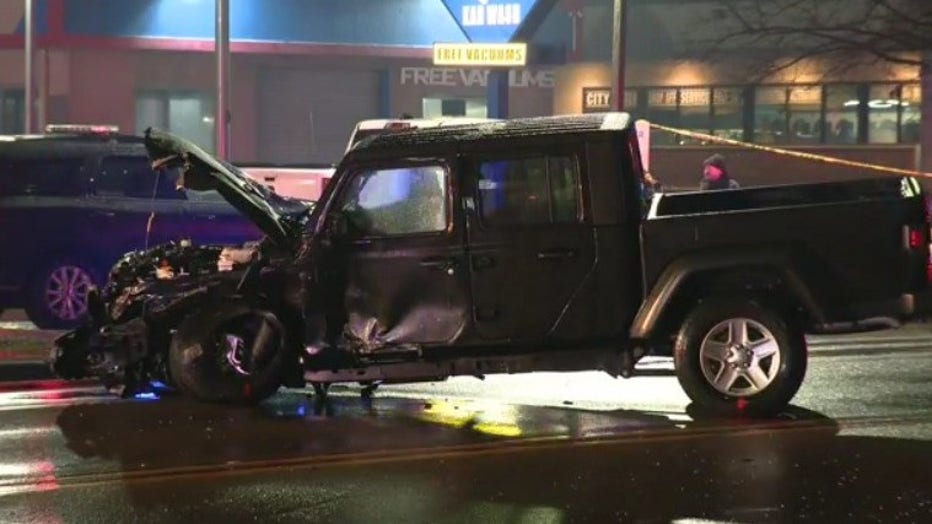 The Jeep also hit a 2010 Honda Fit driven by a 51-year-old Commerce Township woman who was with her daughters, ages 10 and 13. The 10-year-old and the driver are in serious condition. The 10-year-old girl was ejected from the Honda, the 13-year-old was killed. 
The 10-year-old is in critical condition but stable, their mom is in serious condition.
It isn't clear if the victims in the Honda were wearing seatbelts.
A fourth vehicle was hit by the spinning Equinox while waiting at the red light. The driver, a 58-year-old Commerce Township woman, was wearing her seatbelt and is listed as stable.
"I spun around, ended up facing northbound again, and airbags went off. The front of my car is gone," Lancense said.
After causing the crash, the suspects ran from the Jeep. Police don't know who they are. Anyone with information is asked to contact the Oakland County Sheriff's Office.
FOX 2 has learned the Gladiator was spotted running a red light a half of a mile away from the scene where it crashed. The sheriff said deputies initiated lights to try to pull over the truck, but the driver ran another light and then crashed.
A 10-year-old girl was also critically hurt but is listed as stable at the hospital. Her mother is in serious condition, the sheriff said.