Taylor Swift bag policy: What you can and cannot bring to Detroit concerts at Ford Field
DETROIT (FOX 2) - If you're headed to the Taylor Swift concerts at Ford Field in Detroit on Friday or Saturday, you're going to want to leave some items at home.
The Era Tour shows have a clear bag policy. Bags that are clear and made of plastic, vinyl, or PVC, and are smaller than 12 inches by 6 inches by 12 inches are allowed. Additionally, these bags cannot have stickers, graphics, or writing on more than one side. 
As part of this clear bag policy, one-gallon plastic freezer bags are allowed. Small clutches that are not clear are also permitted, only if they are no bigger than 4 ½ by 6 ½ inches.
All bags will be inspected prior to entering the venue.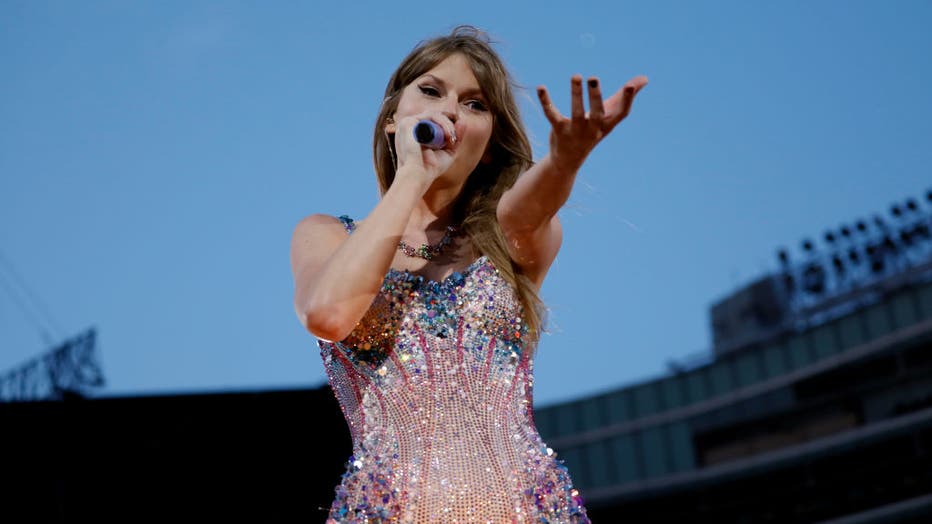 CHICAGO, ILLINOIS - JUNE 02: EDITORIAL USE ONLY. Taylor Swift performs onstage during "Taylor Swift | The Eras Tour" at Soldier Field on June 02, 2023 in Chicago, Illinois. (Photo by Natasha Moustache/TAS23/Getty Images for TAS Rights Management )
Taylor Swift in Detroit
What else is allowed at the Taylor Swift concerts:
Medically necessary items including insulin, medication, portable oxygen, small soft pack coolers, and breast pumps
Medical/Covid Masks or religious face coverings. No other types of masks are permitted.
Infant items in a clear bag (bottles, formula) are allowed with a child. Diaper bags are not allowed per the Clear Bag Policy
Posters & signs, maximum size of 11 inches by 17 inches, without poles or sticks. Must not block another guest's view.
Football helmets. Altered helmets equipped with spikes or any other item that can be used as a weapon are not permitted
Seat cushions not exceeding 15 inches by 15 inches and must not contain armrests, zippers, pockets, flaps, or metal backs
Items not allowed at the Taylor Swift concerts:
Purses larger than a clutch bag, coolers, briefcases, backpacks, book bags, diaper bags, fanny packs, cinch bags, groceryand paper bags, duffle bags, computer bags, or luggage of any kind.
Aerosol cans (hairspray, sunscreen, mace, pepper spray, bug spray, spray paint, etc.)
Animals (except certified service animals to aid guests with disabilities)
Balloons (air or helium)
Balls (beach balls, footballs, etc.)
Banners or large flags
Battery-operated clothing, signs, and lights
Bicycles, Scooters, Skateboards, Skates, Segways, or unauthorized means of transportation
No professional or commercial cameras (includes any camera with detachable lens)
Chairs including folding chairs or stools
Chains, chain wallets, studded jewelry, or spurs
Clothing, customers or personal effects that may impede the view of those around or behind you.
Decals, stickers, confetti, or glitter
Drones and/or remote-controlled aircraft
Electronic equipment including laptop computers, tablets, digital readers, audio recording devices, video recorders, tripods, and wearable video cameras including Go Pros.
Flammables including fireworks, road flares, emergency flares, explosives or other incendiary devices
Flashlights
Food, beverages, liquids, and storage containers (large coolers, ice chests, thermoses, cans, bottles, metal water bottles, flasks, cups,boxes, popcorn buckets, etc.)
Glass or metal containers of any kind
Handcuffs or other restraint items
Handouts, items, or goods intended for unauthorized sale, promotion, exchange, or giveaway
Illegal substances
Knives, pocket knives, box cutters, scissors, etc.
Laser pointers
Marijuana, including medically prescribed, electronic accessories, or paraphernalia associated with marijuana or illegal narcotics use.
Markers (permanent) and/or paint
Noisemaking devices (air horns, bells, bullhorns, kazoos, musical instruments, thunder sticks, whistles, etc.)
Objects that can be used as missiles or projectiles (sticks, poles, bats, clubs, Frisbees, etc.)
Offensive, profane, or political messages or images on signs and clothing that are distasteful or indecent
Radios or Walkie Talkies
Selfie sticks
Strollers and infant car seats or carriers
Umbrellas
Weapons including handguns, ammo, tasers, chemical sprays, brass knuckles, etc.*
Wrapped gifts