'Tell the little piggies': Suspect's voice mail threat to shoot up rink, attack police released
BLOOMFIELD TWP., Mich. (FOX 2) - A man was arrested after making violent threats to shoot up a skating rink in Bloomfield Township. Brian Denning's issues were, bizarrely with the Detroit Skating Club in Bloomfield Township.
"Hey this is Ben Denning we got a little issue here," he says on the message. "A newer van will pull up in there with an AR-15 rifle and dialogue with Bloomfield Township and wait till they pull up so so we can knock their (expletive) skull right to the back of their head."
"(He was) threatening to come up in a van with and AR-15," said Officer Nick Soley.
Denning allegedly also said he even wanted to blow someone's throat up with a grenade.
"He encouraged to call Bloomfield Township and he would meet police officers with force," said Soley.
"Tell the little piggies in the little Bloomfield Township, you know, they're not going to want to watch," Denning says in the phone message.
Those "piggies" are Bloomfield Township police who investigated the threats while Detroit Skating Club canceled their events last Tuesday just in case.
"We were familiar with this suspect, the problem was getting a location on him," Soley said. "He is known to travel state to state. He doesn't necessarily lay his head in one residence every night."
Eventually, they tracked Denning, 38, to Troy where he was arrested. He had no AR-15 as promised or any other weapons. He is now charged now with misuse of a telecommunication device and given no bond.
"He also had a warrant out for his arrest from 2020 where he was making inappropriate comments to folks at the 48th District Court and targeting some of the personnel over there," the officer said.
But why the Detroit Skating Club?
"We believe that at one point he was in the Detroit Skating Club for some reason and had a run-in with staff there or a citizen there, and was asked to leave," Soley said.
Denning is still at the Oakland County Jail. Officer Soley says he believes mental health issues play a role here, and that could affect how the case moves forward.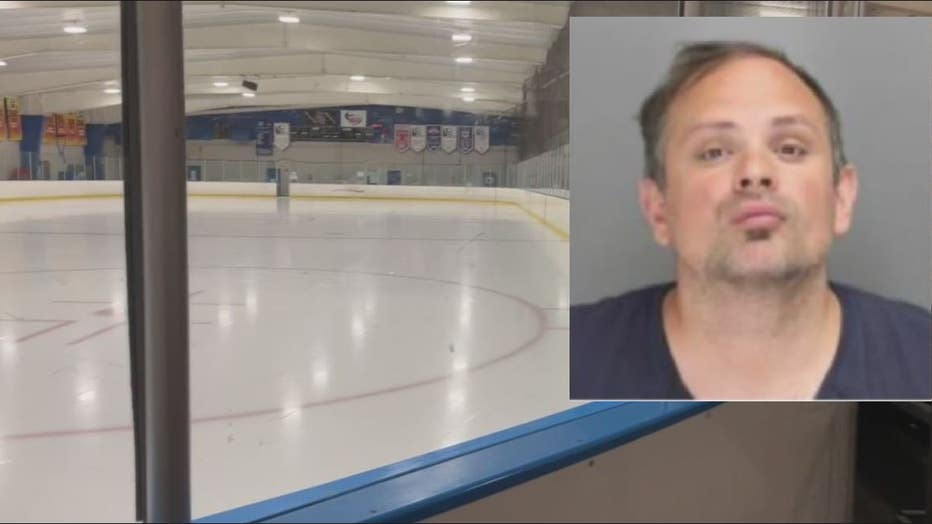 The Detroit Skating Club, inset - suspect Brian Denning