'The right thing to do': Livonia teens who saved woman, son in house fire talk about rescue
LIVONIA, Mich. (FOX 2) - A group of teens are being hailed as heroes after saving a woman and her adult son from a house fire.
The damage and the boarded windows only tell part of the story - incredible surveillance video shows a house on fire, and three high school students who jump into action after spotting it while driving by.
"We were just coming back from the store, we noticed a lot of smoke from down the street. we thought it was a bonfire, then noticed smoke coming out of the ceiling," said Chase Adams.
Lifelong friends Adams, Colin Anderson, and Ethan Morche saved the woman and her adult son from the burning house.
"The front door didn't open, so we ran around back. They were both (in) there yelling saying, 'My house is on fire,'" Adams said. "We saw flames through the windows out of the garage and flames coming out of where the shingles meet."
As smoke billowed from the home on Ellen Street the teenagers calmly rescued the older man first. Then Morche went to get his mother.
"We thought we lost him in the house," Anderson said. "What if he didn't get out? Smoke in his lungs. So when he did come out, it was a big relief."
"We just thought it was the right thing to do to get them out," Morche said.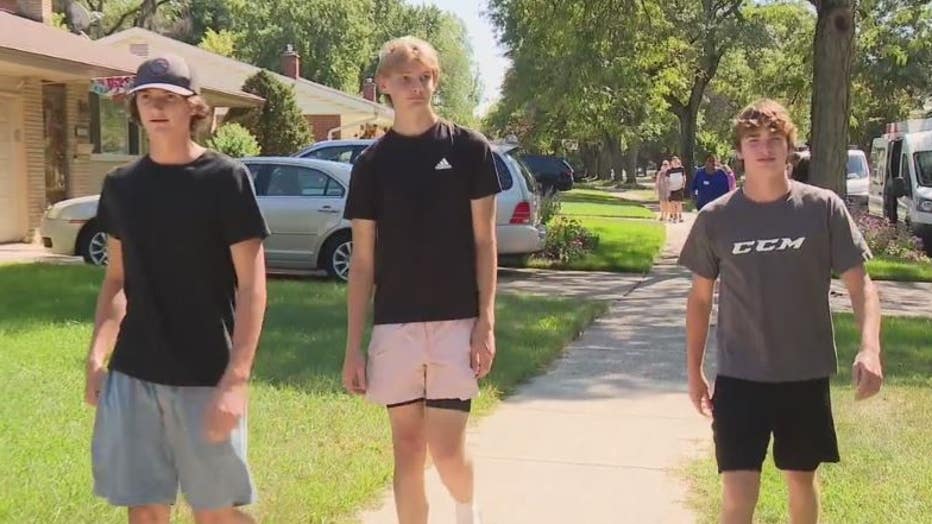 Colin Anderson, Ethan Morche and Chase Adams.
Paramedics treated the older residents for mild smoke inhalation. The Livonia Fire department says it appears the fire started in the garage.
"We're so proud of them. it was a courageous and heroic thing to do," said Livonia Fire Chief Robert Jennison.
Jennison says he hopes Chase, Ethan, and Colin consider a career in fire service.
FOX 2: "When you see three guys in high school, sacrifice their time to go save other people, how does that make you feel?"
"It gives me chills. Four days later, I still have chills just thinking about it," Jennison said. "These young men, stopped, sprang into action. they did the right thing."
As for the cause of the house fire, it's under investigation.