1 suspect caught after 9-year-old, woman shot on Detroit's east side
DETROIT (FOX 2) - Detroit police say one suspect is in custody after a shooting that injured a 9-year-old boy and a woman.
The shooting, which happened near a strip mall on Gratiot Monday afternoon left the boy and a 27-year-old woman with gunshot wounds. They both remain hospitalized but are in stable condition police said.
Police have since turned their attention to surveillance footage that showed three people running down the street from the shooting. More images show the people inside a Project Green Light gas station. 
Chief James White said Wednesday that one suspect was caught and they believe they know where a second suspect is. They still need help locating a third person, who is considered a person of interest. 
RELATED: 'Always something going on', Residents unnerved by shooting near vacant business
According to an assistant police chief with the department, there were three men that were engaged in gunfire. 
"Our shooter is believed to have a distinctive jacket - white or gray camouflage color. Those are the last three we saw in the area so it's imperative we talk to them," said Asst. Chief Charles Fitzgerald.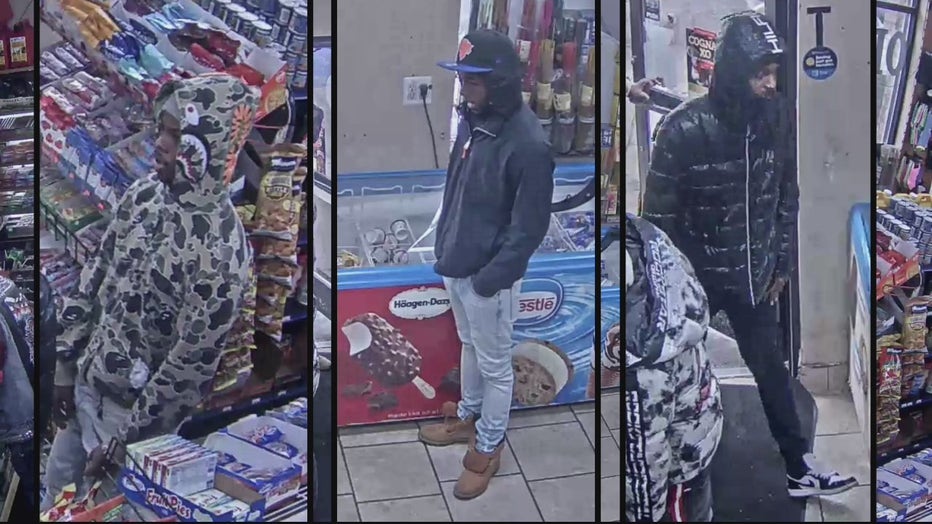 Detroit police want to talk to the three men caught on surveillance of a business. 
The boy is believed to have been with his father inside the abandoned business when the gunfire broke out. They're not believed to have any connection with the shooter. 
The 9-year-old was struck in the stomach while the female victim was shot in the hip. It's unclear how she factors into the shooting.