UFO shot down over Lake Huron • Endangered missing 3-year-old • Norovirus at Livonia schools
MONDAY NEWS HIT - Was it a balloon? A drone? Something more nefarious?
The military wasn't very specific when describing the UFO shot down by a fighter jet over Lake Huron this weekend. The head of NORAD and U.S. Northern Command declined to give any details about what it could be.
"I'm not going to categorize them as balloons. We're calling them objects for a reason," said General Glen D. Vanherck on Sunday.
What is for sure is the U.S. has now shot down four separate objects that had been over American airspace in the past eight days. The first incident, which has since been labeled a Chinese Spy Balloon, was spotted over Montana before it was shot down and recovered in the Atlantic Ocean.
Two other objects were downed over Alaska and Canada before a fourth was shot down 15 miles off the Upper Peninsula's coast. 
The actions are unprecedented in a time of peace, officials have said. 
And while the U.S. military has claimed the actions its taken have been in the interest of security and "heightened alert" since the spy balloon's downing, little has been done to stamp down on questions over what the objects were. 
Even extra terrestrials haven't been ruled out.
"I haven't ruled out anything at this point," said VanHerck.
There is the potential that there's been a spike in overhead objects appearing in the U.S. It's also possible the military is getting more adept at spotting foreign objects.
Later Sunday evening, images of objects floating in the sky were reported. Many featured a string of lights which have frequently been associated with a Starlink satellite, a company owned by Elon Musk.
The downing of objects has also stirred questions and frustrations among lawmakers. Rep. John James wondered about U.S. and Canadian security, while Elissa Slotkin said there was much still to understand from the object, and that hopefully questions would be answered after it's in possession of the military.
Endangered Missing Child alert: Police looking for 3-year-old taken by biological dad
And endangered missing child alert has been put out for a 3-year-old girl who was taken by her biological father. Za'Niyah Alexandria Jones is from Detroit, Michigan State Police say, but she could be anywhere.
Her father, Wardell Tyrece Jones, 54, was ordered to surrender his kid to child protective services by a court. However, state police say he has not followed the directive. State Police first put out a missing person alert on Feb. 11, asking people to be on the lookout for the father and daughter. 
Wardell is aware of his court order, police said. "While Za'Niyah lived in Detroit, we are not sure where the father may have gone." said First Lt. Mike Shaw. "As people are out and about this weekend, please keep an eye out for them and call police if you see them."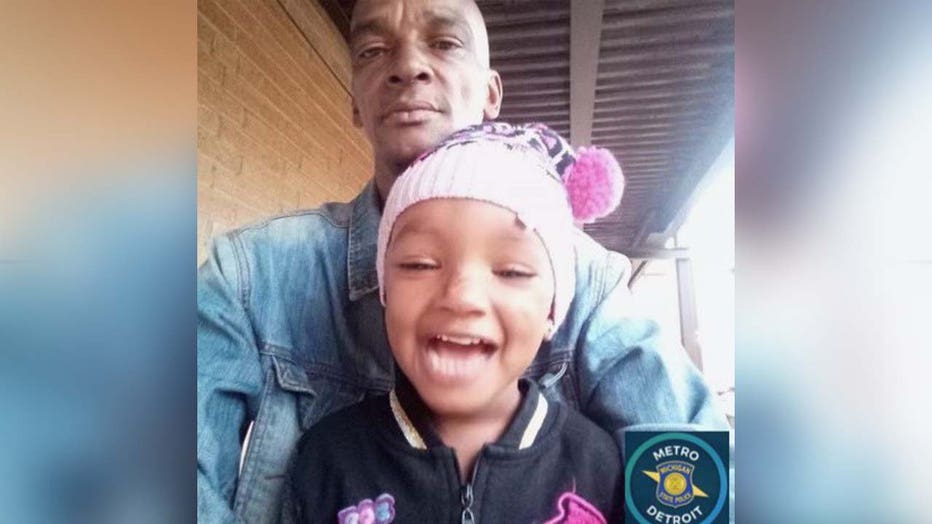 Za'Niyah is 3 feet tall and weighs 40 pounds. Wardell is 5-feet, 10-inches tall and 160 pounds. It's not clear what they could be wearing or what vehicle they are in.
Read more about the missing person story here.
Livonia school closed for norovirus outbreak
Classes at a Livonia school have been canceled due to an outbreak of the norovirus among students and staff. St. Michael the Archangel Catholic School in Livonia shut down Wednesday.
Norovirus is contagious and causes inflammation of the stomach and intestines. Symptoms include vomiting, diarrhea and fever.
"The first couple of kids were sick Monday. And then on Tuesday, we had in one class ... about 10 or 12 kids who started throwing up over the course of four hours," co-principal Kathy Nold told the Free Press.
Their parents were notified and the ill students were picked up from the school, she added. As of Friday afternoon, about 100 students and 15 staffers at the school had developed symptoms, according to the Wayne County Public Health Division. The kindergarten through 8th grade school will stay closed until next Tuesday.
Gas prices down 8 cents
Michigan gas prices fell 8 cents from a week ago. According to AAA out of Dearborn, Michigan drivers are paying on average $3.31 per gallon for regular unleaded fuel in the state. 
Gas prices have remained relatively stable for the past few weeks, not moving more than 2 cents since last month. In total, drivers are paying about $49 to fill up a 15-gallon tank of gas.
Oil prices rose last week after "market optimism" that demand for gas will remain strong in 2023. That's mostly backed by China's plan to continue opening its economy.
Metro Detroit's gas prices are around $3.37 a gallon, while prices are cheapest in Grand Rapids, at $3.15 a gallon.
DDOT adding 10 clean diesel buses to fleet
The Detroit Department of Transportation is adding 10 more buses to its fleet, which come outfitted with lower emissions and high-tech upgrades. The department will be looking to 100 new employees to drive the buses.
"DDOT continues to provide quality, safe, and reliable transit to its riders, and cycling in new coaches play a large part in that," says DDOT Director of Transit Mikel Oglesby. "Newer coaches are better for the environment, cheaper to maintain, more reliable and are more comfortable for riders, which makes it a win-win-win for Detroit."
The buses will come outfitted with bike racks, video entertainment, and USB charges. Each bus costs an average of $521,000.
The fuel used by the buses are considered environmentally friendly because the fuel blend is 20% biodiesel and standard diesel. 
Live on FOX 2
Daily Forecast
Sunday's weather was pretty nice. Expect more of the same Monday as we'll see a mix of sun and clouds with high 40s expected by mid-afternoon. Temperatures will be warm all week.
What else we're watching
The Henry Ford Museum has an interesting new exhibit featuring Scoopy Doo. The Mansion mayhem opened at the museum on Sunday and it will remain open through April 9.
The Detroit Red Wings are only seven points out of the last playoff spot in the Eastern Conference. After a thrashing of Vancouver over the weekend, the wings are looking to end the season strong. They'll play the Cannucks again tonight.
The entire city of Flint is under a boil advisory that's expected to be in effect until Tuesday. A transmission main needed to be repaired,
A St. Clair Shores woman has been arrested by Berkley Police after allegedly embezzling more than $200,000 from a dental practice over a seven-year period.
Gov. Gretchen Whitmer will be giving her State of the State Address To the Business Community Monday. She'll be at the Detroit Regional Chamber-sponsored event at MotorCity Casino Hotel to outline her budget for the upcoming year.
Rihanna returns to the stage triumphant - and pregnant - for Super Bowl halftime show
Rihanna's triumphant return to the stage did not disappoint – and after much speculation on social media, the pop star's representative confirmed she performed the Super Bowl halftime show while pregnant with her second child. 
She opened the show suspended in the air on a floating platform with "B**** Better Have My Money" and sang several of her other mega hits, such as "We Found Love," "Rude Boy," and "Work" as a handful of dancers stayed floating above her on the shifting planks. 
The baby bump that was visible in the tight clothes she wore under her baggy red jumpsuit during the show set off a wave of social media speculation that she might be pregnant again.