Ukrainian soldier travels to Metro Detroit for prosthetic arm after losing limb on battlefield
LIVONIA, Mich. (FOX 2) - Andriy Mazuryk is a Ukrainian soldier who lost his left arm in battle.
"I was on the battlefield and I got caught in the crossfire," he said through a translator.
He was evacuating wounded soldiers last May during the war with Russia when he was injured. Now, he is learning how to use his new prosthetic arm, thanks to Hanger Clinic in Livonia.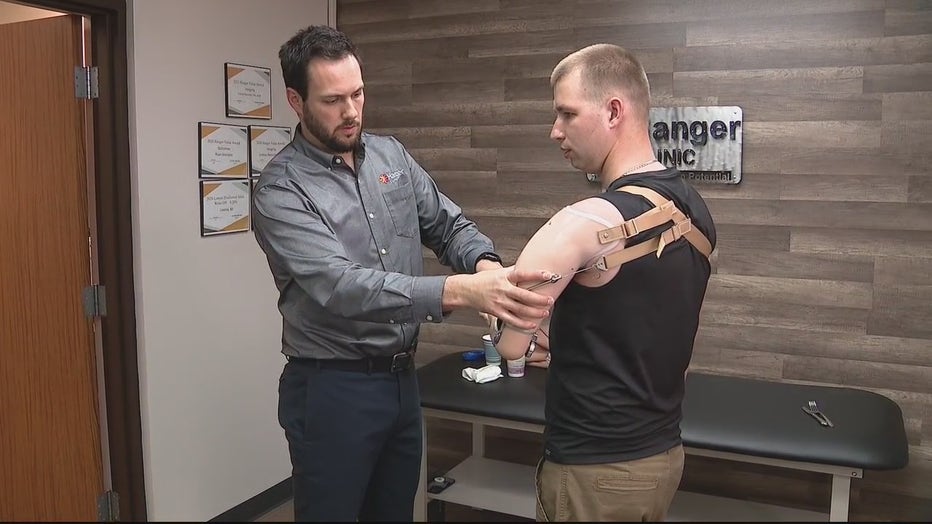 The clinic and nonprofits, including Brothers Brother, helped get him to Metro Detroit for the procedure. o
Mazuryk's new prosthesis is quite advanced.
"The prosthetics have really advanced in the last 10 to 20 years. The hands now do different grip patterns, some are waterproof," said Ryan Sheridan, an Upper Limb Specialist with Hanger Clinic.
On Tuesday Mazuryk was undergoing intense training to learn how to use his new hand.
"I notice how great he's doing. He's picking up the concepts quickly, he's figuring out different ways to hold things, support things," Sheridan said.
It's something Mazuryk is getting the hang of.
"It's really nice," he said. "I'm getting used to it slowly but surely."