VIDEO: Warren Dollar General robbery suspect caught after chase ends at Eastpointe High School
WARREN, Mich. (FOX 2) - Police caught a suspect accused of robbing two Warren Dollar General stores within minutes Wednesday after a chase.
According to police, employees at the Dollar General at 27858 Van Dyke called 911 around 3:20 p.m. because a man had robbed the store and fled with cash. At 3:37 p.m., police received another robbery report, this time at the Dollar General at 27950 Hoover Rd.
Officers determined that the same suspect was involved in both robberies and began canvassing the area for his vehicle, a black Chrysler 300 that was stolen from Southfield.
An officer spotted the suspect at Leisure and Schoenherr, but he fled. Police chased the suspect through Warren and Eastpointe for about 15 minutes.
Police said the suspect hit an uninvolved driver's vehicle while approaching 9 Mile and Gratiot. They weren't hurt.
The suspect, a 28-year-old Detroit man, ran from the car. Police used a K-9 to track him, and he was eventually arrested in the parking lot of Eastpointe High School.
"There were a number of officers involved in this – our road officers as I indicated, traffic officers, dispatchers, and just well organized, very proud," Warren Police Commission Bill Dwyer said. "The arrest was made very professionally. The suspect was handcuffed. There was no excessive force, no profanity."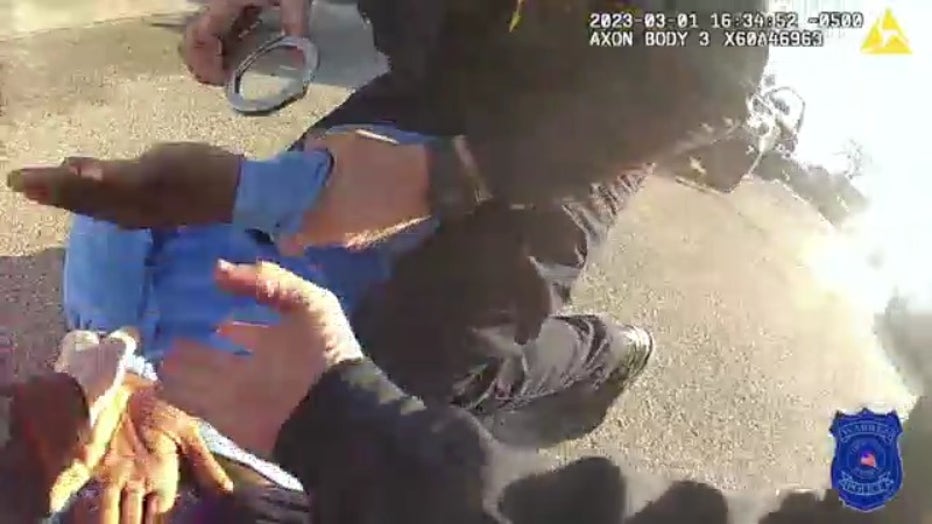 An investigation is ongoing. Police say they believe the suspect was involved in similar robberies in nearby cities.