Vigil draws 1,000 to honor Michigan State shooting victim Alexandria Verner in Clawson
CLAWSON, Mich. (FOX 2) - At least a thousand strong honored one of their own in Clawson on Tuesday night.
They came to pay tribute to 20-year-old Alexandria Verner, one of three MSU students shot and killed on campus Monday night.  A similar vigil was held in Grosse Pointe tonight to honor her, as well as fellow victims Arielle Anderson and Brian Fraser, who were also slain in the shooting that also critically wounded five others.
"As we celebrate (Alexandria) let us be reminded that we don't honor the narrative of last night, but we honor the narrative of 20 years of beauty, an amazing life," said one of the vigil leaders.
"Absolute heartbreak, said Aliyah Vesper. "It was the last thing I was expecting to hear this morning. I've known her for so long, her family has been a part of my life for as long as I can remember."
Those who knew her, say Verner was a gifted athlete, a leader, and a mentor.
There was 24 seconds of silence held, the same number as her basketball jersey.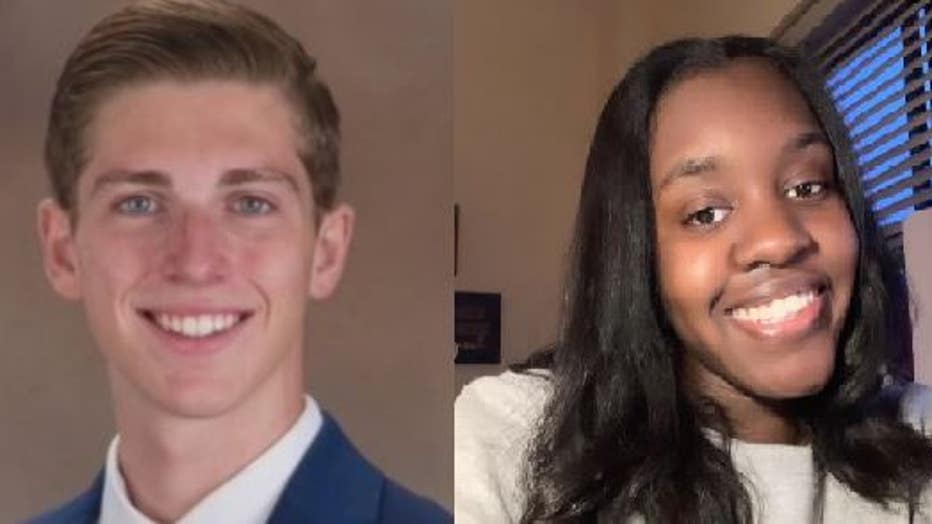 Brian Fraser and Arielle Anderson
"She was a teammate of mine for basketball and volleyball for two years. She was an absolute leader," Vesper said. "She took all of us, underclassmen, under her wing, and she just made such a big impact on all of us. It's just absolutely horrible and she will be so greatly missed."
"She was a role model for every kid here in Clawson," said Boys Basketball Coach Eric Stephan. "In the classroom, and the athletic field. She was somebody you wanted your daughter to grow up to be, and your son to go marry."
Verner, a 2020 Clawson High School graduate, is part of a family with deep ties in the community. And it's that tight-knit community that flooded Clawson City Park to share in grief and take comfort in fond memories and share endless stories.  
Parents like Amy Haney talked about their wishes for the Verner family.
"Our kids used to play baseball together we do travel baseball together and all the kids would be playing and having fun," said Haney. "She was always such a positive young lady, free spirit and very caring and loving and she'll be missed."
See also:
"It's a small town with a big heart and hearts are broken and everybody is out here to be together and to heal," said Coach Stephan. "(And) mostly to help the Verners heal."
There will be two more vigils in the Clawson area in the coming days to remember Verner and the other two MSU students killed.