Vigil held honoring murder victim Tracie Golden on what would have been 54th birthday
DETROIT (FOX 2) - On this day — January 27th — Tracie Golden would have been celebrating her 54th birthday.
"Thank you for coming out and celebrating our angel's special day," said her husband, John.
"We're here today because Tracie epitomized and demonstrated, that we are better and stronger together than and we are by ourselves," said Solomon Kinloch, Jr.
Loved ones gathered in front of Sinai Grace Hospital where Tracie worked for several years. The respiratory therapist was shot and killed outside a liquor store on Grand River just three days after Christmas.
The suspect is just 19 years old stealing her car and then arrested a few weeks later.
"What happened to my mother was a tragedy and we cannot change that," said Bianca, Golden's daughter. "But we can change the community we live on for the better, in her memory."
"We're not only asking that people put down their guns, we're asking people to put down hate, put down the spirit of hate," said community activist Rev. W.J. Rideout.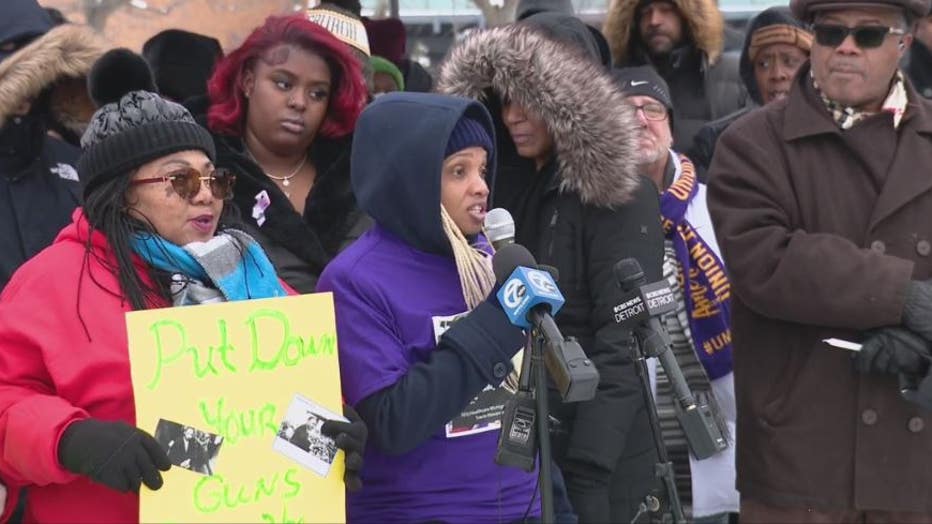 Tracie's husband also paid tribute to her at the vigil.
"She was an incredible lady, an incredible worker, incredible respiratory therapist, incredible chief union steward, incredible, period," John said.
Related: Tracie Golden murder: Detroit Police say she 'represents all of us'
"Tracie was a friend a friend/sister in Christ," said Lora Davis.
"I didn't know how many people's lives she touched, had touched, and our family is just grateful for everyone," said John.
And they're trying to find comfort in their faith.
More: Man arrested in fatal shooting of Detroit mother; charged with murder, armed robbery
"We haven't lost Tracie because we know where she is, she is in the hands of the gracious God that gifted her to us in the first place," Kinloch said. "Let them know the last time they saw her will not be the last time we see her. We'll meet up with her again, on the other side."