Faulty tire may have caused I-84 bus crash that killed 2, injured dozens: Authorities
ORANGE COUNTY - Two adults have died, five young people are in critical condition and dozens of others are injured following a serious bus crash on Interstate 84 in Orange County.
The crash happened at around 1:30 p.m. on Thursday afternoon in Wawayanda in Orange County.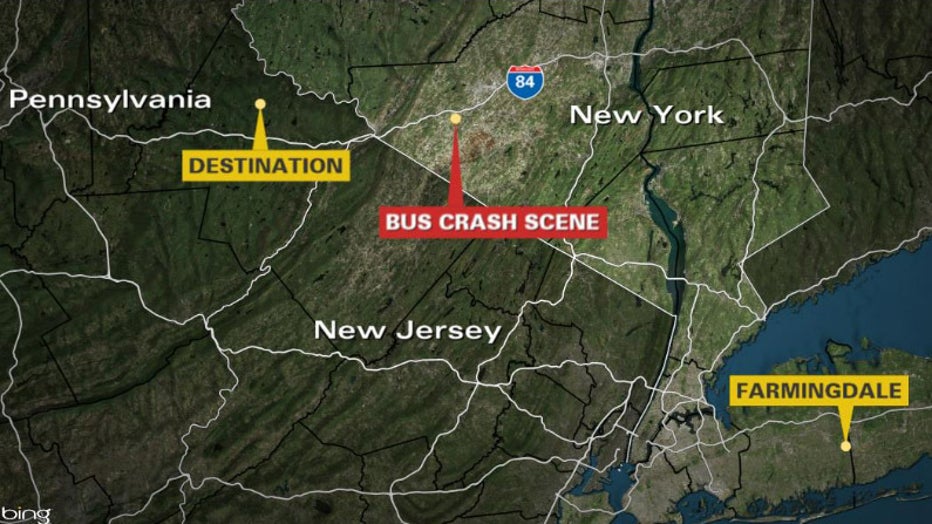 The view from SkyFOX showed the Regency charter bus on its side and the scene swarming with first responders, some using ropes to make their way down to the spot where the bus came to rest. 
Traffic appeared to be backed up for miles in each direction and medical helicopters could be seen departing the area.
FOX 5 NY's Jodi Goldberg reports the crash involved students and chaperones from Farmingdale High School on Long Island. The bus was en route to band camp in Greeley, Pennsylvania. 
The bus had 44 passengers, including 4 adults and 40 students.
The two adults killed were a 43-year-old woman and a 77-year-old woman. 
Other victims were taken to six area hospitals. 
Police and EMS are currently on scene. There are multiple road closures in the area.
According to New York State Police, the failure of a front tire may have caused the accident. 
The bus was the first of six heading to the band camp. Students from buses 2-6 are en route back to Farmingdale High School. On their way, they will be stopping at Orange County Community College. 
Students will have the opportunity to stretch and meet with grief counselors. Once cleared, they will be returning to Farmingdale High School.
Students from the first bus will be taken to a reunification center has been established at Orange County Community College in Middletown.
"How are they going to recover from this? Please don't let anybody be gone. These are my babies. They think they're big and tough, but they're babies," offered one parent at Farmingdale.
"We thought it was a joke. We didn't think it was this serious. It's horrible," added a student who said his friend had been flown from the crash site. 
Events at Farmingdale High School have been canceled for this evening.
This is a breaking story. Stay with FOX 5 NY.