Wayne County leaders want permanent ban on toxic waste from Ohio train derailment
DETROIT (FOX 2) - Last week, the first toxic waste from the train derailment in Ohio were sent to Michigan. Now leaders of 18 communities in the state's most populated county are calling for a permanent halt on importing the hazardous material.
Some toxic soil and liquids from the train derailment in East Palestine, Ohio was authorized to be sent to Michigan - and a portion of it had already arrived on Friday before Wayne County leaders and Governor Gretchen Whitmer said they were alerted to it.
On Monday, the Conference of Western Wayne (CWW) issued a statement calling for a ban on the toxic waste from the train derailment earlier this month. Contaminated soil had already been sent to Republic Waste Services in Romulus at its deep injection well facility. Contaminated soil was also set to be moved to a site in Van Buren Township. 
The CWW said the permanent storage in Wayne County could threaten the water and soil in the county.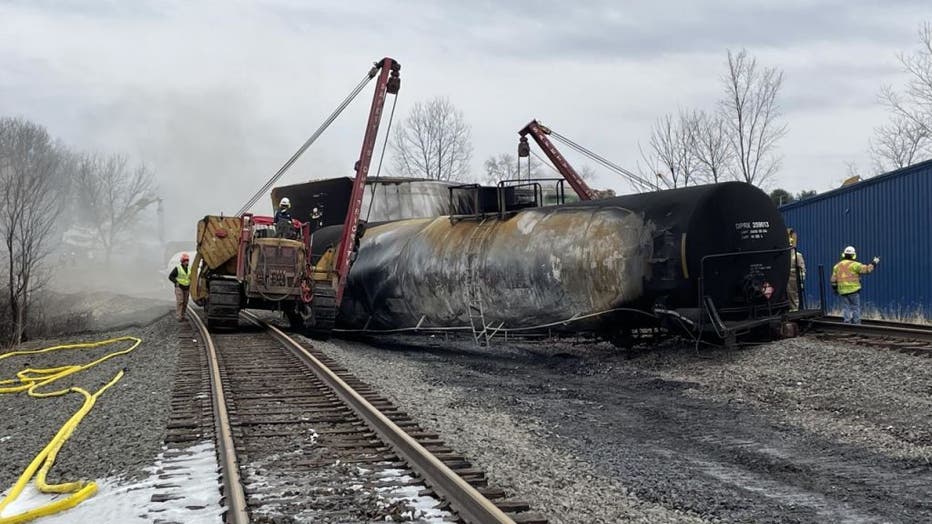 Officials continue to conduct operation and inspect the area after the train derailment in East Palestine, Ohio, United States on February 17, 2023. The train derailment happened on Feb. 3 in which 38 cars derailed, including 11 containing hazardous
"The Conference of Western Wayne represents nearly 730,000 residents who depend on us to fight for clean water and air. The safety of Wayne County families is our number one priority and that is why we support Romulus, Van Buren Township and Wayne County in their opposition to being the dumping ground for Ohio's hazardous material. It is not a Michigan problem, and it must not become one," said Huron Township Supervisor David Glaab, CWW's chair.  
After news of the importation of the toxic waste surfaced last week, a temporary pause was put in place. Now the CWW wants it to be much longer than that.
"While there has been a pause on the importation, we are calling on the EPA to publicly commit that there will be a permanent halt and that this hazardous material will never be sent to Wayne County," Glaab concluded.
The CWW represents some of Michigan's larger cities including Belleville, Dearborn, Dearborn Heights, Garden City, Inkster, Livonia, Northville, Plymouth, Romulus, Wayne and Westland, and the Townships of Canton, Huron, Northville, Plymouth, Redford, Sumpter and Van Buren.
U.S. Sen. Debbie Dingell (D-Michigan) said last week that Norfolk Southern made the decision to ship the material to Michigan, prior to the Environmental Protection Agency taking control of the operation.
Wayne County Executive Warren Evans said he and Whitmer were both kept in the dark.
"It sounds in all intents and purposes that we were sandbagged. I don't know how you do that without contacting local officials so that we can number one, know how to respond to our communities, and two, to give advice about what routes to take and those sort of things," Evans said on Friday. "In the phone call (on Friday) I talked with the governor and important folks with the EPA, but to my satisfaction - and I'd like to say the governors' office also got last-minute bits and pieces of information. They weren't hiding anything from us. They were trying to get information just like we were."
Among the substances moved to Michigan will be cancer-causing vinyl chloride, said Dingell. Five trucks have already come to Michigan Friday with the substance earmarked for the Romulus deep injection well. Dingell said that the decision to ship it here was made by Norfolk Southern.
"They told us there were five trucks that came today from Ohio that they have 99 percent water and one percent vinyl chloride. And that going forward all of it is on pause and another site is likely to be found," she said.
Ohio Governor Mike DeWine's office released a statement Friday revealing the plans to remove the waste.
"The process to remove the contaminated soil from the site of the Norfolk Southern derailment began today. Under the direction of the Ohio EPA, Norfolk Southern brought in large dump trucks to move contaminated soil to U.S. Ecology Wayne Disposal, a licensed hazardous waste disposal facility in Michigan. This will be a continuous effort to properly manage and safely dispose of the waste. So far, 4,832 cubic yards of soil have been excavated from the ground and more may be removed as cleanup proceeds. When the process begins to dig up the tracks and remove the soil underneath, that soil will be hauled away immediately and taken to a proper disposal facility."