Winter ice storm Wednesday brings school closings, warnings
FOX 2 (WJBK) - Wintry weather coming for Wednesday, as an ice storm warning has been issued for most of southeast Michigan.
School closings have been issued across the area. More than 100 school districts will be closed due to the storm, check the entire list HERE.
Snow and sleet are expected to start around noon Wednesday and become all sleet before changing to freezing rain late in the day. Freezing rain will continue in the evening with significant icing. Travel is expected to be dangerous.
The warning goes into effect at noon Wednesday for St. Clair, Livingston, Oakland, Macomb, and Washtenaw counties. The warning will expire at 4 a.m. Thursday. A winter weather advisory is in effect for Wayne County from 10 a.m. to 8 p.m. Wednesday.
The National Weather Service says, "Power outages and tree damage are likely due to the ice. Travel could be nearly impossible. The hazardous conditions could impact the morning or evening commute.
"Travel is strongly discouraged. If you must travel, keep an extra flashlight, food and water in your vehicle in case of an emergency. Prepare for possible power outages."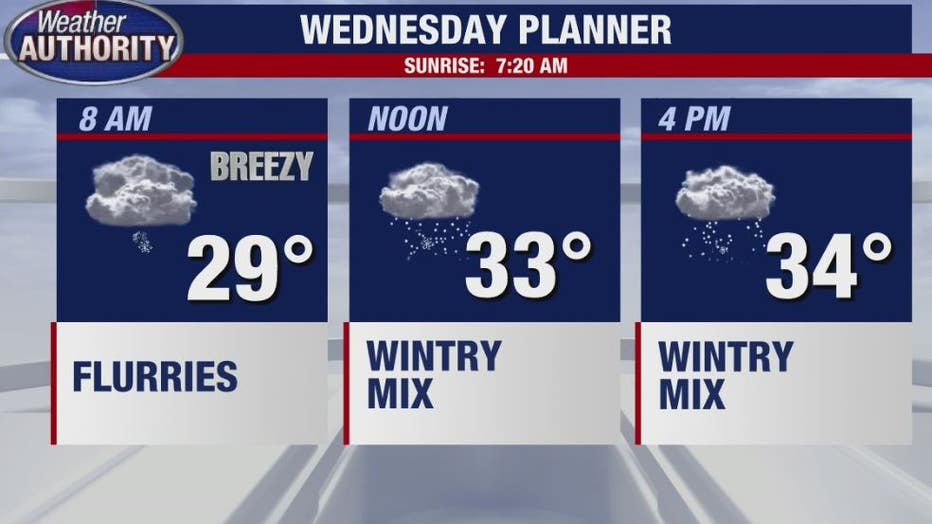 For the rest of Tuesday evening/night, increasing clouds, brisk and cold with a low of 29.
Wednesday: Cloudy, breezy and cold with periods of a wintry mix including sleet, freezing rain, snow and rain, with a high of 36.
Thursday: Cloudy, blustery, and a possible morning shower with a high of 48.
Friday: Sun and clouds, COLDER with a high of 27.
Saturday: Mostly cloudy and a high of 36.
Sunday: Partly sunny and a high 39.
-Luterman