Winter weather advisory with 3-6 inches of snow expected in SE Michigan
FOX 2 (WJBK) - Snow develops after midnight with 1- 2 inches expected, as a winter weather advisory began at 10 p.m. running through 2 p.m. Friday.
It's going to get snowy, resulting in slow-going on roadways with totals later on Friday in the 3 to 6-inch range. It is expected to taper off by mid-afternoon when the advisory is scheduled to end.
Related: Metro Detroit snow: Will my school be closed on Friday? See the list here.
A CHILLY pattern continues well into next week for our area.  Snow showers are in the forecast Sunday and Monday with little accumulation and don't forget this Saturday night - set your clocks forward one hour.

The wet snow is expected throughout southeast Michigan, so plan on slippery road conditions especially for the morning rush hour. The high for Friday will be 34.
According to the National Weather Service, the heaviest snowfall rates of a half inch to an inch per hour are expected to occur within the morning commute, between 4 AM - 
9 AM, which would lead to reduced visibility and snow covered  roads.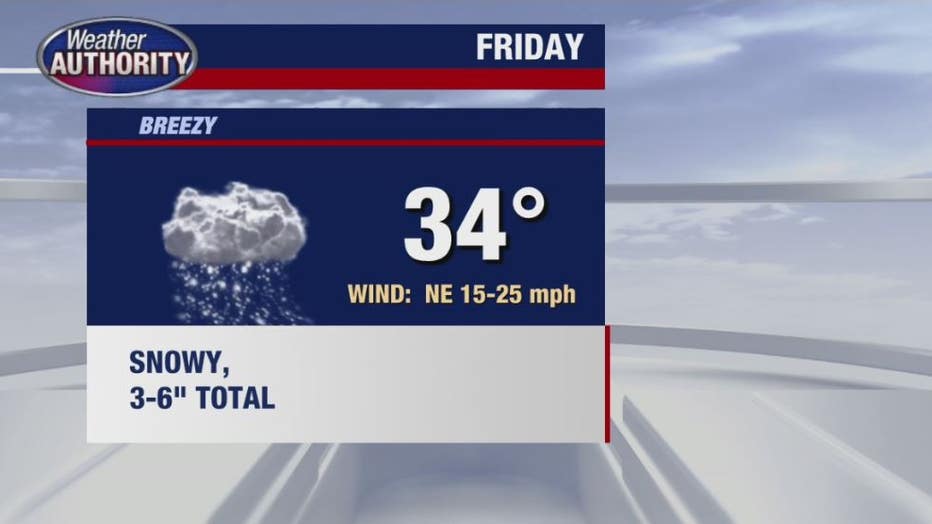 Saturday: Mostly cloudy, chilly and a high of 35.
Sunday: Cloudy with occasional snow showers, cool, with a high of 35.
Monday: Cloudy with occasional snow showers, cool with a high of 35.
Tuesday: Sun and clouds and still cool with a high of 34.
ENJOY,
Luterman