Woman hospitalized after suspect fleeing police hits her at 100 miles an hour
CLINTON TWP., Mich. (FOX 2) - A man in a stolen Dodge Durango ran a red light and broadsided a 40-year-old from Mount Clemens as he fled from police.
Kiera Davenport's mother, Crystal, is banged up but still alive after a devastating car crash at Hall and Gratiot in Clinton Township Tuesday afternoon. The violent crash nearly caused Crystal's F-150 truck to flip over.
"She is still in pain and in a lot of shock," said Kiera. "Her back is hurting along with her neck and head still - and she's kind of terrified to get back behind the wheel."
John Russo works at Russ Milne Ford and was headed to lunch when he says he barely dodged the at-fault driver as he sped past him.
"I heard a really loud SRVT engine roar and I knew somebody was coming - and coming fast," he said. "And then next thing I know, this vehicle blew by me doing 70 miles per hour, went to the far left, crossed the intersection, and slammed right into a white pick-up truck."
The driver then bailed from the car - running nearly a half-mile to Kensington Church where Macomb County Sheriff deputies caught up with him.
"All started from a stolen vehicle that was broadcast over the air and one of my deputies saw the vehicle on Hall Road going eastbound and attempted to pursue," said Macomb County Sheriff Anthony Wickersham.
Wickersham says his deputy put the brakes on the pursuit as the driver in that stolen Durango hit speeds of 100 miles an hour.
The driver would blow through the red light, broadsiding Crystal about eight seconds later.
"Amazingly if you see the damage to his vehicle, the whole front end is just pretty much just caved right up to the compartment," he said.
Crystal was taken to a local hospital with neck and back pain, but no apparent major injuries.
"Yes it definitely could've been a lot worse especially if it was on the driver's side," Kiera said. "I don't even want to imagine what would've happened if it was on the driver's side."
That driver is now in the Macomb County Jail. He has not yet been arraigned. The sheriff says the auto theft squad is taking over the case and they will see if that man may be tied to any other car thefts.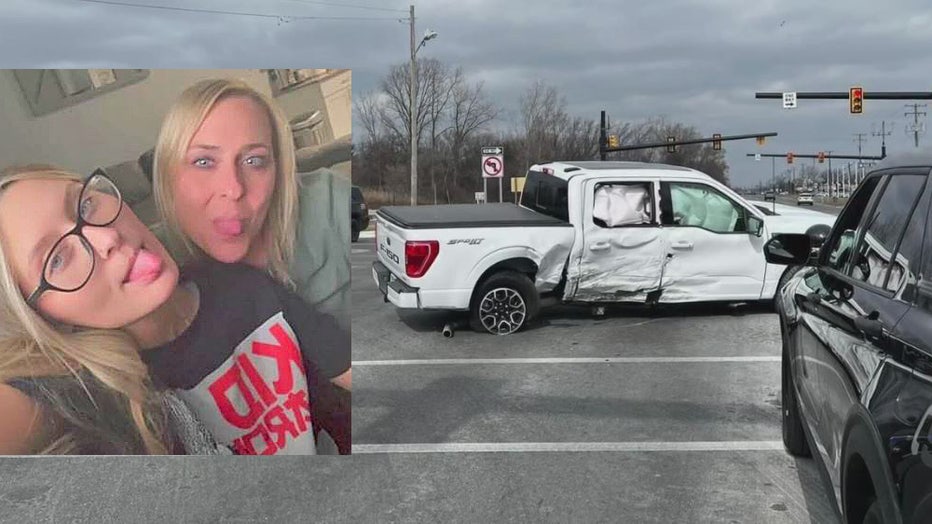 Inset: Kiera Davenport, left, and her mom Crystal.