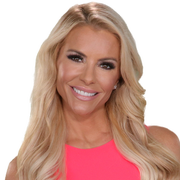 Amy Andrews co-anchors FOX 2 News Morning and created the Amy's Angels franchise to highlight those making a difference in their communities and beyond.
After graduating from college, she packed her bags and moved to Colorado to work as an anchor/reporter for a small television station on the Western Slope. She says she can remember looking in her rearview mirror as she drove away from her home in metro Detroit thinking "someday I will be back working for FOX 2 News."
Amy attended Indiana University for three years before transferring to Oakland University where she graduated cum laude with a BA in Journalism. Amy also graduated from Specs Howard School of Broadcast Arts in Southfield. While in school, she worked as a weekend sports anchor at WSYM in Lansing. She also interned with the Detroit Lions.
After that, she moved to Montrose, Colorado where she made the switch from sports to news at KREY/KREX. The next stop, "then" UPN affiliate KLBC TV2 in Laughlin, Nev. Two and a half years later it was off to San Luis Obispo, Calif. where Amy worked as a reporter/anchor for KSBY 6. Several years later, she started feeling the "pull" of the Midwest and realized it was time to make her way back home.
Amy took a job at WNEM TV5 in the Flint/Saginaw market. She started as a weekend anchor and worked her way up to morning/noon anchor and co-host for the lifestyle show "Better Mid-Michigan."
In September 2011, her career came full circle when an opportunity opened up at FOX 2.
When she is not busy empowering viewers from the anchor desk she is out in the community making a difference. She is heavily involved with Gleaners Community Food Bank, is an ambassador for C.A.T.C.H Children's Charity. She also facilitated FOX 2's media partnership with St. Jude Children's Research Hospital. She is very active with the Crohn's Colitis Foundation of America, Habitat for Humanity, the American Heart Association and Angels of Hope.
The latest from Amy Andrews