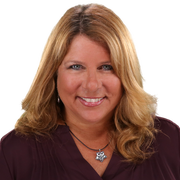 Jennifer Hammond
Sports Reporter
When I was five years old, my dad first put a microphone (and tape recorder) in my hand. Among the chatter and conversation, aimed mostly at entertaining my shy older sister came a confident utterance: "Hello Sports fans!" Hard to believe that I knew then where I hoped my future would take me. 
By the time I was in junior high school watching Monday night football and typing out lineups, there was no turning back. The only career I could imagine for myself was as a sports reporter on TV. While my mind was made up, the road to get there wasn't nearly as direct. My first on-camera experience came broadcasting the morning announcements at Seaholm High School in Birmingham where I grew up, and by the time I arrived at Western Michigan University I had snagged a lucrative gig in the Sports Information Department, where I covered everything from football to women's gymnastics. Working full time at radio stations WQLR/WQSN while going to college helped polish my on-air product - but did little to further my sports resume. 
I took a leap of faith and moved to Chicago six months following my graduation and took a job working as a receptionist at an audio production company - where I could meet people in the business and upgrade my audition tape. Less than a year later I finally got a break in radio as I received an opportunity to try out at Shadow Traffic after two weeks of unpaid training. With no guarantees of a position at the end, I landed a fulltime job. That gig lasted about three years and blossomed into another on-camera opportunity at CLTV in Oakbrook, Illinois doing morning traffic reports at the key wall. When the morning sports anchor declared that she wasn't hip on reading the morning sports, I took over and finally got back in the game doing what I really loved. 
By late Spring of 1994, I was at a crossroads, eager to take the next step as a sports reporter working in the field  - at the same time Detroit's first all-sports talk station was getting ready to hit the airwaves and I wouldn't be denied. I drove home for a couple of days and called Program Director Lorna Gladstone at the Fan to set up a meeting - I was hired on the spot. 
I spent the next three years covering everything in Detroit from the Lions to the Tigers and MSU and UM football and hoops before earning a freelance job with Fox 2 to cover the Lions pregame and Red Wings Stanley Cup runs. 
In November of 1997 a shift in management at Fox 2 landed me a full-time job in the sports department as the number three - meaning I would be out in the field covering everything from the NFL to the College World Series. It's hard to believe it has been more than two decades since I landed my dream job, and it keeps on getting better. I have had so many amazing experiences and have even earned two Emmy awards for my work as a sports journalist. What is even more priceless is the constant feedback and interaction with views and Detroit sports fans who make this job so rewarding.  
I am more committed than ever to providing interesting and informative stories to you - our Fox 2 Viewers - and hope that one day I will be covering a Lions Super Bowl! In the meantime, I remain committed to serving this incredible community and mentoring the future broadcasters of tomorrow! 
The latest from Jennifer Hammond
The Detroit Pistons are introducing Monty Williams as the teams new head coach on Tuesday.
Michigan State's Tom Izzo says playing at Madison Square Garden in the Sweet 16 isn't too big of a state for the Spartans as they prepare for Thursday's game against Kansas State.
Oxford Strong shirts will raise money to pay for resources to help students and staff as they heal after the the Oxford High School shooting.
This weekend marks the beginning of Poker Stars Championship Of Online Poker series or MICOOP and grandmaster and poker champion Jennifer Shahade said it's exciting to see women start to make their case in male-dominated fields like chess and poker.
"Detroit Police Athletic League if you think about it, it's origins it was founded by a time like this where you had people or Juveniles come into the police precinct in greater numbers," said Robert Jamerson with Detroit PAL. "So, they saw that and they said let's do something for them and they developed this sports league and it surrounded them with these interactions with police officers."
Charles Rogers was one of the most dominant athletes the state of Michigan ever produced. 
Some Birmingham students spent the day Thursday stuffing a bus with food for those in need.