Harbaugh makes a wish as Michigan football team tours Rome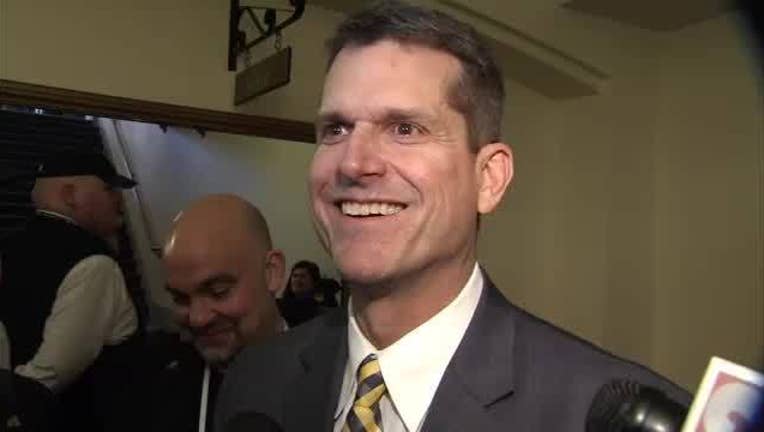 article
ROME (AP) - The tradition of throwing coins into Trevi Fountain isn't meant for wishes.
Jim Harbaugh made one anyway.
Standing with his back to the fountain, which is customary in Rome's Trevi district, Harbaugh pulled three coins from his pocket and tossed them into the water. In Roman culture, one coin ensures a return trip to the city, but three coins ensures a happy, lifelong marriage. Still, Harbaugh put some American culture into his throw.
"I wished for a championship," he said. "The highest one."
The Michigan football team made its way through Rome on Monday, spending more than eight hours checking out sites like the Pantheon, the Spanish Steps, the Colosseum, the Roman Forum and Piazza Navona.
Harbaugh and his youngest daughter, Addie, made sure to kneel and say a prayer inside the Pantheon - an ancient monument that also doubles as a church. Just outside, Harbaugh was immediately recognized by several groups of American tourists.
"Where are you from?" the Michigan coach asked a couple from Syracuse, New York. "Syracuse! ... Go Blue."
The Wolverines will make a trip to the Vatican on Wednesday to take in a service delivered by Pope Francis. Harbaugh and his wife, Sarah, hope to have their youngest son, John, baptized during the visit. Addie plans on taking her first communion. It was, after all, a family day for the Harbaughs - his parents, Jack and Jackie, also came along for the Roman tour.
But Harbaugh's family extends beyond blood now. He was just as happy to be touring the city with his Michigan family.
"It's amazing," he said. "To have our whole team here, my family. Our team, the conversations that you have here - just learning from each other and experiencing all this together . it's as good as it gets."
A hefty part of this visit will be about football later in the week. Michigan has three practices scheduled to close out the trip.
But this is also about team building and bonding together. Players spoke earlier in the week about that opportunity, something some of them experienced in some form last spring when Harbaugh took the team to IMG Academy in Florida for a week.
Florida was nice, of course. But Rome is Rome.
Michigan has team-related activities planned around Rome all day Tuesday before the group readies itself for the Vatican and a guided tour of St. Peter's Square on Wednesday. Then, it's back to football - with several other moments to spend with "family."
"It's amazing," Harbaugh said. "The whole thing is amazing."