Jalen Ramsey to the Lions? What the veteran cornerback could do for Detroit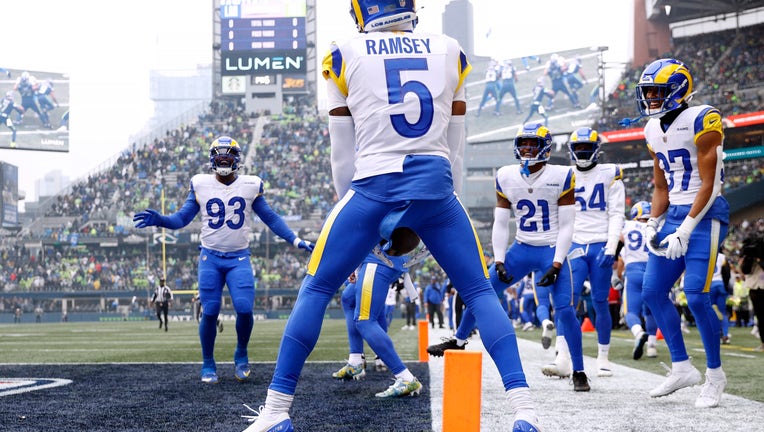 article
DETROIT (FOX 2) - The perfect trade for one of the best corners in the league does exist, and the Detroit Lions have an opportunity to make it happen.  
Jalen Ramsey, 28, is one of the best players at his position in the National Football League, putting on a Pro Bowl performance in the last full season he played.  
Coming out of Florida State in 2016, he was picked fifth overall in the draft by the Jacksonville Jaguars. 
He landed in Los Angeles during a trade with the Rams in the middle of the 2019 season, with the Jaguars getting two first-round picks and one fourth-round pick in exchange.
Since his debut season, Ramsey has received All-Pro accolades three times and nominated to the Pro Bowl six times. He's racked up 452 tackles and 19 career interceptions.  
He's also been ranked as one of the best corners in the league by Pro Football Focus and NFL.com.
And now he may be leaving L.A.
To Detroit, which gave up their fair share of big plays last season, Ramsey's availability is an enticing one. And Lions players appear to be noticing. 
Wide Receiver Amon Ra St. Brown pitched Ramsey to the Lions on his podcast this offseason, saying "Jalen, if you can hear this, I know you played with (Jared) Goff before, Detroit might seem like a landing spot for you, my guy. Talk to me." 
MORE: Four things Detroit Lions fans can look forward to with Offensive Coordinator Ben Johnson's return
Cornerback Jerry Jacobs piled on, tweeting last weekend "Lmaooo at this point we just gotta recruit Jalen ahh." 
Ramsey hasn't been a ghost amid the campaign to come to Detroit.
So what can Ramsey do for the Lions?
A good fit for Detroit
Ramsey brings some skills that can be taught, as well as some that can't be. He'd be a great fit for Detroit on a team-wide scale by making the defense better. 
He'd join a young but spry team in Aidan Hutchinson, Malcolm Rodriguez, Tracy Walker III, and Alim McNeill as a veteran leader.
But he'd also help out the Lions in his individual play making. 
When you look at his last game of the 202223 season it shows how critical he could be in an improving defense. Ramsey had two interceptions and three passes defended in Los Angeles' loss to the Seattle Seahawks this year. 
And this was with nothing on the line for the Rams and everything on the line for Quarterback Geno Smith and the Seahawks. 
The first drive showed Ramsey cutting off a pass over the middle for his first interception, then showing off his speed after the play to get L.A. to the 12-yard-line to start their first drive of the game.
In the third quarter Ramsey showed off his catching ability by jumping to make his second interception. During the play, Smith threw the ball behind his intended receiver and Ramsey jumped to make the play.
Two weeks before this, Ramsey makes another one of his four interceptions last season against the Broncos on Christmas Day.
MORE: Detroit Lions home and away opponents announced for 2023 season
The Rams had a 31-6 lead early in the third quarter when Russel Wilson threw a deep ball to the end zone. Waiting to pick him off was Ramsey, who stole another touchdown opportunity.
The Lions defense needs this veteran to help win a divisional title next season. 
What could Detroit trade away?
So what could Detroit do to get Ramsey?
A potential offer to the Rams include:
Pick 18 (round 1)
Pick 55 (round 2) from the Minnesota Vikings
Pick 194 (round 6)
This is the perfect trade and should get Ramsey to Detroit - partly because Detroit would still own a first-round pick at No. 6, a second-round pick at No. 48, and a third-round pick at No. 81.
The trade for Ramsey would be a guaranteed starter and Detroit will still have three picks in the top 100 to build a better defense.