Top Super Bowl food in every state: Dips, chips, tots and more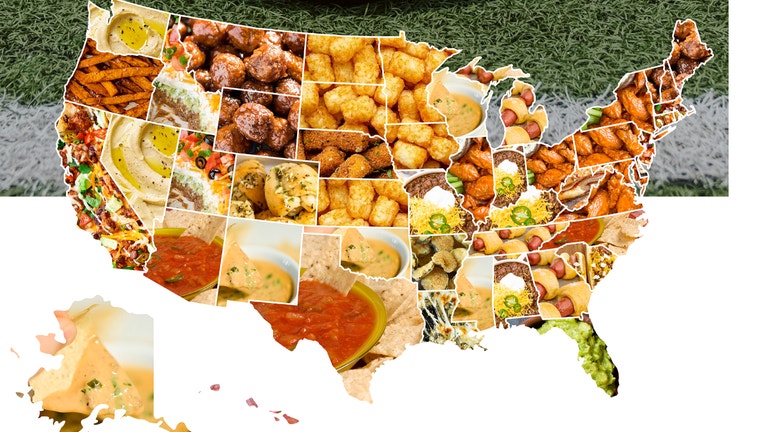 article
CHICAGO - It's been said that there's more that unites us than divides us – and if the Super Bowl is any indication, snacks are truly the great unifier.
But even if all football fans seem to love their appetizers, there are still plenty of differences to celebrate. A recent analysis of more than 9,000 Google search terms (sponsored by online equipment auction house Bid on Equipment) reveals the go-to food for the Big Game in every state, and the results contain a few surprises – and plenty of ideas for outside-the-box game day recipes. (West Virginian pepperoni roll, anyone?) 
RELATED: Super Bowl Snackday: 70 percent of fans stick to appetizers on gameday
The mainstays: Wings, tots, and the mighty meatball
The analysis shows that meatballs are the most searched-for game day snack, so it's no surprise that this crowd-pleasing appetizer comes out on top in five states: Maine, Montana, New Hampshire, Vermont and Wyoming all prize meatballs above all.
But it's not the most dominant food on the map. That honor goes to the buffalo wing, the Super Bowl food of choice in six different states (Illinois, Maryland, New York, Ohio, Pennsylvania and Virginia). And if you include Rhode Island, which prizes garlic parmesan wings above all other culinary delights for the Big Game, that's a whopping seven states, or 14 percent. 
RELATED: Super Bowl 57: All you need to know
Other popular dishes include tater tots, which top the tally for Iowa, Kansas, Minnesota, North Dakota and South Dakota; chili, which spices up the Super Bowl in Alabama, Kentucky, Missouri and Indiana; queso, which is the big cheese in Alaska, Mississippi, New Mexico, Oklahoma and Wisconsin; and pigs in a blanket, the dish most likely to warm the bellies of the citizens of Georgia, Michigan and Tennessee.
Lest you doubt the dominance of some of those dishes, it's worth noting that South Carolina also loves chili, though it prefers it atop a chili dog. And while queso may reign supreme among the cheeseheads of Wisconsin, it only narrowly beat out beer cheese dip for the top slot. It's called America's Dairyland for a reason.
RELATED: Super Bowl's Most Valuable Snack: Here is the most popular game day food
Would you care for a fried pickle?
While many of the top foods were repeated over and over again, a few states staked more individual claims. Arkansans, for example, prefer a fried pickle above all else. 
In Delaware, the dish of choice is the crab ball. The citizens of Colorado love a garlic knot, folks in Florida prize a good helping of guacamole, Oregonians salivate over sweet potato fries and West Virginia's fondness for a pepperoni roll earned that dish the top spot. 
The complete list
Alabama - Chili
Alaska - Queso
Arizona - Chips and salsa
Arkansas - Fried pickles
California - Nachos
Colorado - Garlic knots
Connecticut - Nachos
Delaware - Crab ball
Florida - Guacamole
Georgia - Pigs in a blanket
Hawaii - Chips and salsa
Idaho - Seven-layer dip
Illinois - Buffalo wings
Indiana - Chili
Iowa - Tater tots
Kansas - Tater tots
Kentucky - Chili
Louisiana - Spinach and artichoke dip
Maine - Meatballs
Maryland - Buffalo wings
Massachusetts - Nachos
Michigan - Pigs in a blanket
Minnesota - Tater tots
Mississippi - Queso
Missouri - Chili
Montana - Meatballs
Nebraska - Mozzarella sticks
Nevada - Hummus
New Hampshire - Meatballs
New Jersey - Nachos
New Mexico - Queso
New York - Buffalo wings
North Carolina - Chips and salsa
North Dakota - Tater tots
Ohio - Buffalo wings
Oklahoma - Queso
Oregon - Sweet potato fries
Pennsylvania - Buffalo wings
Rhode Island - Garlic parmesan wings
South Carolina - Chili dog
South Dakota - Tater tots
Tennessee - Pigs in a blanket
Texas - Chips and salsa
Utah - Seven-layer dip
Vermont - Meatballs
Virginia - Buffalo wings
Washington - Hummus
West Virginia - Pepperoni roll
Wisconsin - Queso
Wyoming - Meatballs
How to watch the Super Bowl this year
This year's Super Bowl will be held on Sunday, Feb. 12. Kickoff is scheduled for 6:30 p.m. EST; programming begins at 6 p.m. EST. This year's game will be broadcast exclusively on FOX, so whether you're tuning in to see the Philadelphia Eagles face the Kansas City Chiefs, watching for the commercials or just want to see Rihanna's Halftime Show, make sure you've got your snacks ready to go by 5:59 p.m. EST.
WATCH FREE ON TUBI: "The Great Brady Heist"
Where to stream the Super Bowl for free
You can stream the championship game on FOXSports.com, via the FOX Sports app and in the NFL+ app.