Metro Detroit Weather: Heavy rains, watch for flooding and high waters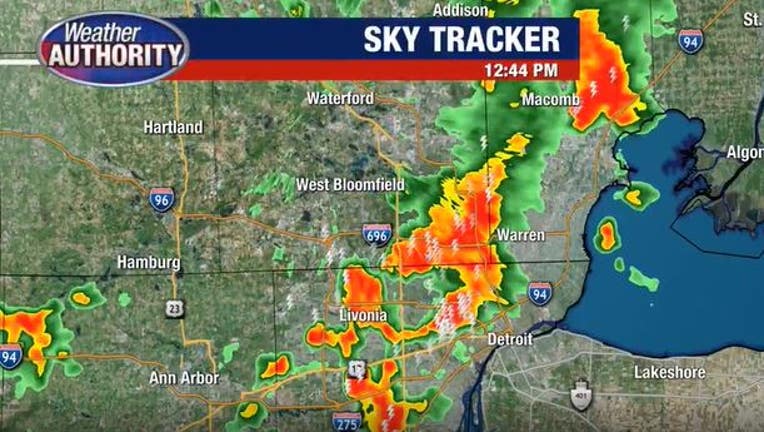 article
SOUTHFIELD, Mich. (FOX 2) - Scattered showers and slow-moving strong thunderstorms will continue through parts of Friday afternoon with the main threat being flooding and high waters as the storms appear to start 'training' in southeast Michigan.
The thunderstorms that are developing will be capable of producing flooding rainfall. We are noticing a trend where rain and storms are redeveloping over the same areas which will exacerbate our flood threat. 
Download the FOX 2 Detroit app for iPhone and Android.
With all the moisture, heat, and humidity in the air, 1 to 3 inches of rainfall is possible leading to flooding in streets, sidewalks, creeks, and possibly basements as well. Be on the lookout for high waters on some of our local expressways as well. 
Around 1:30, Southfield Freeway in Detroit was closed at Ford Road and Joy Road, as is the Lodge at Evergreen. 
A flash flood warning was issued around 1:15 for southern Oakland County and northern Wayne County. That's set to expire around 4:15 p.m. on Friday.
Flood Prevention Tips: 6 things you need to know
Lots of lightning will be associated with these storms. 
If you're heading out this afternoon, have your umbrella on standby and be mindful of the roadways you are going to take home as some roadways may be water-logged. Most of the rain and storms should begin to fade around dinnertime tonight. 
High temperatures should top out in the mid-80s with overnight lows falling to around 70 degrees. 90s are back by both Saturday and Sunday along with rain and storm chances.