Timeline: When Metro Detroit will see snow today - and how much to expect
SOUTHFIELD, Mich. (FOX 2) - It may not have seemed like it, but we've been in winter for a month now and the most measurable snowfall we've had this month came this past weekend. That's about to change.
We are gearing up for the biggest snow maker of the season! Now, considering that we've seen only one other real snow event this season that isn't saying much but still...this is the biggest snowmaker of the season!
We are gearing up for a total of 3 to 5 inches of snow for most spots in Southeast Michigan on Wednesday. Higher totals will be found much farther south, closer to the city of Toledo in Northern Ohio and in parts of Southern Monroe Co (possibly even Windsor).  
GET THE FOX 2 WEATHER APP and track this snowmaker - and any others - all winter long.
The snow will be slightly heavier and wetter than most January snows. This is due to the high temperature Wednesday afternoon being near 34 degrees.
In fact, this is an important detail to watch as a higher temp could mean a portion of the snowfall may be mixed with some rain which helps in keeping the totals a tad lower.
When to expect the snow to start falling in Southeast Michigan
When we wake up Wednesday morning, the snow will be falling. The first flakes should start around 6 a.m. on Wednesday and will continue the whole morning. If you leave for work around this time you should be fine but a later commute could be impacted. 
The snow will keep falling through the day, slow and steady, through lunchtime and dinnertime. 
The snow will be the heaviest between lunch and the beginning of the evening commute.
That means, just in time for evening rush hour, the snow will have a major impact on your drive home, despite the fact that plows will be out all day long. 
The crews are ready and will likely have a good handle on this, since they'll be working throughout the day to clear the snow and treat the roads.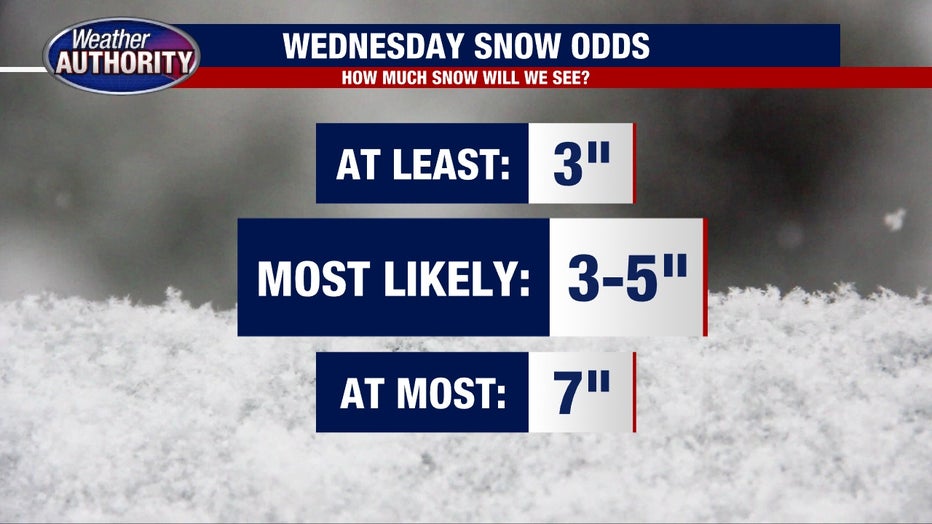 How much total snow?
The bottom line is pretty standard for a January snowmaker. We expect totals to be between 3 and 5 inches of snow for pretty much all of Southeast Michigan.
That's the totals for this storm - but another one is looming on Friday followed by one on Sunday.
Yes - it's still winter in Southeast Michigan.