19-year-old suspect wanted for shooting at Taylor police with assault rifle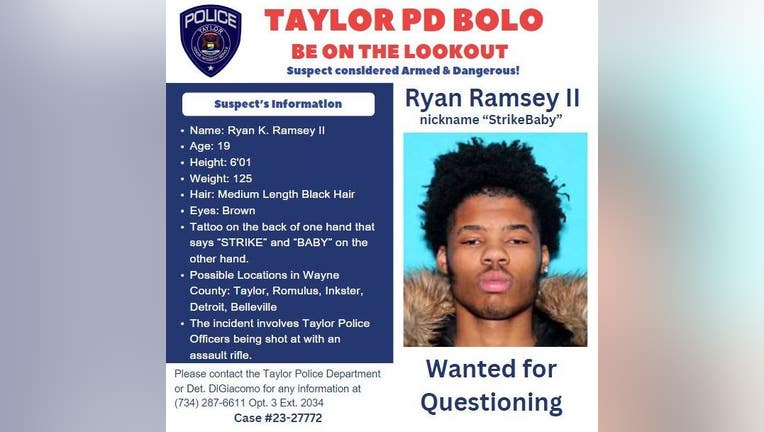 article
FOX 2 (WJBK) - A 19-year-old is wanted by Taylor police after officers were fired on with an assault rifle Tuesday night.
No officers were injured but the suspect, identified as Ryan K. Ramsey II, should be considered armed and dangerous.
Possible locations for the man, whose nickname is "StrikeBaby," may be in possible locations in Taylor, Romulus, Inkster, Detroit or Belleville. He is described as 6 feet, 1 inch, and 125 pounds with medium-length black hair.
He has tattoos on the back of each hand with "Strike" on one, and "Baby" on the other. 
Police say that two officers were on a service call at Pond Village Drive near Eureka Road at 11:30 p.m. when someone opened fire with an assault rifle at them.
A second male associated with the incident was arrested - while Ryan Kristoffer Ramsey II, 19 years old, was identified as a suspect in the incident and remains at large.
Ramsey is considered to be armed and dangerous and has access to firearms.
If you have any information on the location or where Ramsey is located please contact the Taylor Police Department or a local law enforcement agency.
Contact Det. DiGiacomo with any information on the case or the whereabouts of Ramsey at (734) 287-6611 ext. 2034.