2 charged after undercover MSP trooper shot in Detroit; suspected shooter's bond set at $1 million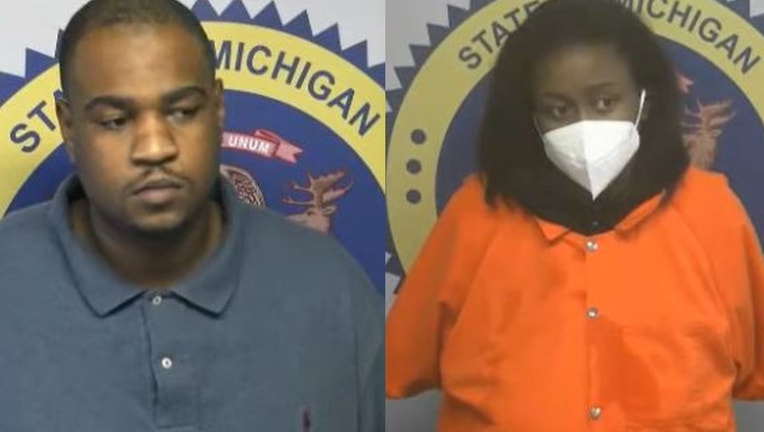 DETROIT (FOX 2) - A pair is facing charges stemming from a shooting that injured a Michigan State Police trooper Tuesday in Detroit.
Andrae Scott, Jr., 28, is charged with assault with intent to murder, possession with intent to deliver cocaine, and two counts of felony firearm, and his friend Robin K. Hall, 23, is charged with accessory after the fact to a felony and lying to a peace officer.
Police were conducting surveillance at Infinity Park Townhomes when Scott allegedly fired at the undercover trooper multiple times around 1:30 a.m.  State police say Detective Sgt. Devin Kachar was investigating a fatal drug overdose near the apartments when he was shot.
Authorities allege that Scott used a handgun with a laser sight when he saw the undercover trooper near his vehicle. 
Kachar, a 10-year veteran, was shot twice through the chest and once through the back. Medics rushed him to Sinai Grace Hospital, but he is expected to survive. 
A homicide task force comprised of state troopers and Detroit police caught up with Scott and Hall in Romulus hours after the shooting – using a helicopter and video surveillance as well as a hand from Michigan State Police's emergency support team.
According to the Wayne County Prosecutor's office, Hall was not truthful to police. During her arraignment, authorities allege that she lied to police about Scott's whereabouts and address, and the contact she had with him. She is also accused of disposing of the weapon Scott allegedly used.
That weapon was thrown in a dumpster and has not been recovered, authorities said.
Magistrate Malika Ramsey Heath of 36th District Court said that Scott can't claim the shooting was an accident due to the laser sight on his weapon.
"It was done using a laser sight, which in all likelihood, is why we have (unintelligible) charge, because that laser was going to tell you exactly where those bullets were going to go," Heath said. "And that they were going to kill or very critically injure someone. I think there is a grave danger to the community if Mr. Scott is out."
Scott's bond was set at $1 million cash. He returns to court Oct. 11.
Hall's bond was set at $250,000 cash because the judge believes there is a flight risk. She is due back in court Oct. 11.