3 arrested in Monroe woman's murder • Shaky access to abortion pill • Dwayne Casey out as Pistons coach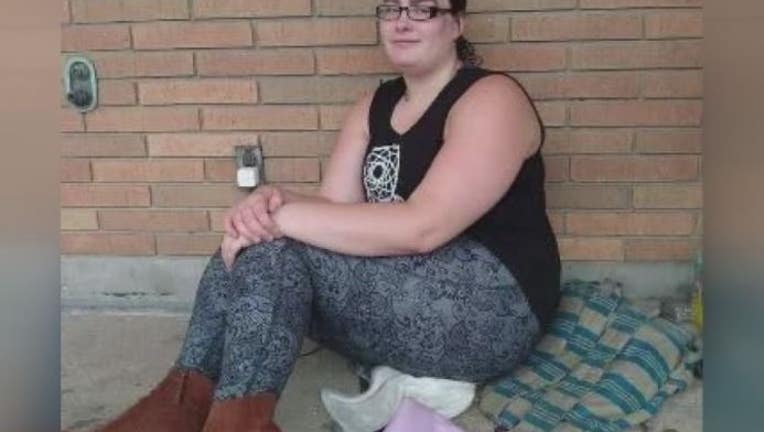 article
MONDAY NEWS HIT - Three people have been arrested after the body of Kayla Sedoskey was found tied up and wrapped in a tarp in Monroe County.
Sierra Bemis, 23, was arraigned in the First District Court on charges of homicide-open murder and conspiracy to commit homicide. Brian Smith was also arraigned on the same charges. 
READ MORE: Nordstrom at Twelve Oaks Mall evacuated after receiving bomb threat
A third suspect was arrested in Ohio on April 7 on the same charges as Bemis and Smith. Her name is being withheld pending her arraignment on the charges.
Kayla Sedoskey's body was found tied up and wrapped in a tarp with tape over her mouth at the abandoned Boysville Juvenile Detention Center in Frenchtown Township on March 2. The 22-year-old lived a few miles from where she was found dead.
"My 5-year-old saw it on the news and says, 'Dad why is Aunt Kayla on TV?' How do you explain that to a 5-year-old?" said Tim Booth, who was friends with Sedoskey for eight years.
RELATED: Friend of murdered woman found in tarp wants justice
She would make it to church though – and was always on Facebook. That all stopped around Valentine's Day.
"I started to get a little worried," Booth said. "I figured it was Kayla being Kayla, she will come around. Then we find her dead in Boysville."
Michigan State Police have not released the motive for the murder.
If you have any further information relating to the death of Kayla Sedoskey, contact D/Sgt Michael Peterson at the MSP Monroe Post at 734-242-3500.
Access to abortion pill remains, MDHHS says 
The Michigan health department says medications used in abortion procedures remains legal in the state, despite a federal judge's ruling against the U.S. Food and Drug Administration that suspended one of the most common drugs used to terminate a pregnancy.
The judge's decision to suspend the FDA's approval of mifepristone was followed shortly by another federal judge's ruling for the FDA to refrain from making changes to the medication's availability. The contradictory rulings has thrown the status of abortion medication in limbo. 
But according to MDHHS, abortion and medication abortion remains legal in Michigan. The department issued the statement shortly after the judge's decision last Friday. "Despite claims to the contrary in this lawsuit, medication management of abortion is safe and effective, and is used to provide more than half of all abortion care nationwide," it read.
U.S. District Judge Matthew Kacsmaryk in Texas ordered the FDA-approved pill to suspend administration because the agency had ignored risks associated with the drug 23 years ago. Along with the Washington State federal judge's decision that came afterward, the Biden administration has also promised to use "every option" to preserve access to the drug.
Dwayne Casey out as Pistons coach
Detroit Pistons coach Dwane Casey stepped down after Sunday's 103-81 loss to the Chicago Bulls to end the 2022-23 season. Casey will move to a role in the franchise's front office.
The Pistons ended the season with an NBA-worst 17-65 mark and missed the postseason for the fourth straight year. "Hopefully my legacy will be will building the foundation with these young guys," said Casey, a former NBA coach of the year in Toronto. "When you bring in a young team, this league is not very forgiving in terms of wins and losses. I knew that coming in."
Casey guided the team to the playoffs in his first season in Detroit but the start of a rebuilding project the following season left Detroit near the Eastern Conference's basement. The franchise selected Cade Cunningham after winning the 2021 NBA draft lottery but his second season lasted just 12 games before he was sidelined by shin surgery.
"Things changed, health changed and we took it down to the studs," Casey said of the team's rebuild after making the 2018-19 playoffs with a veteran group that included Blake Griffin.
1 in custody after child shot in Detroit
The Detroit Police Department is investigating a shooting Saturday night involving a 5-year-old boy on the city's east side.
Detroit Police say the shooting happened a little after 9 p.m. in the 19400 block of Harned Ave, near Outer Drive and Conant Street. Officials say the story keeps changing, but originally the story was that the gun fell onto the ground and shot the boy in the back.
A city medical unit down the street was able to convey the child who is in stable condition. Police say the suspect had two registered weapons and are still looking for the one that was fired. 
Six other children, ages ranging from 3 to 16 years old, as well as a woman were in the home at the time of the shooting. A 27-year-old man, believed to be a friend of the young boy's mom, is in custody.
Gas prices jump 10 cents
Gas ticked up another 10 cents this week, pushing Michigan gas prices to an average of $3.62 a gallon for regular unleaded fuel. We're still a ways off from the record-high prices that were building last year - about 34 cents behind as of this week.
Prices are also about 7 cents more than this time last month, with a 15-gallon tank of gas costing about $54. 
AAA said that more demand and tighter supply was sending prices up. Recession fears actually caused the price of gas to dip after an announcement from the oil producing coalition known as OPEC+ said it would cut production by 1.6 million barrels. 
The most expensive gas can be found in Marquette. The cheapest would be in Metro Detroit. 
Live on FOX 2
Daily Forecast
Near-perfect weather is upon us in Southeast Michigan this week with sun and 70s expected throughout. We'll only get into the high 60s Monday, but after that its mid-to-high 70s into the weekend with no rain expected until then.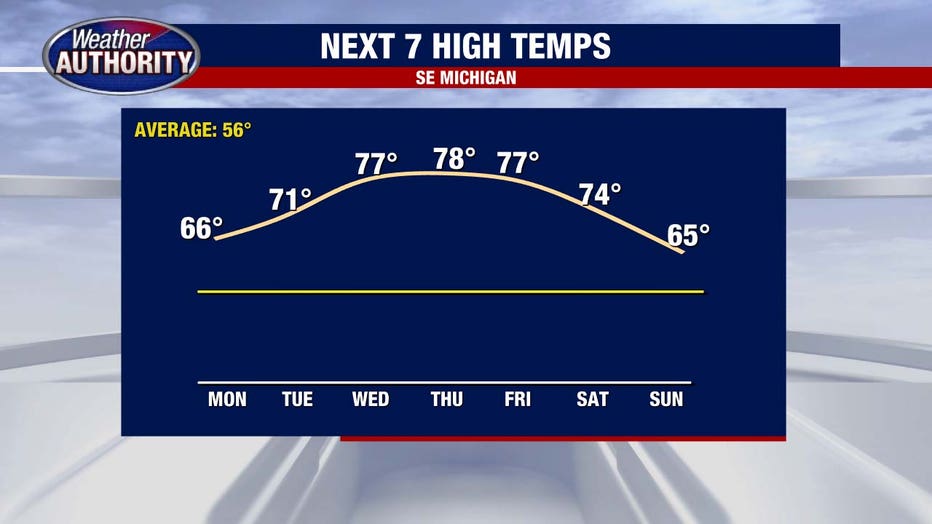 What else we're watching
Downtown Street Eats program has returned to downtown Detroit Monday. The food truck initiative today kicks off the 2023 season at Cadillac Square and Woodward Esplanade from 11 a.m. to 3 p.m. through October. 
A new facility intended to provide help to those battling addiction will break ground in Detroit this week. Mayor Mike Duggan will be at the Anchor site which will be located next to the current Mariners Inn facility at Cass and Ledyard. 
A slow judicial process is putting strains on Michigan's animal care industry when shelters must care for pets that have been reclaimed from abuse and neglect for months or even years. On National Pet Day on Tuesday, a rally will hope to gather signatures for an upcoming ballot initiative. 
MDOT says both Inkster Road and Michigan Avenue will be closed for separate road projects this week. Inkster Road for bridge work under I-696 and Michigan Ave in Dearborn between Oakwood and Greenfield. 
The Detroit News is reporting that James Craig is weighing a run for U.S. Senate. Michigan's open senate seat next year is expected to be a pivotal and hard-fought race. 
Nashville officials poised to vote on restoring ousted state lawmaker
Nashville officials are poised to vote Monday to reinstate one of the two Black Democratic lawmakers expelled by Republican colleagues for their gun control protest on the Tennessee House floor after a deadly school shooting — essentially, sending him back after a long weekend.
Nashville's metro council has called the meeting to address the vacancy left by the expulsion on Thursday of former Rep. Justin Jones. Many councilmembers have publicly commented that they want to send Jones back to the statehouse. The vote will happen as state lawmakers hold their first floor sessions since last week's expulsion votes.
Expelled Memphis Rep. Justin Pearson, meanwhile, could be reappointed at a Wednesday meeting of the Shelby County Commission.