3 Michigan cities get perfect score on Municipal Equality Index for supporting LGBTQ+ people
DETROIT (FOX 2) - Three Michigan cities received a perfect score on the Human Rights Campaign's 2022 Municipal Equality Index.
The index analyzed 506 cities' support of LGBTQ+ people, including 11 in Michigan.
Parameters include non-discrimination laws, protections and transgender health care benefits for municipal employees, and municipal services, along with whether police departments have LGBTQ+ liaison task forces, hate crime data, leaders' public positions, and actions toward pro-equality policies. 
The analysis included points for criteria that not all cities have access to, such as services for youth and protection from conversion therapy. 
Detroit, Ferndale, and Ann Arbor all received 100, the top score. Grand Rapids and Sterling Heights scored in the 90s, while Lansing, East Lansing, and Traverse City scored in the 80s. Kalamazoo got a 74, Pleasant Ridge received a 69, and Warren, the lowest rating of all Michigan cities, was 44.
Sterling Heights was celebrating its high rating of 91, a big jump from previous years. The city received only an 8 in 2019. That rating increased to 38 in 2020 and 61 in 2021. 
"When we received our 2019 scorecard, we knew the score was not reflective of who we are as an organization, and certainly not reflective of our community. We took immediate action and started working internally to gather data and documentation for the Human Rights Campaign. Our current score of 91 is a wonderful improvement, especially as we have many community members and some of our very own employees who are part of the LGBTQ+ community," said Sterling Heights Human Resources Manager Kate Baldwin. "We have also launched additional initiatives since 2019. For example, our police department has adjusted their coding to capture reports of hate and bias, we launched our first ever human rights commission called the CommUNITY Alliance, and the City recently embarked on our own Diversity, Equity and Inclusion journey to develop a consistent DEI Strategy for City staff."
Check the full rating list here.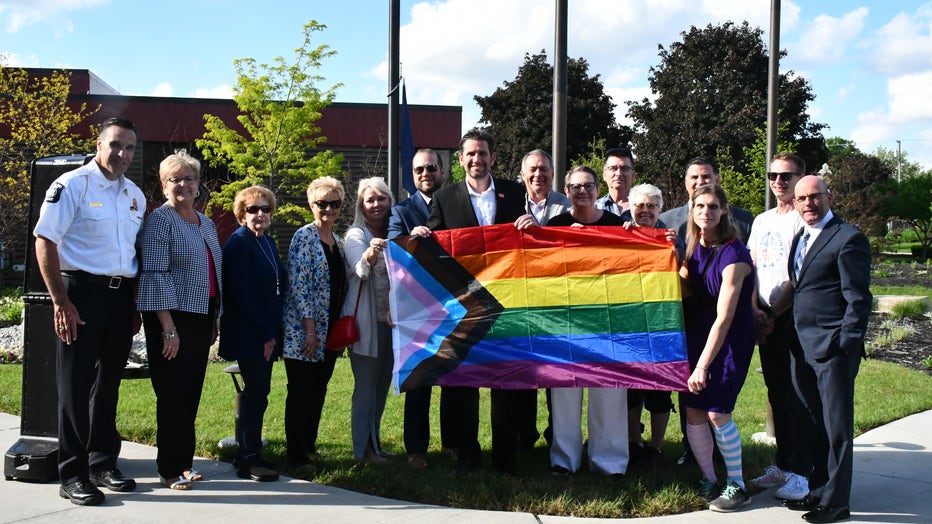 Sterling Heights Mayor and City Council, Sterling Heights Administration, members of the Sterling Heights CommUNITY Alliance and members of Macomb County Pride raise the Pride flag at Sterling Heights City Hall for Pride month in June 2022.