5 suspects accused of trying to steal Ram trucks from Sterling Heights Stellantis car plant face charges
STERLING HEIGHTS, Mich (FOX 2) - Five men are facing charges after authorities say they tried to steal Dodge Ram pickup trucks from the Sterling Heights Stellantis car plant Tuesday.
Related: Deputies catch man driving Dodge Ram stolen from Sterling Heights lot
Police arrested seven suspects after they tried to steal around 10 trucks from the assembly plant parking lot at 7500 17 Mile Rd. around 4:45 a.m. While trying to flee, police said they rammed a gate but could not escape. A police vehicle was also hit.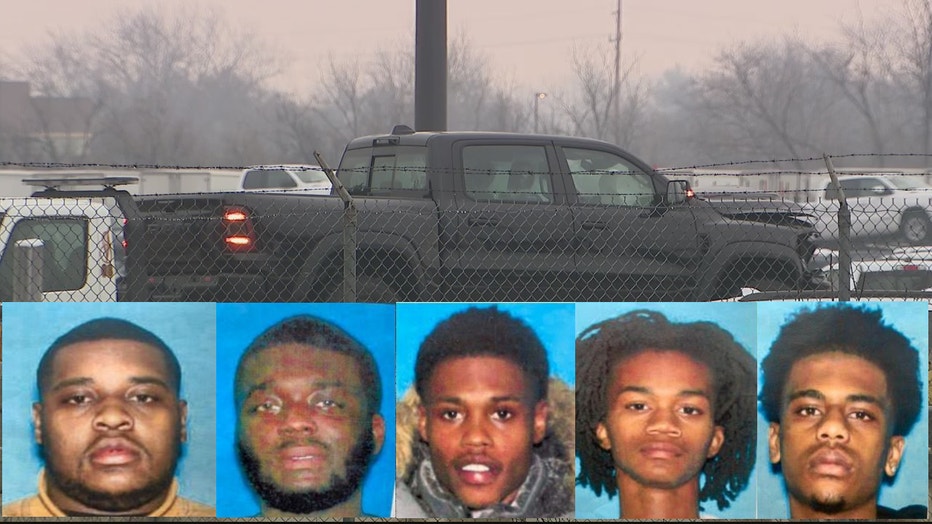 (From left to right) Derrin Abbott, Jaquan Reed, Travon Brookins, Timothy Haslam Jr. , Demarion Palmer 
These suspects were charged Thursday:
Travon Brookins (23yrs) Bond - $50,000 (10 % ) – Tether
Count 1. Weapon – Firearm – Possession by a Felon (5-year felony)
Count 2. Weapon – Felony Firearm (2 year felony – mandatory)
Count 3. Controlled Substance – Possession of Analogues (2-year felony)
Count 4. Weapon – Felony Firearm (additional due to felony drug possession) (2-year felony)
Timothy Haslam Jr. (18yrs) Bond - $50,000 (10 % ) – Tether
Count 1. Larceny - $20,000 or more (10-year felony)
Count 2. Conspiracy to Commit Larceny (10-year felony)
Count 3. Motor Vehicle – Unlawful Driving Away (5-year felony)
Count 4. Conspiracy to Commit Motor Vehicle – Unlawful Driving Away (5-year felony)
Derrin Abbott (22yrs) Bond - $50,000 (10 % ) – Tether
Count 1. Larceny - $20,000 or more (10-year felony)
Count 2. Conspiracy to Commit Larceny (10-year felony)
Count 3. Motor Vehicle – Unlawful Driving Away (5-year felony)
Count 4. Conspiracy to Commit Motor Vehicle – Unlawful Driving Away (5-year felony)
Count 5. Police Officer – Flee – 3rd Degree (5-year felony)
Jaquan Reed (25yrs) Bond - $50,000 (10 % ) – Tether
Count 1. Larceny - $20,000 or more (10-year felony)
Count 2. Conspiracy to Commit Larceny (10-year felony)
Count 3. Motor Vehicle – Unlawful Driving Away (5-year felony)
Count 4. Conspiracy to Commit Motor Vehicle – Unlawful Driving Away (5-year felony)
Demarion Palmer (18yrs) Bond - $10,000 (10 % ) – NO Tether
Count 1. Larceny - $20,000 or more (10 year felony)
Count 2. Conspiracy to Commit Larceny (10 year felony)
Count 3. Motor Vehicle – Unlawful Driving Away (5-year felony)
Count 4. Conspiracy to Commit Motor Vehicle – Unlawful Driving Away (5-year felony)