Active weather week • 3 sought in vacant building shooting • District Detroit gets council approval
WEDNESDAY NEWS HIT - Rain or snow? Winter or summer? The incoming weather system that's expected to bring a range of precipitation and temperature swings means the Michigan spring season is now in full swing.
Over the next four days, Southeast Michigan's forecast will bring a bit of everything, starting with a narrow window of rain and snow Wednesday afternoon. From there, it only gets busier.
High temperatures spike at 48 degrees around noon and then steadily drop into the upper 30s by dinner time. With the winds picking up, it will likely feel more like the low 30s and upper 20s later today. Burr!
Overnight lows will drop to 23 degrees. A chilly night and beginning of the day on Thursday!
Temperatures rise only to the middle 40s Thursday afternoon with partly cloudy skies. Later in the day some showers will begin to move in, and a wintry mix is not unexpected.
A surge of warmer air Friday will allow us to get up into the low 60s which will be nice! However, it comes with rain, thunderstorms, and windy conditions. 
This spring storm will continue overnight Friday into Saturday as winds peak with gusts nearly 45 to 50 mph. Rain continues into Saturday before changing over into some snowflakes and temperatures plummet through the 40s.
Make sure you have access to the Fox 2 Weather App over the next few days - it will be a very handy tool!
3 men sought in double shooting investigation 
Detroit police have released an image of three men that could have knowledge about a double non-fatal shooting that occurred near a vacant business in the city this week.
The shooting, which happened near a strip mall on Gratiot Monday afternoon left a 9-year-old boy and a 27-year-old woman with gunshot wounds. They both remain hospitalized but are in stable condition police said.
Police have since turned their attention to surveillance footage that showed three people running down the street from the shooting. More images show the people inside a Project Green Light gas station. Detroit police are calling the men photographed persons of interest and not suspects.
According to an assistant police chief with the department, there were three men that were engaged in gunfire. "Our shooter is believed to have a distinctive jacket - white or gray camouflage color. Those are the last three we saw in the area so it's imperative we talk to them," said Asst. Chief Charles Fitzgerald. 
City Council greenlights District Detroit tax incentives
The Detroit City Council gave near-unanimous approval for some $800 million in tax subsidies for a massive project that would lead to the rehabbing and building of 10 new structures downtown.
Only Council President Mary Sheffield voted against the tax incentives, with other council members touting the $1.5 billion investment would lead to thousands of temporary and permanent jobs, new affordable housing options, and retail space in Detroit.
Before the plan was approved, council members did secure more promises that Detroit businesses would be sourced in the construction process. A community benefits agreement has typically moved in tandem with large-scale real estate projects to ensure local residents also gain from the new investment.
What those benefits look like is what drove some of the late-stage negotiations for the latest project. Construction could start as early as July. 
Parents heartbroken after losing baby
A family is seeking closure after their 4-month-old child died from an unknown illness that has cast a mystery over the reasons that cost them their baby. Diamond Davie, who was found holding her baby Ivah when police arrived to help, remains in shock by the death.
"I wouldn't wish this on my worst enemy," she said. Both she and the baby's father Ivory Hogan will need to wait weeks before an autopsy report is complete. 
Warren police released body cam footage of the moment officers found Davie in a driveway screaming and holding her baby. They immediately administered life-saving measures before taking her to a hospital. The baby was declared dead a short time later. 
There are no indications the family did anything wrong, their attorney said. A visit from Child Protective Services and police investigating the death has only added to the couple's stress. And while questions remain, they plan to bury their daughter on Friday. 
You can read the full story here.
State GOP chair Karamo takes on DeVos family in Republican divide
The new state GOP chairwoman is underscoring the deep divide in the Michigan Republican Party. Kristina Karamo is blasting a handful of major GOP financial donors who are discussing ways to form a shadow party.  
"A lot of people gravitate simply to maintain power," Karamo said. "They are not interested in actually solving problems."
When Karamo and Matthew DePerno ran for statewide office last November, the major establishment Republican donors in the party reportedly did not open their check books to help them. Now there is chatter that Betsy DeVos and her husband and others are discussing forming a shadow party while ignoring the new party chair whose policies they don't like."
Karamo appears adamant in her position against the Devos family. But critics say the new GOP leader's direction for the party isn't going to improve its chances at the ballot box. 
Live on FOX 2
Daily Forecast
Wednesday kicks of a string of busy weather systems that could bring both winter and summer precipitation, along with wild temperatures swings and blustery winds.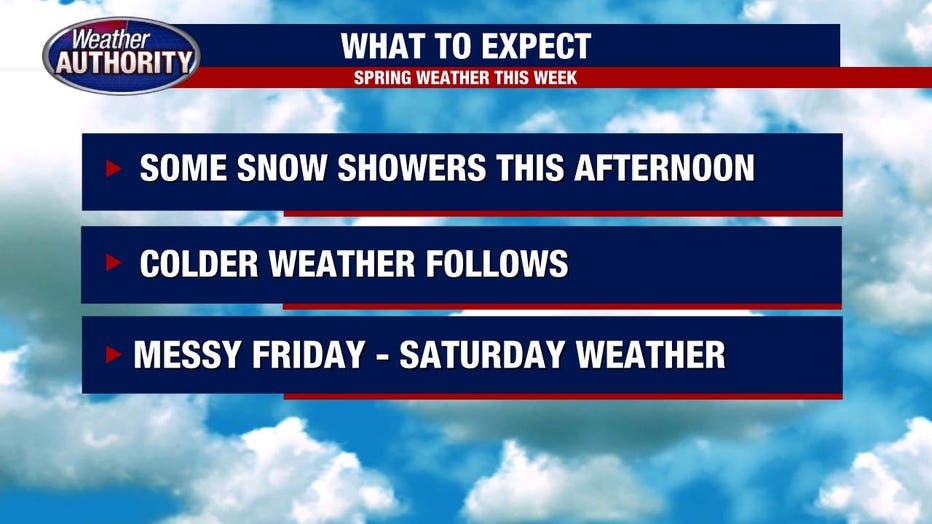 What else we're watching
An income tax cut that was triggered by the state's budget surplus is only expected to be in effect for a year, AG Dana Nessel said. The state attorney general is arguing the cut, which will save an estimated $700 million, will revert to its original 4.25% rate the following fiscal year. 
A Detroit man who fled a traffic stop in Westland before crashing into and injuring two people has been charged with several crimes. Among the victims he struck was a pregnant woman from Inkster.
Shelby Township is deploying new safety precautions for a nesting American Bald Eagle pair that were found in Holland Ponds Park. They include new distances. 
University of Michigan grad student workers plan to go on strike Wednesday. The group voted on the measures after negotiations with the university broke down after several months of discussions.
The City of Detroit plans to announce four new Arts Alley locations Wednesday. Check out the new developments when they're announced at 11 a.m. today.
Adnan Syed's murder conviction reinstated by Maryland's Court of Appeals
Adnan Syed's murder conviction was reinstated Tuesday following an opinion released by Maryland's Court of Appeals.
The Appellate Court of Maryland ruled the state's law provides victims with the right to prior notice of the hearing on a motion to vacate convictions, and that right was violated in the case of the family of Hae Min lee, Syed's ex-girlfriend and high school classmate who died more than two decades ago.
The court ruled that giving her brother, Young Lee, only one business day before the hearing was "insufficient time to reasonably allow Mr. Lee, who lived in California, to attend the hearing in person," and required him to attend the hearing remotely.