Aretha Franklin dressed in sparkling gold for final outfit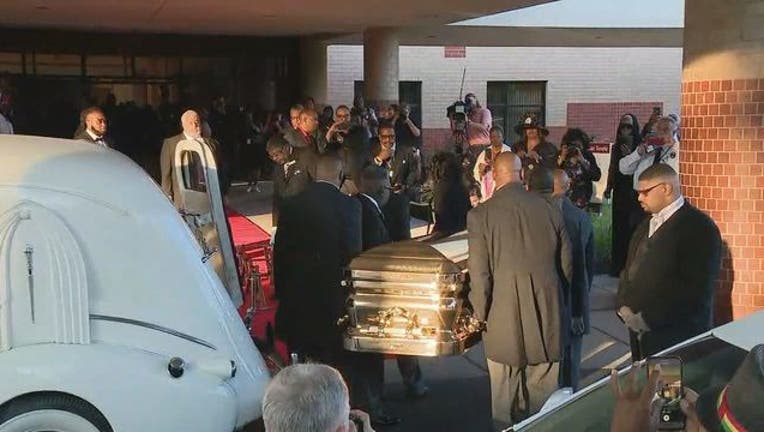 DETROIT (WJBK) - Aretha Franklin is dressed in a sparkling full-length gold dress with sequined heels for her final outfit.
Mourners got a glimpse of the Queen of Soul before her funeral Friday during an open casket viewing at the Greater Grace Temple. The gold dress is the fourth outfit Franklin has worn during a week of events leading up to her funeral.
Franklin was dressed head to heel in red for her first public viewing on Tuesday, a nod to her membership in the sorority Delta Sigma Theta. She wore a baby blue dress on Wednesday and a rose gold gown for a viewing Thursday at the Detroit church where her father was the longtime pastor.
Numerous floral arrangements from celebrities including Sam Moore, Mariah Carey, Barbra Streisand and the family of Otis Redding were set up in a hallway outside the sanctuary.

MORE COVERAGE:
Ariana Grande sings, Al Sharpton swipes at Trump
Michael Eric Dyson honors Aretha Franklin and The D
Isiah Thomas: I was Aretha's favorite Bad Boy
Jennifer Hudson delivers stirring Amazing Grace at Aretha Franklin funeral
Bill Clinton's dedication to Aretha 
 
Moore's arrangement included a card that read, "You know I always adored and loved you to bits and pieces ... Even when we would fuss."
--
Information from The Associated Press was used in this report