Concrete crushing company sued • 3 arrested in Warren shooting • Detroit's first weed-consumption event
WEDNESDAY NEWS HIT - The city of Detroit is suing a Bloomfield Hills company it says is responsible for blight.
Can-Am International Trade wanted to build a concrete crushing facility in Core City, but the city turned it down after residents shared concerns over air quality issues. However, the site is still an eyesore and the city wants something done.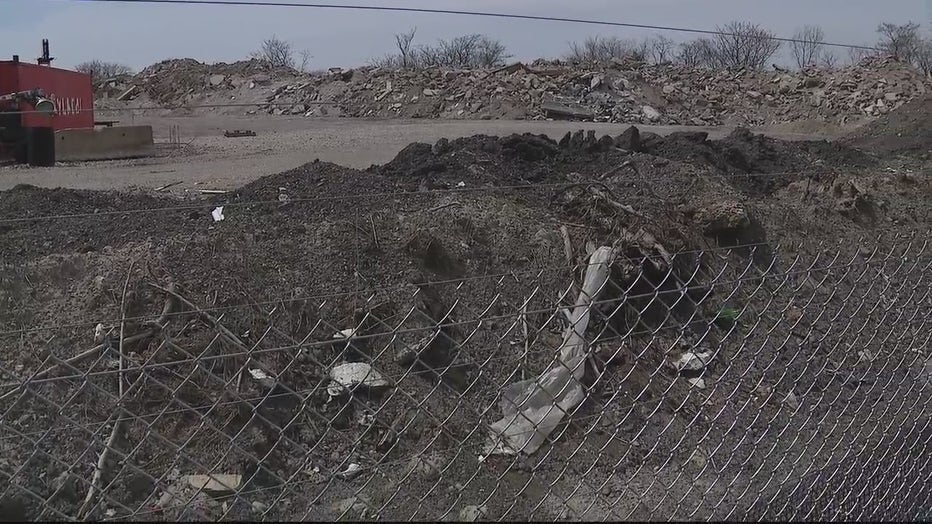 "What we want is compliance. What we want is for you to behave in a respectful manner and to treat our citizens with the respect that they deserve," said Conrad Mallett, the City of Detroit Corporation Counsel. Mallett "When you've got dust swirling around, concrete, all these dangers who the kids who live in that neighborhood present, you don't have peace of mind, you're fearful about the quality of your health, and frankly you worry does anybody care about the circumstances I'm living in."
Detroit leaders say they want to hold developers accountable for blight.
"With the American Rescue Plan Act dollars, this has allowed the city of Detroit to take a very vigorous set of activities to deal with blight and really to remind people that we're an organized community and lawlessness is not going to be tolerated," Mallett said.
The city's lawsuit has been filed and served.
3 arrested after Warren gas station shooting
Warren police caught three people after a shooting at a gas station led to a chase Tuesday afternoon. Police were called to the Marathon Gas Station at 30953 Mound Rd. around 4:15 p.m. on multiple reports of shots fired. 
According to police, the SUV was parked at a gas pump when someone got out and started running away. As they ran, the driver of the SUV began chasing them, and witnesses heard gunshots. The SUV fled south on Mound, and police spotted it at 12 Mile and Mound. 
There was a short chase, which included a minor crash between the SUV and a patrol vehicle, before three people who were in the SUV were arrested without further incident. Police said they found multiple guns inside the SUV. The investigation is ongoing.
"Thanks to the quick and coordinated response of the Warren Police Department, three suspects were able to be taken off the streets quickly before they could cause injury to any other citizens," said Warren Police Commissioner Bill Dwyer. "We are fortunate that no members of the community were injured as a result of this senseless act. 
First live-consumption event coming to Detroit
Detroit's first licensed weed-themed event is coming this April when the 420 Music Fest kicks off on the 29th.
The block party comes with live DJs, performances, and of course marijuana. The event was announced on the 420musicfest Instagram. It's scheduled to kick off on 2000 Brooklyn Street and other nearby areas. 
The event is significant because it will allow for the consumption of cannabis on-site beginning at noon and going through the whole day. Adult-use for recreational marijuana became legal in 2019, but the sale of cannabis in Detroit only started recently. 
The capacity for the event is 2,500 people. There will also be marijuana retailers at the event. The stars of the show include Zion Lion and Motor City Vibrations. The ticket prices are $30 for general admission and $100 for a VIP spot at the concert. Learn more about the event and how to get tickets here.
Royal Oak parking changes coming to city
After months of complaints from residents and visitors, Royal Oak has unveiled new rules for its city parking spots that are set to go into effect later in April. They include extending the grace period for on-street parking and boosting the maximum time someone can be parked in a single spot.
The city commission approved the measures after feedback from stakeholders all around Royal Oak, the city manager said. The changes only apply to the street parking and not the city's downtown garages. 
The on-street parking will allow for a 15-minute grace period and three hours of maximum parking. The city commission also make parking free on all civic holidays, which now includes Juneteenth. Frustrations over the city's parking bubbled over early this year when a study commissioned by the city found 43% of all visitors that used street-parking were ticketed - about 32,500 a month. 
That's about $3.5 million in revenue for the city, but it also left a sour taste in many people's mouths over worries the city could develop a reputation for being too strict. The study also determined that most people had violated the original grace period or were parked for an hour longer than the allowed time.
EPA proposes 'strongest ever' emission limits
The Biden administration is proposing strict new automobile pollution limits that would require as many as two-thirds of new vehicles sold in the U.S. to be electric by 2032, a nearly tenfold increase over current electric vehicle sales.
The proposed regulation, announced Wednesday by the Environmental Protection Agency, would set tailpipe emissions limits for the 2027 through 2032 model years that are the strictest ever imposed — and call for far more new EV sales than the auto industry agreed to less than two years ago.
If finalized next year as expected, the plan would represent the strongest push yet toward a once almost unthinkable shift from gasoline-powered cars and trucks to battery-powered vehicles.
A look at what the EPA is proposing, how the plan serves President Joe Biden's ambitious goal to cut America's planet-warming greenhouse gas emissions in half by 2030, and whether the auto industry can meet the new EV targets:
Live on FOX 2
Daily Forecast
Temperatures will be even higher on this near-perfect week of weather. Expect the wind to also pick up on Wednesday.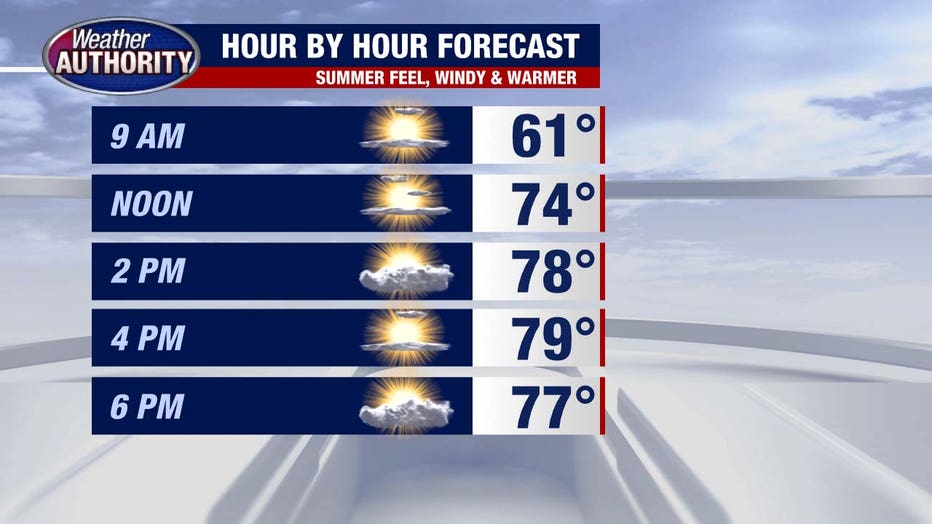 What else we're watching
Debbie Dingell has officially bowed out from the rumors of a potential run for U.S. Senate. The veteran lawmaker had been considering running for the Democratic Party's nomination in Debbie Stabenow's open seat. 
Lawmakers have proposed an outright ban on all cell phone use while driving. The package of bills was introduced as part of Distracted Driver Awareness month. Get the latest on the legislation here.
Nearly two-dozen new murals are coming to Detroit as part of the City Walls campaign to boost cultural significance and beautify the area. Detorit has selected 25 artists to help paint across Detroit. Among the sites are Corktown's Godfrey Hotel.
Cedar Point is hosting its "Jobs Fun Fair" this upcoming weekend. From 11 a.m. to 6 p.m. on Saturday and Sunday, a hiring party and cookout will be held outside the amusement park's main gates. 
A serious crash on Telegraph at Carleton-Rockwood after a semi-truck allegedly struck a pedestrian. Look for more information on the incident later Wednesday. 
You can check for upcoming mass layoffs near you – here's how
With a growing number of companies including Facebook, Twitter and McDonald's announcing recent layoffs – many employees may be curious if their company is next.
And, a decades-old labor law, called the WARN Act, could give workers a heads-up about impending layoffs.
"I have companies calling me up asking about WARN, because they're thinking about laying some people off," Gary Lafayette, an employment and labor attorney with Lafayette & Kumagai, told FOX Television Stations Tuesday. "It's important for them to know what the rules are."