Corktown optical boutique collects glasses to repurpose them for homebound seniors
DETROIT (FOX 2) - Meet Tina Arroyo. This New Yorker  now calls Detroit home where she runs her own shop: Spectacle Society, a unique optical boutique in Corktown.
"My dad was a New York City police officer and had very limited money and very limited insurance," she said. "And we would go into places like Spectacle Society and I would run around like a kid in a candy store. And I would say you should pick this and this, and my sister was always ushered over into that one line of eyewear that was insurance covered and it was mostly men's and women's.
"And at the time they separated by gender, and it was this was for boys and this was for girls. And she had one or two choices and that's it."
There are more visually impaired Americans than you think - many of whom are living uncomfortably - without a choice.
"When I became an optician I thought to myself nobody I work with, is ever going to feel that way," said Arroyo.
The CDC reports roughly 12 million Americans, ages 40 and up, are visually impaired. Millions of them suffer from uncorrectable vision impairment.
But what if you can't afford to do anything about it? Consider the cost of insurance, glasses and contacts, access to healthcare, it all adds up/ Which is why Arroyo is doing her part to close the gap.
"Every year for Spectacle Society we try to make sure that we're giving back to the community," she said. "In some way it is a pillar of this business. And this year with Spec Collection, we are really aiming to give the gift of sight to over hopefully over 1,000 individuals."
Believe it or not, Arroyo is one of only 11 opticians in Detroit fully certified by the American Board of Opticianry together with Dr. Cleamon Morrer, founder of "Eye Care for Detroit," this duo is changing the lives of some of Detroit's most vulnerable.
"We're aiming to collect 1,000 pairs of gently used glasses so that we can give the gift of sight, literally to our community elders," she said.
Detroit has over 40,000 homebound seniors.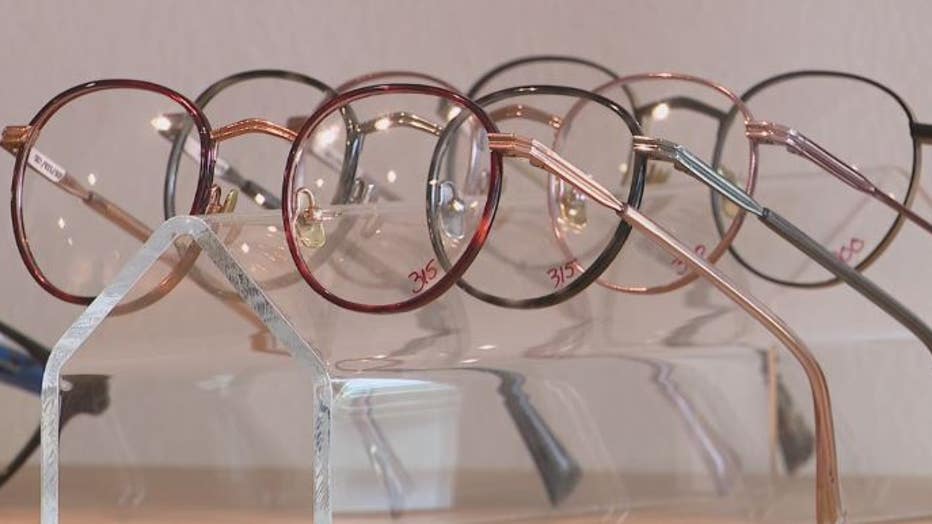 "Eye Care for Detroit was founded with the purpose of trying to decrease the vision loss gap for inner-city Detroiters," said Morrer. "We found that a lot of homebound patients do not get out to see an optometrist, let alone allow an optometrist to come into their home.
"We want to decrease the falls and the medication errors and add to the quality of life of some of those homebound seniors. Working with Tina and Spectacle Society it's a great way to at least help them with a pair of glasses."
For free glasses.
"We don't want broken pieces, something that we can put on someone that they can actually wear. we're going to be accepting these in the store," she said. "And also, if you have them new to almost perfectly new over-the-counter readers will be accepted. We can't put new lenses in those, so those lenses have to be pristine."
A worthy cause that's part of an even bigger mission. Spectacle Society is at 1512 Bagley St Suite E, Detroit, MI 48216. Online it can be found at spectaclesocietydetroit.com
For more information on Eye Care for Detroit, go to eyecarefordetroit.org.