DNA clears Metro Detroit man after Friend of Court claims he fathered baby with woman he's never met
DETROIT (FOX 2) - A Metro Detroit man cleared his name after Friend of the Court sent him a letter saying he had a baby with a woman he never met.
"She don't know me, how do you just put my name down? How do you just put anybody's name down?" DeAngelo Smith said. "I don't know her. Never seen her. Still to this day, haven't talked to her, and it just proves the baby has no ties to my name."
MORE: Man says court claims he's father to a baby by a woman he's never met
Late last year, DeAngelo received a letter from Friend of the Court in Berrien County saying that he was the father of a baby girl.
"Said she's a stripper from Detroit, we had a one-night stand at some hotel, and this is the story that was told to me," DeAngelo said.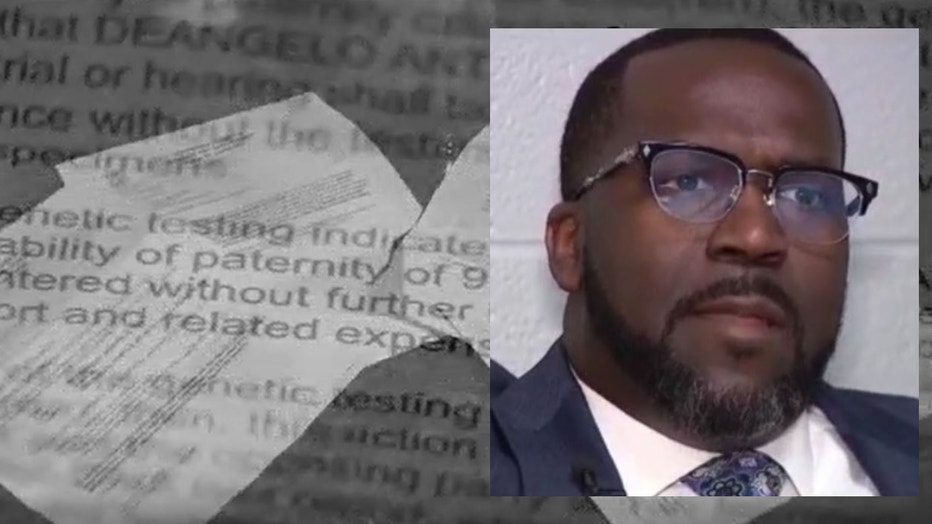 His wife first spotted the letter in the mail from Friend of the Court.
"Let's just set the record, I trust my husband," Tyahvia Smith said. "I know his character, man of integrity."
While waiting for the child's mother to take the baby for a DNA test, DeAngelo said the school where he teaches received an inquiry for possible garnishment in case the child was his.
"It made it something that is not being alleged, but now it's something that's being taken into action and no paternity has been established," he said.
Finally, the woman had the DNA test done, and DeAngelo has since gotten a letter confirming he was not the father.
"I would like to say relief, but kind of like confirmation. I already knew I had no ties or links to this child or this woman, and to have that letter come to my house, it was a little unnerving," DeAngelo said. "But not to the point of being caught up in something, it was unnerving that a letter like this could come to my house without any legitimacy to it."
Though his name has been cleared, DeAngelo said change is needed to better protect families and correctly identify parents.
"The main things they have to provide to the state of Michigan is a name, date of birth, and where they live. That's easy information for someone to gather off Google, Facebook, off any social media platform," Tyahvia said.
It's something that DeAngelo says could completely damage someone's life if it happens to the wrong person.
"People who have a checkered past, who have done things in the past, who have stepped out and done things unbecoming of a real man, but they've changed," he said. "But a letter like this coming to that house, a man that has changed his ways, walked in a different direction, this letter could be absolutely devastating because of what you've done before."
FOX 2 made several calls to Lansing about this issue.
"It's very unfortunate, but paternity fraud is not a unique, unusual situation in Michigan," Sen. Jim Runestad (R-White Lake) said. 
Runestad said he has been pushing for new legislation on the matter for the past eight years. Currently, there is no penalty for lying and a DNA test is not required before a person is contacted about the paternity of the child. 
"Maybe it would hinder mothers who don't want to name a particular guy, or they made a mistake, but you had to knowingly name the wrong person. It becomes emotional stuff," he said when asked what some oppositions to the legislation have been.
FOX 2 has reached out to Friend of the Court for a comment but has not heard back.
If you find yourself in a similar situation, Runestad said the best option is to hire a lawyer. He added that people should reach out to lawmakers if they want change, as more bipartisan support is needed.