DTE and Consumers summer rates rise • How Detroit wants to tax land • Teen driver's 100 deadliest days
THURSDAY NEWS HIT - Summer rate plans for DTE and Consumers customers kick in today, meaning any electricity expended during the late afternoon and early evening hours of the day will cost more to use.
If you're a DTE customer, you'll pay about 4 cents more per kWH between the hours of 3-7 p.m. For Consumers Energy customers, the peak hour rates start at 2 p.m. and go to 7 p.m.
The utility companies say dispersing the energy usage among households will offer some relief to the grid, which frequently is pushed near capacity during the summer because of air conditioning keeping homes cool.
While DTE doesn't want people to avoid keeping their homes cool, they do hope the peak rate period will cause homeowners to run other appliances at different times, such as dishwashers and washers and dryers. 
RELATED: DTE Energy rolls out time-of-day rates -- What it means for electricity customers
The new plan took effect in March 2023 and the summer increases will be in effect from June until September. 
Differing Rates for DTE:
Off-peak hour rates are for 20 hours each weekday and all weekend at $0.15 cents per kWh
Peak hour rates are from 3-7 p.m. at $0.20 cents per kWh. They drop to $0.16 cents per kWh from October to May.
They recommend using a thermostat schedule as well as running the dishwasher at night and laundry on the weekends. You can find more information here.
Differing Rates for Consumers
Off-peak hour rates are for 19 hours each weekday and all weekend at $0.095 cents per kWh
Peak hour rates are from 2-7 p.m. at $0.103 cents per kWh. They drop to $.095 cents per kWh from October to May.
The program is not technically a rate increase and some customers, depending on how they use energy, may even pay less - though others could also pay more. 
Duggan's new property tax plan
Detroit is making progress in its quest to clean up blighted properties, but Mayor Mike Duggan says there is one major thing holding up the progress: No incentive for the landowners to build anything.    
"We have a tax system that has zero tax on land," he said at the Mackinac Policy Conference. Making matters worse, the current tax rate on home and business owners is the highest in Metro Detroit. But now the mayor says he has a plan to flip that around.
"That's it, the whole thing, cut the taxes on the buildings 30 percent, triple the taxes on the land," Duggan said. It is a plan that he hopes to roll out over the next three years. And that will target the 30,000 vacant landowners. The vacant businesses, the parking lot owners, and the blighted and dilapidated old factories.
"If you let your building go, the assessor has to make it zero," Duggan said. "Now once the building is zero, what do you tax it on?  Your land, your land is zero. The greatest deal in the world is to let the building decline."
100 Deadliest days for teen drivers
While teen drivers can be some of the riskiest on the road, it's during the summer when it's most dangerous for them to be traveling. AAA says the period between Memorial Day and Labor Day is the deadliest time of year for teen drivers.
From early June to early September, more than 30% of all deaths involving teen drivers occurs. AAA calls this the "100 Deadliest Days." "Once school is out, teens will spend more time on the road, often driving with friends at odd hours of the day and night," said Adrienne Woodland, spokesperson for AAA.
"Because of their inexperience, teens are more susceptible to dangerous driving behaviors – like speeding, driving distracted, and not wearing a safety belt. AAA urges parents to model safe driving behavior and reinforce safe driving habits with their teen drivers to help keep them safe this summer."
For every mile driven, teen drivers are three times more likely to be involved in a deadly crash. In Michigan, that adds up to 64 fatal crashes each year, which 36% happening in the summer. 
Detroit gets $4M to combat opioid addiction
Detroit City Council unanimously approved setting aside more than $4 million from a lawsuit to help fight opioid addiction. The city will receive $22 million total in the next 18 years through a settlement with Janssen Pharmaceuticals and distributors of opioid pain medications. 
Detroit is entitled to 7% of Michigan's share of the national settlement. "The trauma that we're experiencing as a people, is not being addressed," said Self Help Addiction Rehabilitation House CEO Dwight Vaughter. "I am very pleased that it's being acknowledged that money is needed. But II wonder how it's going to get to the front-line workers who do the work all the time."
This is the first time that opioid addiction is being highlighted in the way it is, Vaughter said. It's been around for decades without much investment. 
In addition, the city plans to use funds to increase community access to Naloxone which helps during overdoses.
One shot outside Detroit funeral home visitation
Detroit police are at the scene of a shooting outside a funeral home on the city's northwest side Wednesday.
A man was shot outside the Andrews Funeral Home on the corner of Glendale and Rosa Parks Blvd at about 5:30 p.m. while a visitation was being held inside, Detroit police said.
There were more than 30 shots fired, according to investigators who said there may have been two shooters involved.  There are no arrests at this time.
The visitation was being held for a 28-year-old who was shot while driving near Schafer and W. Chicago on May 22.  The victim was in a Chevy Camaro with another person when an unknown suspect in a Range Rover shot the man. After the shooting, the car crashed into a utility pole. The passenger survived.
Live on FOX 2
Daily Forecast
It'll be another hot one with Metro Detroit bumping up against the high 80s for another day. Expect more of the same with little relief from rain through the weekend.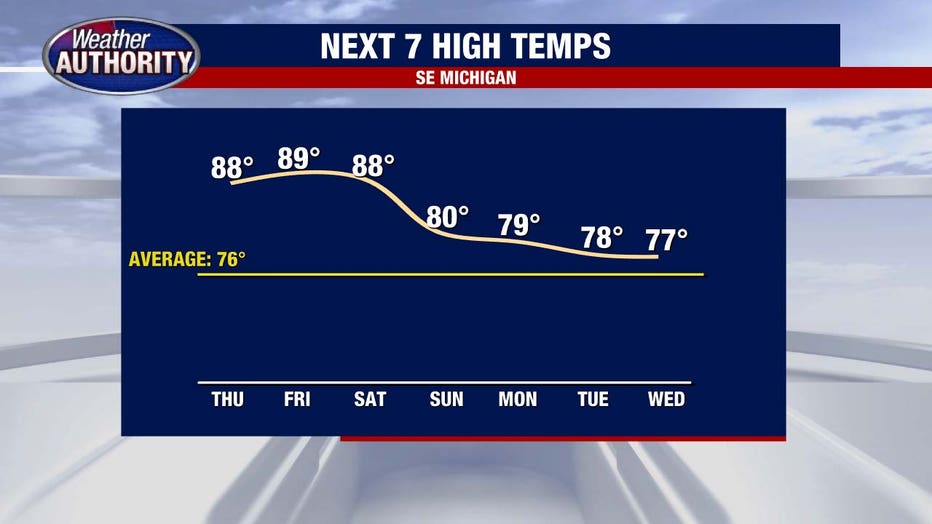 What else we're watching
The Oakland County Family Services is holding a Career Fair on June 9 from 10 a.m. to 6 p.m. in Pontiac to help hire preschool teachers, therapists, and foster care managers. The Pathways to Hope fair will be located at 114 Orchard Lake Road.
Metro Detroit got its first taste of flooding this morning after a water main break covered eastbound I-96 at I-94. The pipe burst likely happened at a building on Lawton Street. 
A new reality TV show is set to premier soon after filming wrapped up in Detroit. It follows two couples on their way to marriage in the Motor City. 'Love & Marriage: Detroit' features Kristina Bowman Smith and her husband Brandon.
A red-winged blackbird is attacking a baby pool in Grosse Pointe Farms, forcing officials to close the facility until they can deal with the aggressive avian. Now is normally the season when birds get territorial.
A person of interest named in connection to a homicide over the weekend is sought by police for several investigations he's connected to. Dontonio Jones was first located during a barricaded incident on Saturday. See pictures of him here.
Amazon hit with $25M fine for violating child privacy with Alexa voice assistant
Amazon agreed Wednesday to pay a $25 million civil penalty to settle Federal Trade Commission allegations it violated a child privacy law and deceived parents by keeping for years kids' voice and location data recorded by its popular Alexa voice assistant.
Separately, the company agreed to pay $5.8 million in customer refunds for alleged privacy violations involving its doorbell camera Ring.
The Alexa-related action orders Amazon to overhaul its data deletion practices and impose stricter, more transparent privacy measures. It also obliges the tech giant to delete certain data collected by its internet-connected digital assistant, which people use for everything from checking the weather to playing games and queueing up music.