DTE power outage restoration • Persistent icy conditions • Dogs die from live wire in Detroit
THURSDAY NEWS HIT - The ice that froze over Southeast Michigan Wednesday night was some of the thickest the region has seen in decades.
DTE, which is currently managing hundreds of thousands of outages, said crews saw ice accumulation up to three-quarters of an inch on wires and trees. 
"We haven't seen that in 50 years," said Matt Paul, executive vice president with the utility.
As of Thursday morning, hundreds of schools are closed and hundreds of thousands are without power in Southeast Michigan. Some 1,300 crews from DTE were out working as of 6 a.m., with 461,000 homes reporting without power - about 20% of the utility's entire customer base. 
According to DTE, tree branches that fell during the ice storm are the likely culprit for many outages. "Our Storm Response Teams, along with lineworkers from neighboring states, will continue to work around the clock to restore power as quickly and safely as possible," read a note from the utility.
They also asked people to avoid any downed power lines. 
According to DTE's map, the outages are prevalent all across Southeast Michigan, with some of the highest concentrations in southern Oakland County, eastern Wayne County, and in and around Ann Arbor in Washtenaw County. 
The utility did not have any update on estimated time of power restoration. Paul said early Thursday that "significant damage" had been done to its grid, causing over 2,000 wire-downs. 
"We know how frustrating and impactful it can be without power," he said. "I assure you and all our customers that we'll work around the clock as quickly and safely as possible so each customer has power restored."
It did announce around 10 p.m. Wednesday night that technical issues were preventing customers from accessing their account and reporting downed wires and outages. 
Along with the ice were wind gusts that made restoration even more treacherous. 
Consumers Energy, which runs electrical utility services for residents outside of Southeast Michigan, reported 194,000 customers affected by the storm. The bulk of those were concentrated in south-central Michigan. 
Icy conditions could persist Thursday
An icy and dangerous start to your Thursday. The bulk of the ice storm has exited the region leaving behind anywhere between .2 and .6 inches of ice. The National Weather Service describes anything over half an inch of ice as "crippling". We certainly saw that in many spots! 
The roads are slick, especially in neighborhoods where the ice quickly thickened up. Tree branches and power lines are weighed down by the heavy ice and numerous power outages are affecting us here in Southeast Michigan. Throughout the day today we will thaw slightly as a warm front lifts north. 
Questions about how far north it will travel exist - I am forecasting a pessimistic 41-degree high temperature which will allow plenty of melting. Some models have us climbing even warmer than that which would be wonderful! The question becomes, will the ice melt before the winds pick up (which they're expected to do this afternoon).
Winds will start gusting after 3 p.m. up to 35 mph. Temperatures at this point will be in the upper 30s or low 40s, so any remaining ice on tree branches could possibly snap them. Winds will stay strong overnight as we fall down to 18 degrees, but the wind chill will be close to 7.
Detroit family's two dogs die from downed wire in backyard
Between the inconveniences of power outages was some tragedy tied to the ice storm that walloped Southeast Michigan Wednesday. One Southwest Detroit family said its two pet dogs died after coming into contact with a live wire. 
"My dog was on fire," said a woman who did not want to be identified. "I had to send my kids in the house." The woman said she could do nothing but watch as the power line electrocuted her two dogs.
"I've had them since they were six weeks," she said. "And they were going on two now. And they were brothers. We are going to miss Legend and Pharoah - that was their names." 
Live wires become a major hazard during any storm. DTE urges people to avoid coming into contact with any downed power line, staying at least 25 feet away. A downed power line can be reported here.
Southfield police bust car theft ring after SUV chase
A recently arrested car theft trio are suspected to be part of a large-scale ring. They've been on the Michigan State Police's radar for months in connection to a number of violent crimes, and in Troy for allegedly stealing about a dozen airbags last fall.
For now – 19-year-old Davon Harris, the suspected ring leader, is being held on a half-million dollar bond running from police, weapons charges and theft. the other two are 17 and 16 years old – being charged as juveniles.
Southfield Police Chief Elvin Barrien said officers came upon the suspects who had taken a nap inside a stolen SUV. Police spotted a loaded handgun in the console. The suspects responded by fleeing, nearly hitting the officers.
Then a veteran Southfield officer – made a potentially life-saving move - stopping the stolen SUV with a pit maneuver before it busts gets onto Southfield Road during rush hour. Police found two handguns and a vehicle stolen out of Warren. The suspects are believed to be part of a large scale car theft ring. 
Slotkin: Michigan leadership poised to enact new gun reform
More than a week after the mass shooting at Michigan State University, Congressional Rep. Elissa Slotkin says the state is poised to enact new gun safety laws, including background checks, safe storage laws, and red flag legislation. 
Since Democrats are in control of both chambers, it represents the best opportunity for the party to pass legislation in years. 
"The truth is, we all know that our federal government in Washington is not behaving as it should be," Slotkin said. "The truth is the place where we can make the most progress, is in the state of Michigan."
State Sen. Rosemary Bayer (D-Beverly Hills) said the state plans to have a hearing in the next couple of weeks on the bills, which were introduced last week. A vote could come soon after.
Live on FOX 2
Daily Forecast
Residents should hope for a Thursday thaw after Wednesday's ice storm. With any luck, temperatures will climb high enough to melt the ice that's now attached to every surface. However, potential wind gusts could make that difficult.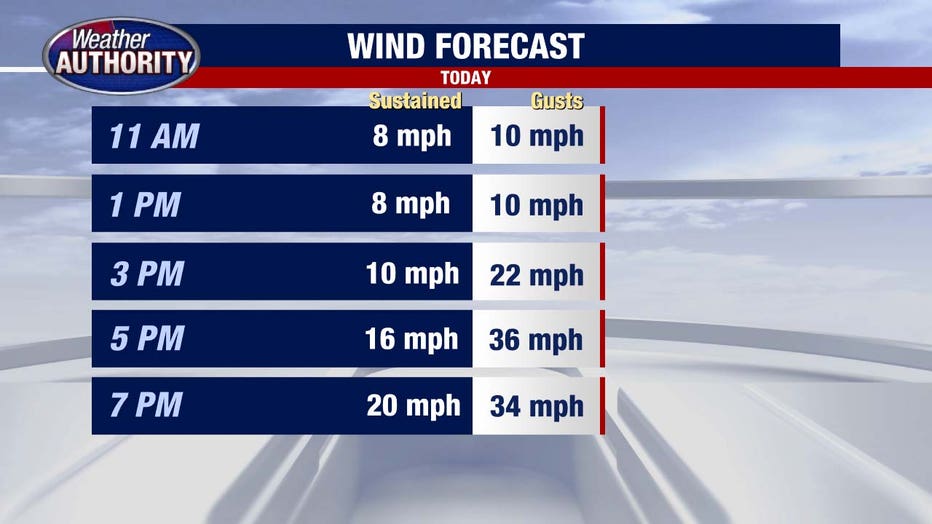 What else we're watching
Spring training is kicking into gear for the Detroit Tigers. See what the team has to offer for their latest season as it rebuilds (again) by watching FOX 2 Sports special, which was reported in Lakeland. 
Ever catch yourself at an intersection where the traffic light is out? It's certainly possible that you will today. And when you do, there are certain rules to follow. Check out our guide here.
Tonight on Let It Rip, newly-elected Michigan Republican Party Chair Kristina Karamo will speak alongside former state Rep. Sherry Gay-Dagnogo in her first appearance since her elevation to the leadership role. Read about her election here.
Among the casualties from last night's ice storm are Michigan Secretary of State offices and the Livonia City Hall Complex, which will be closed until further notice due to power outages. Those who need temporary shelter should head to the Livonia Recreation Center.
The Michigan state Senate has twice voted to adjourn instead of voting on a tax package that would send $180 checks to residents as "inflation relief." Could a vote come today?
Air Force photo shows Chinese spy balloon from high-flying U-2
The Pentagon has confirmed that a photo, leaked on the internet Tuesday, does indeed show a Chinese spy balloon as seen from an American reconnaissance plane earlier this month.
The image first appeared on some aviation website and social accounts, but the original source was not immediately clear. In officially releasing the photo Wednesday, the Department of Defense merely said it was taken by a "U.S. Air Force pilot" on February 3 over the "central continental United States."
The balloon was ultimately shot down off the coast of South Carolina a day later.