Ethan Crumbley's journal, search history show thorough planning of Oxford High School shooting
OXFORD, Mich. (FOX 2) - Oxford High School shooter Ethan Crumbley thoroughly planned the crime in advance, according to journal entries and internet searches shown in court Thursday.
Some of Crumbley's journal entries have previously been shared, but more evidence was revealed during his Miller hearing. Both his writings and Google search history suggest that the fatal school shooting was well-researched before Nov. 30, 2021.
READ: Text messages foreshadow Oxford High School shooting
Crumbley, 16, could spend life in prison without parole, depending on the outcome of the Miller hearing. This hearing is used to determine if a minor can receive life without the possibility of parole. 
EDITOR'S NOTE: The content below is disturbing and contains descriptions of violence.
Journal entries
Shooting plans
In his journal, Crumbley planned the shooting, discussed his future in prison, shared a glimpse of his mental health and home life, and detailed other violent tendencies. 
Crumbley described what he wanted to do to students at the high school, writing that he would find a pretty girl and shoot her in the back of the head before finding a full classroom. 
"I wish to hear the screams of the children as I shoot them," he wrote.
He wrote he would keep shooting people until police arrived then surrender and plead guilty.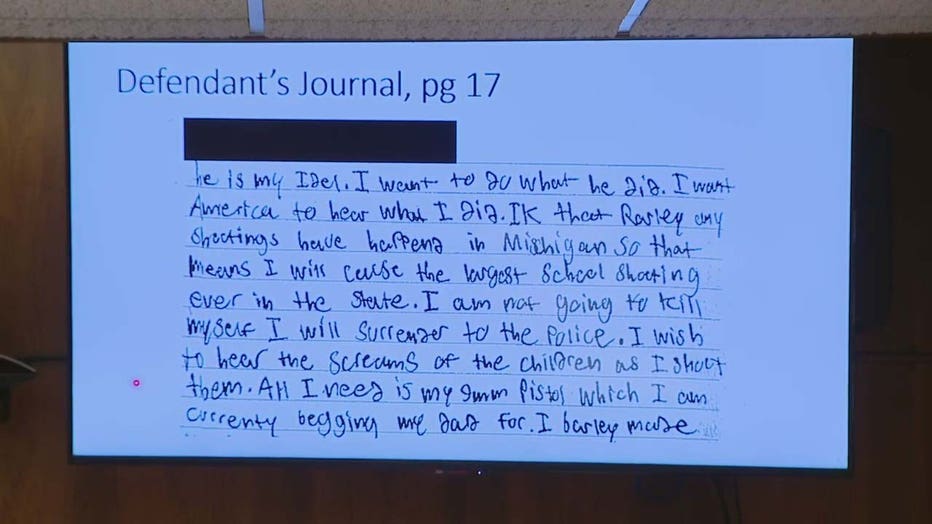 Crumbley also repeatedly noted that he would be spending his life in prison. 
"I wonder what life in prison will be like," he scrawled along the side of a page that had a list of what he would bring on the day of the shooting. That list included a pistol, extra magazines, Molotov cocktails, a hat, a mask, and more. He also wrote on that page that he would warn some of his close friends not to come to school that day. 
Related: Crumbley said shooting was 'for the right of humanity' night before crime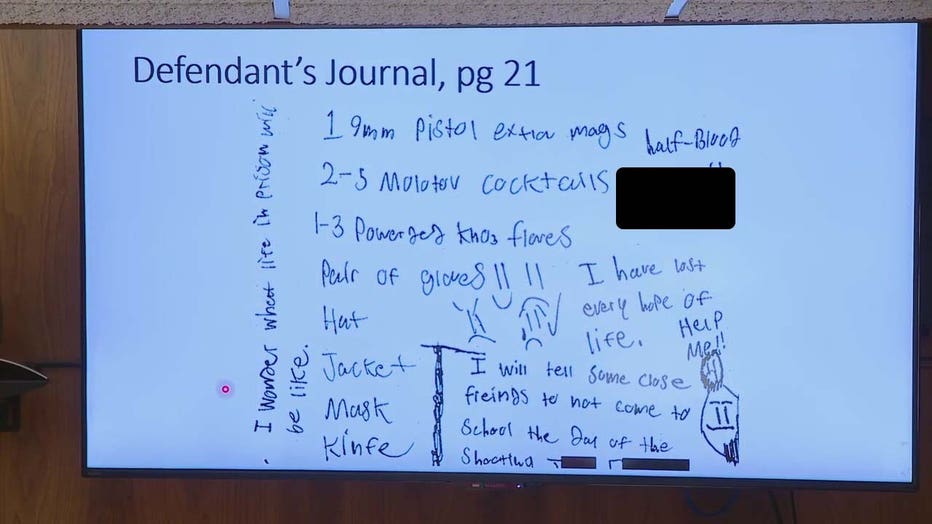 According to his journal, he also made a plan for the shooting on his phone.
Being remembered was something he wrote about multiple times, too. Crumbley wrote how he would not shoot himself because then people would forget about him.
"I will have never maken (sic) a impact in this world. The ONLY way is to shoot up the school," he wrote.
Crumbley wanted to carry out the largest school shooting in Michigan, according to his journal.
"I sometimes regret about doing the shooting. If I don't though, then what is there for me?" he wrote.
Just as he talked about his future in prison, he also wrote about what he envisioned for future court dates.
"I'm going to record the shooting, so when they show the video in court, everyone can see their children and friends dying," Crumbley wrote.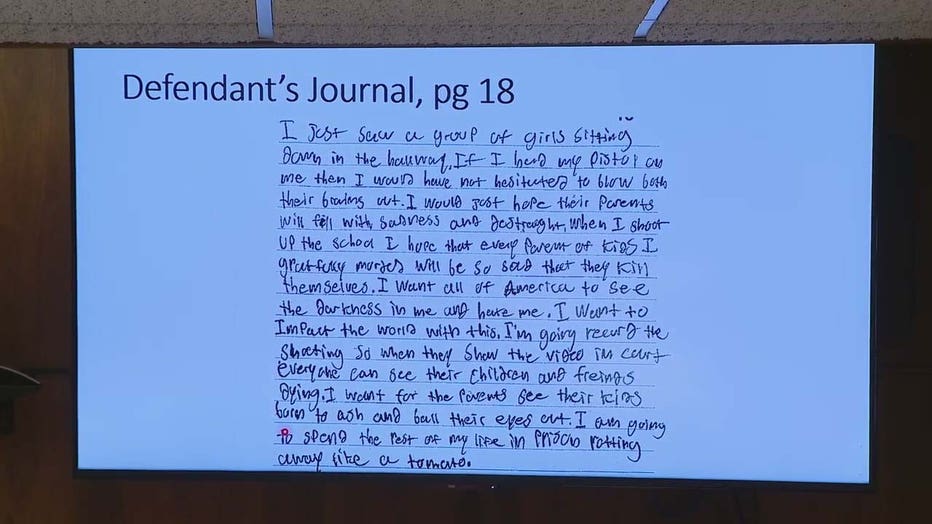 Mental health
His journal contained entries about birds he tortured to death, along with a note about a bird's head in a jar that he left in a school bathroom. According to what he wrote, he hoped telling school officials about the bird may allow him to get mental health help.
"All one of my teachers has to do is send me to the office and I will tell them about the bird head, and I can get help," he wrote. "One call and that can save a lot of lives. My evil has fully taken over inside me and I used to like it, but now I don't want to be evil."
He also wrote that he considered telling school officials that he was planning a shooting.
He discussed his mental health and mentioned in entries read in court that he hoped he would get sent to the office.
"That will show them that I have given up, and they will keep an eye on me," he wrote. "It will make them see that I am a possible shooter, and so when I do my shooting they will have something to put for motivation."
He also wrote about being alone, saying that he barely talks to his parents or other people.
"I have no happiness or optimism left in me, as I am a burden to my parents," he wrote. 
Below are some excerpts from his journal:
Internet searches
In addition to plotting out the shooting in his journal, Crumbley did research before carrying out the crime, according to search history shown in court.
That research included how deadly certain calibers of bullets are and where to buy firearms.
Searches showed that he looked up the average response time for a shooting, how many police officers are in schools, and if school resource officers carry guns. 
Records provided in court showed that he looked up the layout of Oxford High School and modified a map of the school the same month of the shooting.
He also researched what sentence he could face for shooting up the school. Several search queries included if another school shooter received the death penalty, if Michigan had the death penalty, and what the maximum sentence a 15-year-old is.
Related: Crumbley looked up torture site on jail tablet 3 months after guilty plea
What's next
The Miller hearing that started Thursday is expected to continue Friday and possibly into next week.
More evidence from the prosecution and defense will be provided to Oakland County Judge Kwame Rowe.
After the Miller hearing is done, Rowe will consider factors such as Crumbley's age, life circumstances, and crime circumstances and decide if the teen should receive a life without parole sentence. 
Rowe will announce his decision at a later date, and Crumbley's sentencing will be scheduled.
Crumbley could get life in prison without parole, if Rowe sides with the prosecution, or he could get at least 40 years in prison if Rowe sees his age as a larger factor.