FDA head: Michigan baby formula factory could reopen by next week
DETROIT (FOX 2) - The head of the Food and Drug Administration told lawmakers Thursday that a shuttered baby formula factory could be up and running as soon as next week, though he sidestepped questions about whether his agency should have intervened earlier at the plant at the center of the national shortage.
MORE: Abbott Labs strikes FDA deal to restart baby formula plant
FDA Commissioner Dr. Robert Califf faced a bipartisan grilling from House lawmakers over the baby formula issue that has angered American parents and become a political liability for President Joe Biden.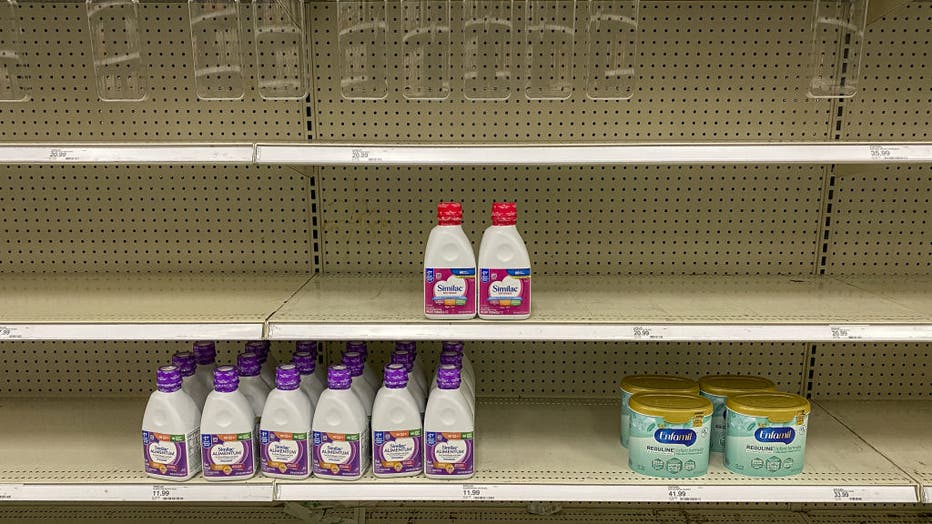 Empty shelves in the baby formula aisle of a store in Pinole, California, US, on Tuesday, May 17, 2022. President Joe Biden said he expects increased imports of baby formula to relieve a US shortage in a matter of weeks or less, as pressure mounts fr
The problems are largely tied to Abbott Nutrition's Michigan formula plant, the largest in the U.S., which has been closed since February due to contamination problems. The FDA announced a preliminary agreement with Abbott earlier this week to restart production, pending safety upgrades and certifications.
"We had to wrestle this to ground with Abbott," Califf told members of a House subcommittee "I think we are on track to get it open within the next week to two weeks."
After production resumes, Abbott has said, it could take about two months before new formula begins arriving in stores.
When lawmakers asked why it took the FDA months to investigate warnings about safety violations at the plant, Califf said he couldn't say much due to an ongoing investigation into the issues. Several lawmakers rejected that response.
"It's not acceptable to say you just can't comment on it," said Rep. Mark Pocan, D-Wisconsin. "This is a problem I've seen over and over with the FDA: You guys aren't good at communicating."
Califf is the first administration official to testify before Congress on the shortage, which has left some parents hunting for formula and become a talking point for Republicans. On Wednesday evening Biden announced sweeping new steps to improve U.S. supplies, including invoking the Defense Production Act and flying in imported formula from overseas.
Members of the House Appropriations subcommittee opened Thursday's hearing by asking Califf why the FDA didn't step in last fall when there were warnings about problems at the Sturgis, Michigan, factory.
Rep. Rosa DeLauro, D-Conn., pointed to a recently released whistleblower complaint alleging numerous safety violations at Abbott's plant, including employees falsifying records and failing to properly test formula before releasing it. She said the former Abbott employee alerted the FDA to the situation in October but was not interviewed by agency staff until late December.