Fentanyl, guns, 3,500 meth pills seized during Roseville raid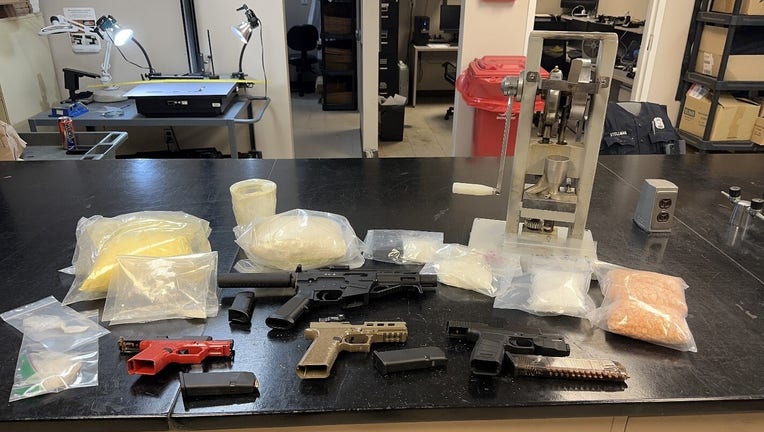 article
ROSEVILLE, Mich. (FOX 2) - A drug bust in Roseville netted fentanyl, about 3,500 meth pills, other narcotics, and guns, Warren police said.
Police said a home was raided Thursday after police received a tip that a 23-year-old Roseville man was selling drugs. 
The Warren Police Department's Special Investigation Narcotics Unit (SID) investigated and learned that the man is a convicted felon on probation for drug crimes in Macomb County. During a search of his home, police said they found 2 kilograms of fentanyl, 1 kilogram of methamphetamine, the methamphetamine pills, and small amounts of cocaine and heroin.
Investigators said they also found a pill press and four guns, including one that had a switch.
More: What is a Glock Switch?
"Our SID unit actively follows up on information and tips regarding narcotics sellers in Warren and Macomb County. In this particular case, investigators started with one piece of information and turned it into a multi-kilo seizure," Warren Police Commissioner Bill Dwyer said. "The DEA [Drug Enforcement Agency] has said that one kilogram of fentanyl can kill up to 500,000 people.  This suspect is a convicted felon who was in possession of two kilograms of fentanyl and illegal firearms. "
Investigators are finalizing the investigation and will be in contact with local and federal prosecutors to determine if this suspect will be charged in state or federal court. That decision is expected to be reached early next week.