Video shows stolen car hitting innocent driver head-on, igniting fiery crash in Ypsilanti
YPSILANTI TOWNSHIP, Mich. (FOX 2) - Video from a local store caught the moment a stolen vehicle collided with another car in Washtenaw County. When the crash happens, the SUV that had been fleeing police during a pursuit Tuesday burst into flames. 
The aftermath showed the SUV rolled over with extreme fire damage to the front end. The fiery crash in Ypsilanti Township was the conclusion of an hours-long investigation that started following a home invasion. 
Remarkably, there were no fatal injuries from the crash.  The woman in the vehicle that was hit, suffered spinal cord injuries. A bystander reported suffering minor injuries.
Witnesses say the teens - bloodied and bruised - climbed out through the sunroof and ran - a 17-year-old was discovered in the basement of Reflections Custom Cycle, a 15-year-old was found in a nearby neighborhood, a 16-year-old was taken into custody Wednesday.
Police say the 17-year-old had just recently been released from juvenile detention.
Washtenaw County Sheriff's deputies were called the morning of July 5 to a house in Superior Township after the homeowner said she awoke to her belongings strewn across her front yard and her vehicle missing. 
It happened around 7:35 a.m.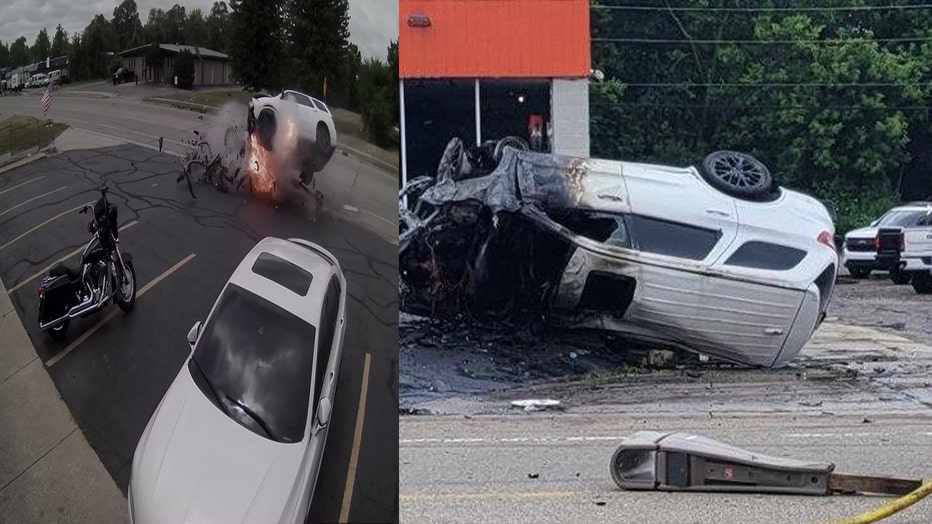 In a Facebook post, Washtenaw County said an innocent bystander suffered minor injuries in the crash. All three suspects fled on foot before two were picked up. 
Around 2 p.m., deputies spotted the stolen vehicle in Ypsilanti Township and attempted a traffic stop. When the stolen vehicle fled, police pursued it from Washtenaw County to Wayne County before it returned to Ypsilanti Township.
"Our deputies pursued it for a while - very high rate of speed - we called off the chase because of some of that high rates of speed - it went into Wayne County - it was pursued by Michigan State Police, Van Buren," said Derrick Jackson of the Washtenaw County Sheriff's Department. "Definitely in excess of 120 miles an hour at one point in the chase."
READ MORE: Ypsilanti teens arrested after high-speed chase ends in fiery crash
The driver then lost control and crashed, flipping and catching fire. 
"A woman sees them coming - tries to get out of the way by pulling into a parking lot of a local business," Jackson said. "They lose control - careen into her - flip over and immediately the car burst into flames."