Halfway to Halloween haunt, apple blossom walk, and more things to do this weekend in Southeast Michigan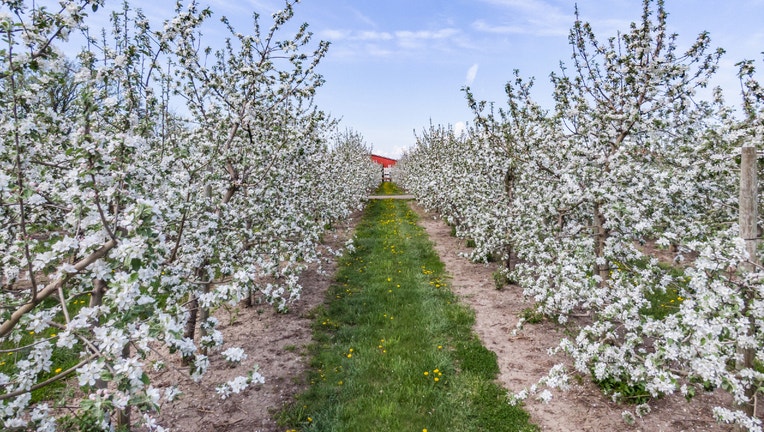 article
Get scared on the Deranged haunted trail this weekend only, wander Blake's apple blossom orchard, and more this weekend.
Halfway to Halloween Haunted Trail
Friday, May 12 and Saturday, May 13
Deranged Haunt in Romulus
Deranged Haunt in Romulus will open for one weekend for the Halfway to Halloween Haunted Trail. Go behind the scenes of the story of Greeno Industrial, an extension of last May's theme, during this creepy walkthrough.
General admission tickets are $20 and fast pass tickets are $30.
St. Clair Shores Social District
Saturday, May 13 from 5 p.m. to midnight
9 Mile and Greater Mack
It's the first SCS Social District of the year! Enjoy live entertainment from Paper Covers Rock, food trucks, bars, vendors, games, fun for kids, and more.
Petite Prix
Saturday, May 13 from noon to 4 p.m.
DNR Outdoor Adventure Center in Detroit
Kids can bring their Power Wheels, Cozy Coupe, trikes, and pedal cars and do a lap on the Petite Prix mini race course.
You can also decorate a wooden mini-car and catch "Cars" on the big screen.
This event is free, though entry to the Adventure Center has a fee.
Apple Blossom Experience
Saturday, May 13 and Sunday, May 14 from 10 a.m. to 5 p.m.
Blake's Orchard and Cider Mill in Armada
Take a train ride to the orchard where you will be able to wander the rows of apple trees and blossoms.
Tickets are $5 per person and free for children younger than 2. 
Can't make it this weekend? It is going on next weekend, too.
MI Book Hop
Now through May 14
Various locations
Hop from bookstore to bookstore supporting local and earning chances to win gift cards.
The MI Book Hop has bingo cards for Southeast, Mid, and Southwest Michigan.