Infant in accidental shooting was son of Dearborn officer • Ford's new wind tunnel • MSU victims sue school
TUESDAY NEWS HIT - The importance of securing weapons is being reiterated by gun safety activists and police alike after a 2-year-old shot and killed themselves with an unsecured weapon Sunday.
"It's unfortunate. It's completely preventable. That's my main takeaway," said Chad King, a gun safety activist and president of the Black Bottom Gun Club.
King's reaction comes a day after the child of a Dearborn police corporal got ahold of a gun in a Howell home and fatally shot themselves.
"Every gun owner needs to have a vested interest in being a responsible gun owner. Every gun owner needs to have a vested interest to make sure our children are safe," King said.
King demonstrated how to use a cable gun lock, which is provided for free when you purchase a gun in Michigan.
"You'll stick the long end of the cable, after you unlock it - through the breach, through the magazine well, and then you'll put it in the hole on the bottom lock, turn the key, take the key out and this gun is secure. No one can load a magazine in here. You can try to put a round in the chamber, but the slide won't go back all the way to get it into battery, so it can shoot," he said.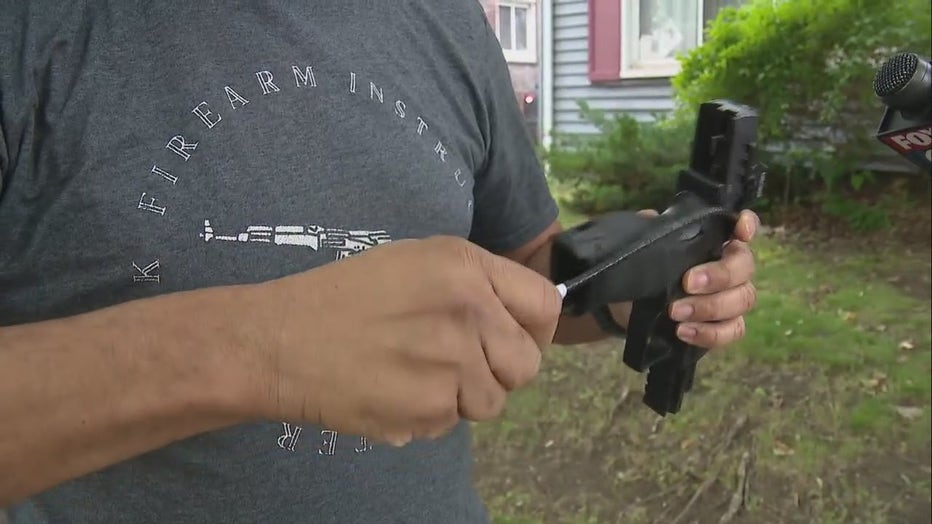 If you don't have a gun lock, they are easy to access.
"They've available at our substations. I always take them to the Coffee with the Sheriff meetings. It's something we have been doing and supporting for a number of years," Oakland County Sheriff Michael Bouchard said.
The locks are also available at Michigan State Police posts and Detroit police precincts.
In April, Gov. Gretchen Whitmer signed legislation adding safe storage requirements for gun owners. King said he gets the rationale but thinks lawmakers missed an opportunity to do even more.
"Where I think the legislator missed at was that they could have subsidized the cost of one of these smaller snap-safe lockboxes for about 30 bucks. The state of Utah has done it. The state of Virginia is doing it. Why not Michigan?" he said.
Ford's new state-of-the-art wind tunnel
Ford's new wind tunnel would make any aerodynamics engineer geek out. Because for the geeks at the helm of the automaker's new Rolling Road Wind Tunnel will have the opportunity of recreating speeds up to 200 mph while receiving some of most accurate data on downforce and wind resistance ever.
Ford has already had the chance to test its new tunnel, using its capability to develop the company's new Mustang Dark Horse. It's housed at the Vehicle Performance Electrification Center in Allen Park.
Downforce is what it sounds like: it's the downward lift that a vehicle creates due to its aerodynamic features. The more downforce, the more grip a car will have to the ground, which can make it go faster and allow the driver more control.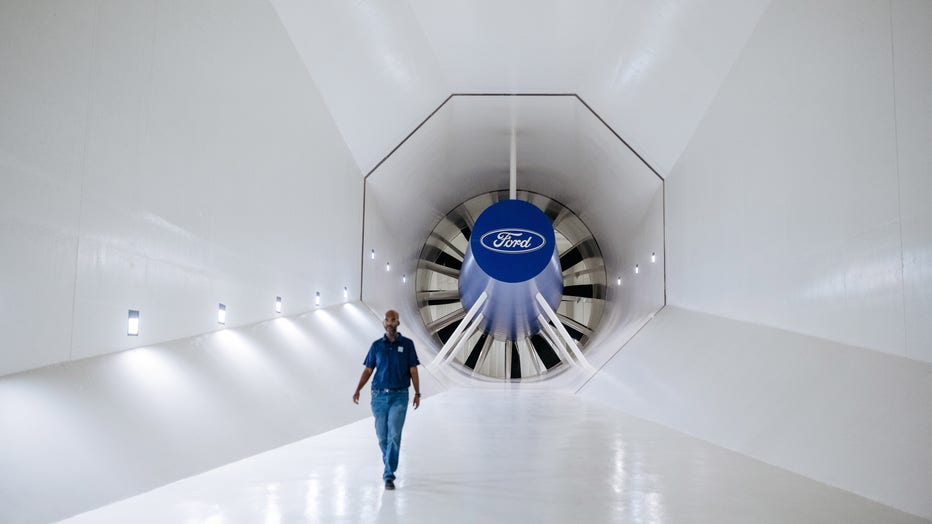 Typically, a feature that only racing engineers may be paying attention to, it's also a consideration in the models of Ford's new muscle vehicles. At the Rolling Road Wind Tunnel, a combination of a huge fan and a vehicle-sized treadmill will help test the next generation of electric and gas vehicles. 
MSU shooting survivors sue school
Two victims who survived the Michigan State University shooting plan to sue the university, according to notices of intent filed Monday.
Nate Statly and Troy Forbush were one of five people who were shot and survived when Anthony McRae opened fire in Berkey Hall and the MSU Union on Feb. 13. Three students were also killed.
Statly and Forbush were both attending a class in Berkey Hall when they were shot. Their lawyers say they have suffered severe and permanent injuries. According to the filings, the school knew about defective safety conditions on campus but did not address them. The filings also note how there were no restrictions to access buildings.
McRae, who was not a student and had no affiliation with the school, was able to walk into two buildings. The school has since changed access rules for buildings between after 6 p.m. and before 7:30 a.m. and added locks to classroom doors.
Community support surrounds Chesterfield officer
Supporters filled a fundraiser Monday to support a former Chesterfield Township police officer who was fired after coming forward with PTSD struggles.
"It's awesome to see the support of the community. I swore an oath to protect this community, so you don't realize how many people are there for you at the end of the day," Joshua Baker said. "I wasn't sure how many people would show up, but there's a lot of people here."
Baker helped save a 7-year-old girl who had been hit by a truck in New Baltimore. However, he began experiencing PTSD after the rescue. He stayed silent about it for a while. "I went six months without coming forward because I was afraid that people would judge me," Baker said.
When he did go to the department to tell them what he was going through, Baker told them he was having trouble sleeping and used marijuana gummies to try and get some rest. Per a department letter, he was subjected to a drug test and was fired.
Here's how the community responded to the news
Deadly vehicle malfunction at Milan Dragway
Authorities say the grandson of a man killed at Milan Dragway on Saturday was behind the wheel when the vehicle malfunctioned, sending the car into the victim. Video shows Nicholas Tilley reversing before the vehicle suddenly accelerates, hitting and killing 78-year-old Keith Hallett.
"Keith was a wonderful man. He was an asset to the neighborhood," said Davis Stephens, a friend of Hallett. "He was always there with a helpful hand. If we needed a problem corrected or something, he was a very hands-on guy."
Monroe County sheriff's deputies believe an engine malfunction led to the crash. "I was quite a ways away from it. I heard the car roar, and I know that wasn't right, and then all the commotion at the starting line. I knew something was going on there that wasn't good," Stephens said.
He said Hallett was part of the pit crew when he was killed. "He was a racer for many, many years. He drove cars for many, many years. The hazards involved with that are there; you can't ignore them, but I'm really surprised we lost him," he said.
Live on FOX 2
Daily Forecast
Rain is expected to return Tuesday with a chance of thunder and lightning in the afternoon. We'll stay below 70 degrees today before rebounding the rest of the week.
What else we're watching
The Grosse Pointe School Board has authorized removing some teacher positions to offset about $4.6 million in a budgetary shortfall it is facing due to declining enrollment.
Workers at a Redford Nursing Home Strike has on strike after negotiations between them and The Orchards facility made little progress. Workers say they're paid "poverty wages" 
A new study has predictable, but worrying information about electric vehicles: When towing cargo, they significantly lose the range their battery will take them. 
The Detroit Riverfront Conservancy is kicking off its popular Riverwalkers Program today. It's free for adults 50 and above. Learn more here.
The University of Michigan's latest endeavor with NASA has it building equipment for an eventual mission to Venus. You can learn more about the DAVINCI Project here.
Pat Sajak leaving 'Wheel of Fortune'
Pat Sajak is leaving "Wheel of Fortune" after 40 years. Sajak tweeted his 41st season would be his last with the show.
"Well, the time has come. I've decided that our 41st season, which begins in September, will be my last," he wrote. "It's been a wonderful ride, and I'll have more to say in the coming months. Many thanks to you all. (If nothing else, it'll keep the clickbait sites busy!)"
Sajak has hosted the famous game show since 1981.