'It's time to stand firm': UAW members ready for next stage of strike with Big Three
WAYNE, Mich. (FOX 2) - As day 14 of the UAW strike wraps up…those on the picket lines are processing word of union bosses reportedly dropping their pay raise demands down to 30 percent - a far cry from their original high of 46 percent - which later came down by 10.
"It's not just our time, it's about time," said UAW worker Doc Killian, who had a message for Shawn Fain. "I think when he took it from 46 percent to 36 percent. I think that was low enough,  I really do. I went 11 years without a significant pay increase as the price of everything went up.
"And I'm at $32 an hour when, according to those 11 years, I should be at $51 dollars an hour."
Killian is a lifer at Ford Michigan Assembly in Wayne and still has five years to go before retirement. He does not want the union to give in with so much at stake.
Related: UAW's Shawn Fain gives Detroit's Big Three new deadline before more strikes expected
"In '04 I bought an expedition that we built," he said. "Right now, because of where I'm stuck at, I can't think of buying what we're building."
In the meantime, UAW President Fain is set to announce the next expansion of the protest, if the union and Big Three automakers fail to strike a deal or make significant progress in talks by 10 a.m. Friday.
Alan Amici, the head of the Center for Automotive Research, talked about the possibility of the strike escalating.
"You know one area would be to look at engine plants. And so, if you are able to strike - one particular engine plant that could affect multiple assembly plants," he said. "Of course, it depends on the particular engine in play. So that may be a way that the union tries to leverage at a minimal strike but maximum impact. That could be one area."
He says such a move could trigger major layoffs.
"Think about the number of components that go into an engine assembly, I mean hundreds of components," Amici said. "Whether they are piston rings, or spark plugs or gaskets or wire harnesses. So yeah, there are a lot of components that go into an engine, and it could affect the Tier 1 and Tier 2 suppliers rather quickly."
Meanwhile, workers on the picket line are standing ready, if the ante gets upped.
"Then it's still time to stand firm, plain and simple,"  Killian said. "And we're all in this together. "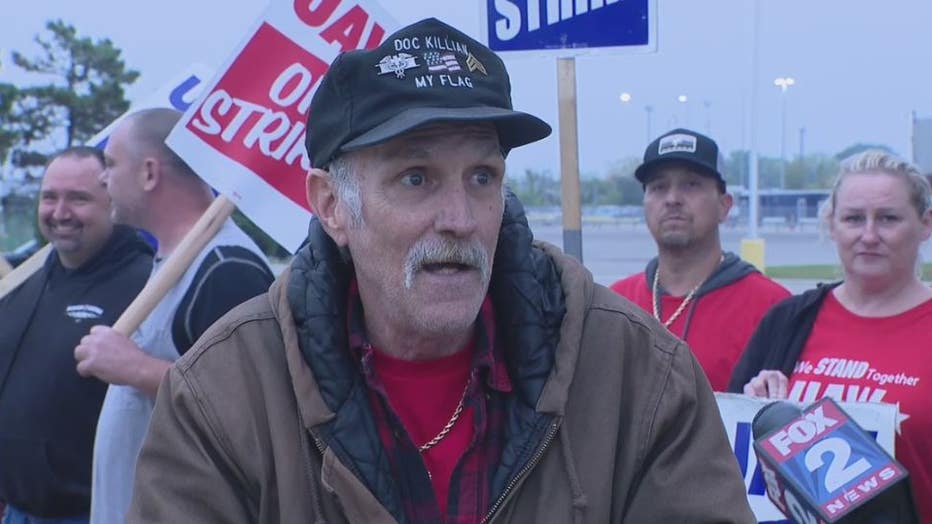 Doc Killian, Ford Michigan Assembly in Wayne.