Marijuana edibles sold at 4 Michigan dispensaries recalled for too much THC, non-compliant creation
(FOX 2) - The state of Michigan is announcing a voluntary recall of marijuana-infused edibles sold at multiple Metro Detroit dispensaries.
Viola brand gummies sold at weed shops in Ann Arbor, Hazel Park, Detroit and a fourth in mid-Michigan were named in a recall from the Cannabis Regulatory Agency after they were found to exceed the maximum allowable THC per serving.
THC is an active ingredient in marijuana products.
The products include edibles named Big Apple, Island, Auntie Punch, and Uptown Espresso.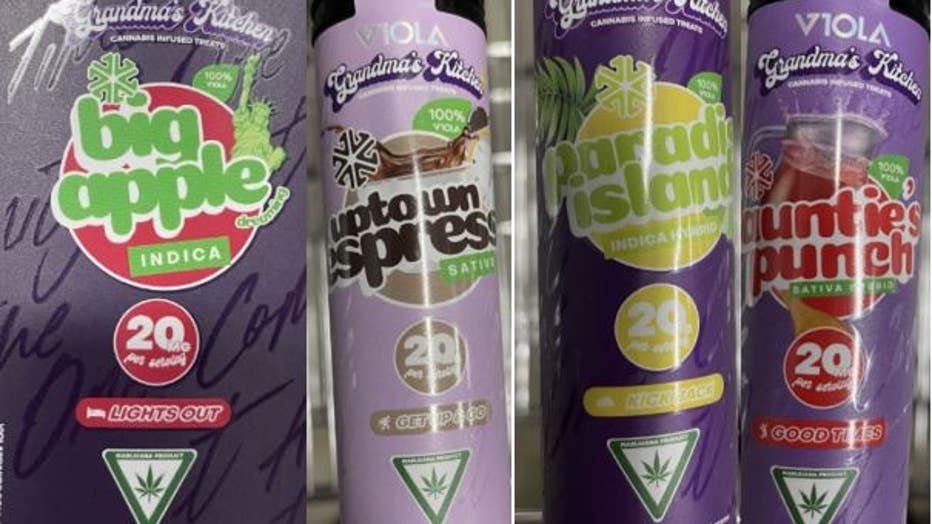 Marijuana edible brands being recalled in Michigan
The state also said the licensee of the edibles was "unable to demonstrate that the product was homogenous" according to a bulletin issued by the CRA. The agency also said the products were recalled due to packaging.
MORE: Michigan dropping marijuana drug testing for some new-hires on Oct. 1
The dispensaries that sold the recalled products include:
Information Entropy at 1115 Broadway St. Ann Arbor, MI
Shango at 22821 S Chrysler Dr. Hazel Park, MI
Emerald Fire Provisioning Center at 4980 N. Dickerson Rd Suite 420 Coleman, MI
Plan B Wellness Center, LLC at 20101 W. Eight Mile Rd, Detroit, MI
Anyone who purchased the products are encouraged to return them to the location they bought them for proper disposal. Any customers who have experienced adverse reactions from using the products should contact their healthcare providers.
Adverse reactions should also be reported to the CRA by completing a form here. 
Another product recall for weed products was ordered earlier in July.