Michigan's new distracted driving rules outlaws more than just texting while behind the wheel
(FOX 2) - Michigan's updated distracted driving law, expected to be signed by the governor on Wednesday, broadly expands banned activities involving cell phone use while behind the wheel.
The law amends the vehicle code that outlaws using a mobile electronic device to do "any task" such as sending or receiving a call, sending or receiving a text, viewing or recording a video, accessing or posting on social media.
If caught violating the law, the first penalty will be $100 or 16 hours of community service. Subsequent violations will come with escalating penalties.
Texting while driving is already illegal in Michigan. However, the law was passed years ago and technology has evolved well beyond the simple mobile devices that used to be carried around. The original bill said drivers cannot "read, manually type, or send a text message."
The new law makes any cellphone use that isn't hands-free illegal. That includes:
Send or receive a telephone call
Send, receive, or read a text message
View, record, or transmit a video.
Access, read, or post to a social networking site
The amendment also outlaws any movement by a driver reaching for a device that would take them out of a seated driving position or would leave them unrestrained by a seatbelt.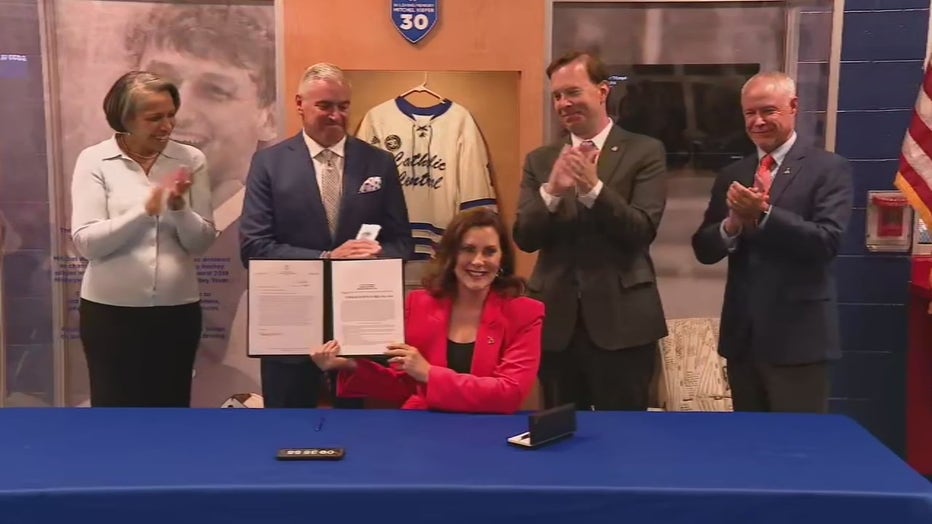 Penalties for using a device while driving start with:
First violation: $100 fine or 16 hours of community service, or both
Second or subsequent violation: $250 fine or 24 hours of community service, or both
If 3 violations occur within a 3-year period: The driver would be ordered by the court to complete a driver improvement course
If someone driving a commercial vehicle or school bus is caught holding a phone, the penalties are more severe:
First violation: $200 fine or 32 hours of community service, or both
Second or subsequent violation: $500 fine or 48 hours of community service, or both
If a crash occurs and the at-fault driver was holding a device, the penalties will be doubled.
According to a release about the amendment, police would not be allowed to search a driver "solely" because of the violation. Because using a device would become a primary offense, officers can pull someone over if they see them not following the law.
While they can give someone a ticket, that's where an officer's duties would end if there is no other perceived offense.