More snow this week • Minimum wage hike reversed • Home on St. Clair River used for smuggling
FRIDAY NEWS HIT - After starting the month with three weeks of no snow, boy have we caught up this week!
After Wednesday's snow storm, we continue to keep the snow in our weekend forecast. We wake up to an icy and frigid Friday start with temperatures in the low 20s. 
If you parked outside, give yourself a few extra minutes to scrape the windows. High temperatures this afternoon will build to about 35 degrees, but thanks to a strong wind it will feel like half that. Bundle up!
By Friday evening we will begin to see another snowmaker affect us. A quick moving clipper system will bring light snow and accumulations of less than an inch through Friday night. Low temperatures drop to the mid-20s.
Saturday will be mostly cloudy early before transitioning to a snowy afternoon. High temperatures will be in the lower 30s, but again it will feel like low to mid-20s.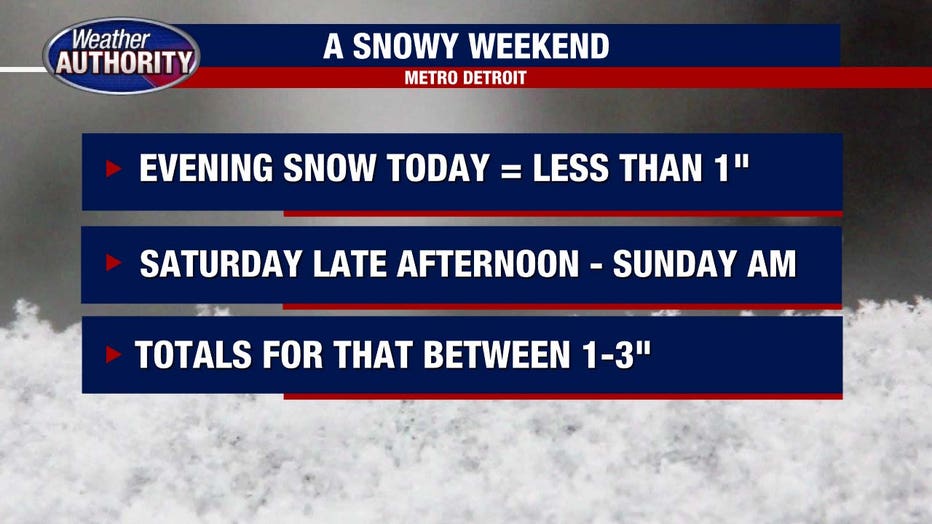 A Saturday afternoon snow maker will arrive and affect us through the evening and night hours. Overall snow totals will likely fall in the 1-3 inch range while some spots farther north could creep even higher (perhaps near 2-4 inches depending on where the "bullseye" sets up).
Snow continues through Sunday morning before wrapping up around 10:00 AM.  We will be shoveling that accumulating snow through the afternoon as high temperatures get to 32°. 
Some lingering flurries could impact us Sunday as well.
Minimum wage increase reversed
A surprise ruling from the Court of Appeals has reversed a lower court ruling that would have sent Michigan's minimum wage up to more than $13 an hour. A court of claims said a move by Republicans to "adopt and amend" a ballot proposal in the lame duck session in 2018 was unconstitutional.
But an appeals court said in a 3-0 decision that it was allowed, though the justices said the move was undemocratic. The minimum wage will remain at $10.10 an hour. 
One group that's applauding the decision is the Michigan Restaurant Association. It's president Justin Winslow said the decision will save jobs in the long run. 
"We had data that suggest one in six restaurant would have closed if the minimum wage had gone up," he said. The decision is likely to be appealed to the Michigan Supreme Court.
Home on St. Clair River used in smuggling operation
A home along the St. Clair River was used to smuggle people illegally crossing the border into the U.S. from Canada, according to a federal court complaint.
U.S. border agents conducting surveillance in the city of Algonac, which is north of Lake St. Clair, arrested two people after narrowing in on a potential smuggling operation. The area was popular because of its close location to the Canadian border.
Darnell Gordon, a U.S. citizen, was arrested after agents found him in a vehicle with a Brazilian national on Jan. 10. Police made the arrest after observing a boat carrying three people exit Canadian waters and enter into the U.S. earlier that day.
After his arrest, Gordon confessed to helping transport people without proper documentation into the U.S. He said he got paid between $50 and $400 per assistance. He said he had helped pick up people not allowed in the U.S. in five separate instances. The home, located at 1516 St Clair River Dr in Algonac, is just north of the Russell Island, which is part of Harsens Island in St. Clair County.
Read more about the border arrests here. 
Educator commends Whitmer's universal pre-k push
Wednesday night, Michigan Governor Gretchen Whitmer unveiled her plan to make pre-k education free for all families in the state - a move she's been trying to make happen since she was first nominated.
Whitmer has pushed to make universal pre-k education available to all 4-year-olds across the state since day one in office. That was five years ago, and she's still pushing to make it happen. Birmingham Public Schools Superintendent Dr. Embekka Roberson said it will help students be better prepared for their future education.
"Having all students have access to it I think is really beneficial," Roberson said. "Students are starting to learn their sounds their phonetic awareness and having that with a certified teacher allows students to be able to enter into a kindergarten program well-prepared."
Dr. Roberson said a proposal like this one is a huge step towards leveling the playing field for Michigan families. "There are a lot of families who are just working families, and they just cannot afford that so this will allow them to have that access to high-quality preschool programming," Roberson said.
Pro poker player sentenced for running illegal Michigan gambling operation
A pro poker player received a year of probation for his role in running an illegal gambling operation in Michigan's Upper Peninsula. Joshua T. Thatcher, 42, of Gwinn, Mich., pleaded guilty to one count of felony gambling operations violations last month stemming from an investigation into 906 Poker Social in Marquette.
According to the state, the so-called private poker room at 1200 S. Front St. opened April 1, 2021, and closed July 8, 2021, after it was investigated by the Michigan Department of Attorney General and Michigan Gaming Control Board Criminal Investigation section.
Thatcher described 906 Poker Social as a private membership club where members gambled against each other. He charged members a fee based on weekly, monthly, or yearly membership plus a $10 per hour chair rental fee. 
"Unregulated gambling operations do not offer Michigan residents the same protections provided through legal, regulated gambling," said Henry Williams, executive director of the Michigan Gaming Control Board. "The Michigan Gaming Control Board's mission is to ensure fair and honest gaming in Michigan, and we partner with the Michigan Department of Attorney General to investigate and eliminate illegal gaming activities across the state."
Live on FOX 2
Daily Forecast
Along with the snow tonight and tomorrow night will be temperatures that range from the mid-30s to the low-20s. Michigan still remains below average for snowfall in January - though it's catching up after this week.
What else we're watching
Among the other big moves by Michigan's legislature was the Senate approving to move the state's presidential primary election to February. There was a flurry of bills that moved through the chamber, including a bill that increased the state's Earned Income Tax Credit.
President Joe Biden's American Rescue Plan Coordinator will be in Detroit alongside Mayor Mike DUggan to launch a new program for helping long-term unemployed people re-enter the workforce. There are 18 groups in Detroit that will help.
The Novi Home Show is this weekend. It features home improvement ideas from all around the Midwest. The event will be at the Suburban Collection Showcase.
Can another football team survive in Detroit? How about two more? The Motor City was selected to host the Michigan Panthers at Ford Field for the upcoming USFL season. It will also host games played by the Philadelphia Stars.
It's not every day the moon moves in front of a bright planet, but the likely once-in-a-lifetime event for some parts of the U.S. will unveil next week. The rare second occultation of Mars will occur on Jan. 30 when the planet disappears from our view directly behind the moon's left side and reappears an hour later on the opposite side.
Tyre Nichols death: 5 Memphis officers charged with murder
Five fired Memphis police officers were charged Thursday with murder and other crimes in the killing of Tyre Nichols, a Black motorist who died three days after a confrontation with the officers during a traffic stop.
Shelby County District Attorney Steve Mulroy told a news conference that although the officers each played different roles in the killing, "they are all responsible."
The officers, who are all Black, each face charges of second-degree murder, aggravated assault, aggravated kidnapping, official misconduct and official oppression.
Video of the Jan. 7 traffic stop will be released to the public sometime Friday evening, Mulroy said. Nichols' family and their lawyers say the footage shows officers savagely beating the 29-year-old father and FedEx worker for three minutes.