Hundreds protest outside Oakland County health department over new school mask mandate
PONTIAC, Mich. - The shouting matches between parents at school board meetings have moved outside the Oakland County Health Division's office in Pontiac as the debate over mask mandates within districts became moot this week.
Hundreds of parents and some kids gathered Wednesday morning holding signs and chanting "My child, my choice" to protest the new health rule that requires students and staff in every one of the county's districts to wear masks while inside. 
"Stop trying to mask our children," shouted a woman into a megaphone.
The sentiment among parents was anger over the new rule, which was announced Tuesday night. Any districts that decided not to mandate masks before school starts would now be enforcing the new rule.
"It was our orientation last week. There were no masks anywhere. No talk of masks. It was crickets on that issue and all of a sudden, they have to go back so I'm very upset," said Tricia Auten, a parent with students at Walled Lake schools.
But in the eyes of health officials and Oakland County's executive, the decision was made to avoid virtual schooling and to keep students in classrooms.
"A lot of our children struggled last year. They had to do at-home learning (and) we learned that's very difficult on students and to the extent we can keep them in the classrooms, it's better for everybody," said Dave Coulter.
According to the health department, once the threat of COVID-19 transmission in the county has fallen to moderate for 14 days, it will lift the mask rule. Currently, the CDC rates the county's transmission level at substantial. 
The ruling affects about 200,000 students across public, private, and charter schools. While 152 school districts had already announced plans for a mask requirement while in the building, only two counties had ordered similar mandates. 
In the eyes of some school officials, the burden of making medical decisions should be left to medical professionals. 
"It was causing division within our communities, it was pitting families against one another, and ultimately boards of education and superintendents were caught in the middle," said Novi Superintendent Steve Matthews. 
RELATED: What's in Oakland County's mask mandate?
Throughout the summer, school board meetings were filled with the shouts of parents debating the rules. At some school districts, like in Grosse Pointe, parents offered their opinions for hours. 
In one instance, a man at a debate in Birmingham caused an uproar after showing a Nazi salute. 
Now, joining Kent and Genesee counties, Oakland will order masks in all schools. They cited health data in their order Tuesday night that showed thousands of new cases being reported in the past two weeks where more than one in six were school-age children. 
They also cited data reporting 180,000 children testing positive for COVID-19 in the week of Aug. 12 - 19 across the U.S. - a 60,000 increase from a week before.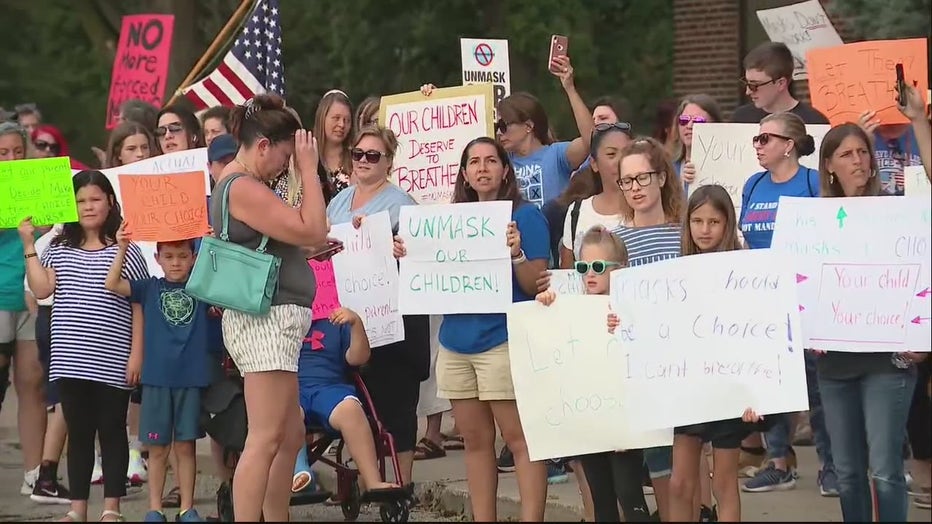 "The Delta variant of the SARS-CoV-2 virus is the dominant variant in Michigan and is significantly more contagious than the original form that entered the United States in winter 2020," the department said. "Current research indicates the Delta variant may cause more serious illness in persons of all ages, including children. 
RELATED: Parent gives Nazi salute during mask debate at Birmingham schools
The prompt move comes after the governor again said she would not be following up on recommendations from health officials that mask rules in school would slow the spread of COVID-19.