Southfield Police kill suspect who tracked down and killed ex, critically hurt her boyfriend
SOUTHFIELD, Mich. (FOX 2) - Southfield Police fatally wounded a suspect who allegedly killed his ex-girlfriend and critically injured her boyfriend after tracking the couple down to a hotel Monday morning.
Officers made contact with the suspect in Detroit near Seven Mile and M-10 around 12:45 p.m., over three hours after being called to the Detroit Marriott Southfield Hotel following reports that someone had fired shots at the two victims. 
Southfield police confirmed the officer-involved shooting with FOX 2's Jessica Dupnack. 
A law enforcement taskforce including Southfield police attempted to box in the suspect after locating him. After observing the suspect reaching for an assault rifle that was in the vehicle, three Southfield police officers opened fire, striking him.
The scene was the latest development in what appears to be a targeted shooting where the suspect had tracked down his ex-girlfriend and her current boyfriend to the hotel, before waiting for them to exit the building around 9:30 a.m. He shot both with an assault rifle. 
The 41-year-old female succumbed to her injuries shortly after the shooting, while the 41-year-old male victim was hospitalized with critical injuries.
According to the Southfield police chief, the suspect initially fled the scene in a dark-colored vehicle.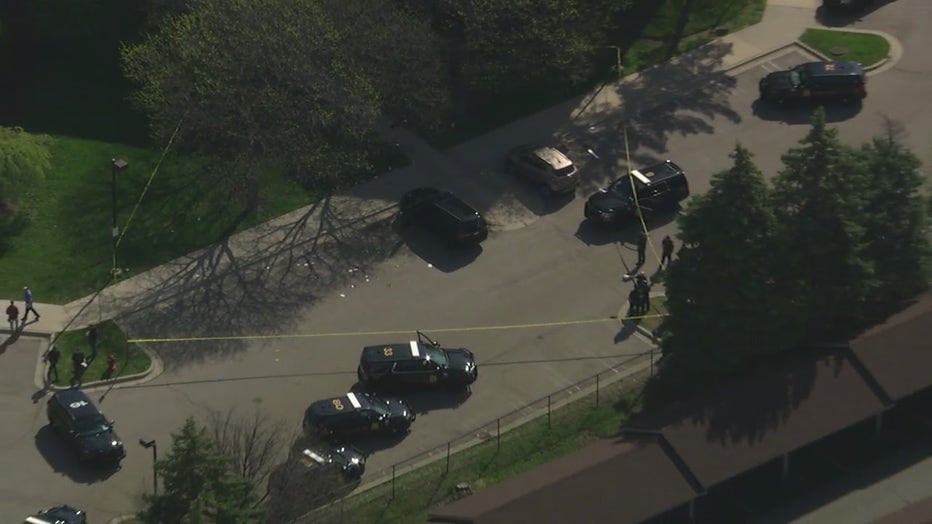 Southfield Police blocked off a parking lot to gather evidence from a deadly shooting Monday. 
The deadly shooting happened in the parking lot of the hotel, which is located on Northwestern Highway. It's unclear what the shooter's motivation was.
Chief Elvin Barren said the department worked with multiple area agencies to locate the suspect. 
The victims had been staying at the hotel for a few days and could have been checking out as early as tomorrow, Barren said. They had exited the hotel around 9:24 a.m. when the suspect approached them, shooting both victims multiple times. 
It's unknown when the relationship between the two parties ended.
"Domestic violence continues to be on the rise, continue to plague our communities, and this is another sad example of that," Barren said. 
Footage of the scene showed a taped-off area of the parking lot with multiple Southfield police officers and several evidence markers. 
MORE: Deadly triple shooting at Detroit gas station was over $3 refund, police say
The suspect has lived in multiple cities, though his current residence was unknown, according to police. Along with surveillance footage from the hotel, police also used information from witnesses who help investigate. 
They learned the shooting was a domestic incident from the injured boyfriend, who gave them information before being taken to the hospital. 
The man was shot by the suspect was still listed in critical condition at 2:30 p.m. This story previously stated he had died. This story has been updated to reflect the accurate information.